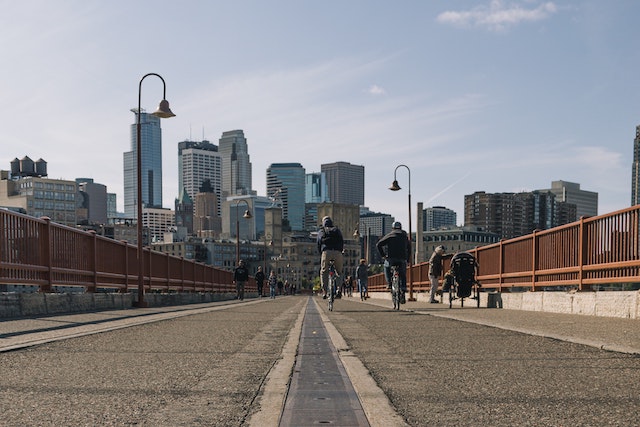 Now that lockdown measures have eased up and some companies are requiring their employees to work in their offices, traveling with public transportation currently at limited operations seems like a test of survival. With commuters forced to compete with each other or wait on the road for hours to get a ride, cycling groups began to promote riding bicycles as a sustainable alternative that also allows social distancing. 
However, cycling wasn't received well by the government during the start of the general community quarantine. The Metropolitan Manila Development Authority (MMDA) decided to place a temporary 1.2-meter bike lane along EDSA on June 13 which cycling groups found too narrow and inconsistent to be safe for cyclists. This came after the MMDA took down the temporary bike lanes set up by cycling groups early into the start of GCQ as an initiative to immediately respond to the need for employees to commute to work. Despite the difficulty of convincing the government to set up proper bike lanes, cycling groups stressed the need for them now that more Filipinos are relying on bicycles as a mode of transportation.
Unfortunately, not everyone can afford a bicycle. Carlos Samonte, a candy seller from Makati, saved up his earnings for a bicycle that he's been dreaming of since the start of quarantine. According to an Inquirer report, Samonte had been frequenting a bike shop and asked the owner if he could buy the bicycle at P2,000 instead of its original price at P4,800 since May 15. The owner found out from the tricycle drivers in their area that Samonte has been walking from his home to Makati to sell candies since tricycle operations stopped during the enhanced community quarantine. Then one day when Samonte passed by to ask about the bicycle again, the bike shop owner decided to give the bicycle to him for free. 
While there are some initiatives that provide bicycles for frontliners, this organization drew inspiration from Samonte's story to provide bicycles, helmets, locks and even raincoats to ensure a safer commute for workers that need to travel. We got in touch with Kristine Hildawa, one of the Project Heads of Project Padyak, to share with us how they're getting bicycles and accessories to those in need and what you can do to help.
We heard many people started to bike now that transportation is limited in the city. We commend you guys for creating such a thoughtful project that helps several people get to work. Could you let our readers know what Project Padyak is all about?
Project Padyak is an initiative that links bike-helmet-&-lock packages to workers in need of an alternative means of transportation, especially now that common PUV's are mostly inaccessible.
Because the struggle to keep food on the table has become a heightened concern for so many, Project Padyak decided that every single person whose livelihood is on the line—frontliner or not—would qualify for a package. 
We saw that your inspiration for this project came from the article about a bike shop owner giving Tatay Carlos Samonte a free bicycle. How did this story start your project?
The viral video moved us to tears. Tatay Carlos' reality bothered us for days, especially since we knew that it wasn't just him. At first, we only wanted to find an organization to possibly donate some money to, but when we realized that there wasn't a lot we decided we would just start one ourselves.
How did you assemble the Project Padyak team and how big is it now? 
The team behind Project Padyak started with just us three siblings! We began our operations [on the] second week of June, and while today the big decisions are still mainly up to us, we have since then attracted like-minded friends to join in and volunteer. Currently, we are composed of 7 people all in all.
Could you give us an estimate of how many bikes and helmets you donated so far and what areas have you already covered?
So far, we've delivered a total of ten bikes to beneficiaries living in Pasay, Makati, Manila, Taguig, and Marikina. We are also scheduled to deliver ten more bikes in almost the same areas in the next couple of days. Due to the traffic of messages we get from people in Cavite, we have begun working on a separate team to reproduce our operations there too.
What can you say about the limited infrastructure and policies that make the roads safe for cycling? What were the struggles in promoting biking as an alternative means of transport? 
Bikes are eco-friendly, low-maintenance, and cost-efficient. On top of that, because bikes are single-rider, the risk of viral transmission is conveniently lessened. It's truly a shame that we are not able to maximize bike-use in Metro Manila. 
For now, the most Project Padyak can do is to ensure that our beneficiaries have the proper safety gear and that they are briefed on proper bike etiquette (our package includes a pamphlet on biking tips & hand signals).
Before we end, we'd like to thank you for taking this time to share your story and answer our questions. How can we help Project Padyak?
Any kind of publicity is already a big help really! We always love a follow and a share here and there. But for those interested to take a step further, they can find out how by going through & filling up this form. Thank you!
If you'd like to get to know more about Project Padyak, check them out on Twitter, Instagram and Facebook.
Photo courtesy of Unsplash
Follow Preen on Facebook, Instagram, Twitter, YouTube, and Viber
Related stories:
What went wrong with the current transport crisis?
There's free transportation for frontliners
Help out unemployed jeepney drivers with this donation drive
Salvador Panelo has a confusing suggestion to solve the traffic problem