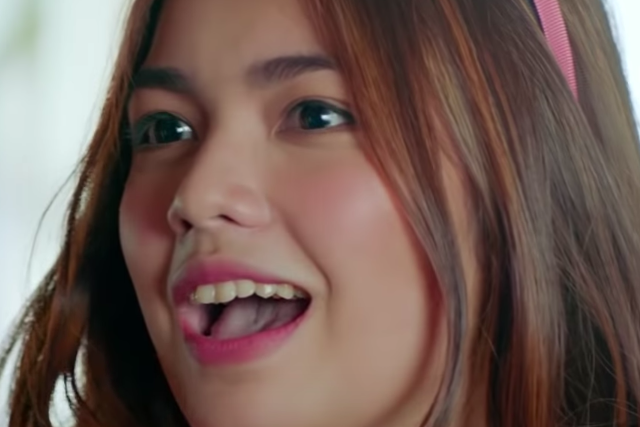 Here are hard pills to swallow: Following a religion doesn't mean that we're not duty-bound citizens anymore. Being optimistic doesn't remove us from being a part of society-at-large. During this pandemic, toxic positivity was something we called into question 
Star of the upcoming "Darna" film Jane de Leon started trending today over her Instagram post explaining her decision to stay silent on the ABS-CBN franchise denial. She wrote, "Masama po bang maging positibo lang sa ating pananaw sa kabila ng kahirapan at paghihinagpis?" and "Let us not be judgmental and imposing on what others should do according to personal standards and beliefs." The actress also asked her followers not to let anger get the best of them and to remember that "PRAYERS are always the strongest and most powerful weapon in this time of crisis."
Her statement is far from being the first of its kind. Toni Gonzaga also got backlash for her statement on the franchise denial where she said, "I believe that no matter who the president is, JESUS is still KING." However, it drew the ire of many netizens who compared the response with her Darna predecessor Angel Locsin's message at a recent rally asking her fellow artists to speak out. While it may be unfair to single de Leon out, many on the internet have begun to seek accountability and solidarity from people and brands with large platforms. 
You've probably heard someone say how religion and politics shouldn't mix. For a long time, I've believed that there was no connection between the two and that politics only talked about the government. I've come to learn and appreciate how both tackle power, agency and the greater good. The separation of Church and state was created because they're intrinsically different from each other. Time magazine published an article titled, "The Real Meaning of the Separation of Church and State" where they explain that the separation "reinforces the legal right of a free people to freely live their faith, even in public; without fear of government coercion." 
It doesn't mean that people of faith are void of political will or that prayers alone can substitute for all other political engagements. The promise of a good afterlife (if you're inclined to believe there is one) and the promise of a better society for all must hold equal weight if we're on the side compassion. 
While it's true that we should be free from the imposition of beliefs in a democracy, should this include having none or always erring on side of (a fantasy of) neutrality? Bishop Desmond Tutu once said, "If you are neutral in situations of injustice, you have chosen the side of the oppressor."
Photographer Raffy Lerma captured this photo of sisters from St. Scholastica's College joining the ABS-CBN rallies. There is a rich history of priests, pastors, nuns and other religious officials actively participating in campaigns for various issues. It's a different sort of inspiration to watch them support their prayers with action.
Sisters from St.Scholastica's College show their support for media network ABS-CBN during the noise barrage and motorcade outside the ABS-CBN compound in Quezon City on July 18, 2020.#abscbn #DefendPressFreedom #standwithabscbn pic.twitter.com/3pTjqTto0Q

— Raffy Lerma (@raffylerma) July 20, 2020
Prayer requires action. Some of my favorite bible quotes are "Fight the good fight of the faith." and "Do not merely listen to the word, and so deceive yourselves. Do what it says." Religion can comfort and it can also empower. As for me, I put my faith in people. But that doesn't mean that I'll rely on them to do all the work without playing my part.
Photo screengrab from "The Debutantes" trailer
Follow Preen on Facebook, Instagram, Twitter, YouTube, and Viber
Related Stories: 
With their franchise renewal denied, is this the last we'll be seeing of ABS-CBN?
A primer on toxic positivity and why you should avoid it
Dine and whine: ABS-CBN celebs called out for being "pro-Duterte"
Who is Jane De Leon, the new Darna?