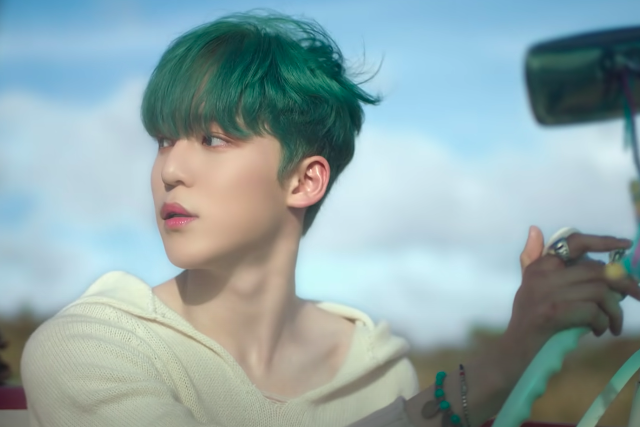 It's not unheard of for K-pop idols to venture into acting but a K-drama with a cast jam-packed with our fave musicians is still a novelty, a treat meant to be savored. Today, news of an upcoming series shook the K-pop world. KBS 2TV confirmed that 'Imitation' has casted ATEEZ members Yunho, Seonghwa, Jongho and San as well as Chani of SF9.
The drama is an adaptation of a webtoon about the lives of idols in the entertainment industry. It follows the stories of fictional idol groups Sharks, the top boy group, T-Party, a rookie girl group, and Sparkling, an enthusiastic boy group on the rise. "The drama features the meeting of hot rookies of the present with first- and second-generation idols. Please look forward to their synergy as they bring their unique characters to life. Through 'Imitation,' which brings to life the serious and dramatic world of idols, we will deliver a drama with various charms like a special gift set," shared its showrunners.
It stars Jung Ji-so, known for her role in "Parasite," as the center of girl group Tea Party. Joining her in the group are former I.O.I and PRISTIN member Nayoung and soloist Minseo.
Playing Sharks' members are U-KISS's Jun, SF9's Chani and Hwiyoung, ATEEZ's Jongho, soloist Yuri and Ahn Jung Hoon, who you might remember from "A-Teen." We're excited to see Chani as Jun's rival and Jongho as the cute maknae.  
On the other hand, Sparkling will have ATEEZ members Yunho, Seonghwa, and San along with former Boys Republic member Suwoong in its ranks. Yunho and Suwoong will also play rivals and we can't wait to watch it unfold. 
Adding star power to the already loaded cast, is T-ara's Jiyeon as top solo artist Larima, g.o.d's Danny Ahn as an entertainment company CEO and former Baby V.O.X member Shim Eun Jin as an unrelenting reporter. 
"Imitation" is slated to air in 2021—that's enough time for you to read the webtoon. Fans are already sharing their excitement on Twitter and raving about the possible love teams on the show. Who are you looking forward to seeing on the small screen the most? 
[Source: Newsen]
Photo screengrabbed from the "Wave" music video
Follow Preen on Facebook, Instagram, Twitter, YouTube and Viber
Related Stories:
Here's why Blackpink will 'Light Up The Sky' today
Blackpink's Jisoo is making her small screen debut soon
'BE' prepared for BTS' new album in November
K-dramas you shouldn't miss this October