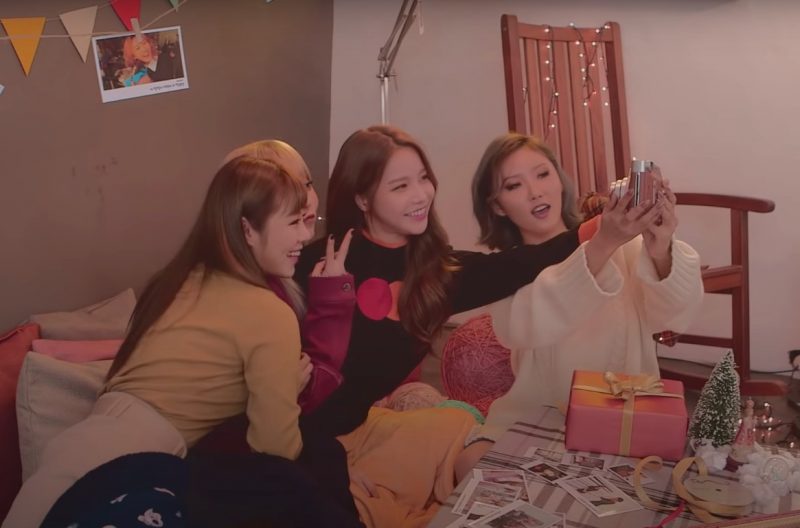 I said this once on our Instagram page and I'll say it again: K-pop has taken over my life this year. From intense hip-hop tracks to emotional ballads, 2020 was full of killer releases that made it easy to stan the girl groups, boy groups and soloists responsible for the Hallyu wave.
While I fell in love with the powerful music videos and electrifying stage performances, here's another discovery I stumbled on during my K-pop blackhole—their winter albums. During the holidays, K-pop groups and soloists have a tradition of releasing albums full of Christmas songs. They're sometimes a collaborative project with fellow artists under the same label. 
Malls and public spaces blasting holiday music as early as July used to annoy me, but I'm starting to miss it this year. Since I also recently got into K-pop, here are some Christmas gems I found along the way. Some may not be a straight up holiday song, but they're still about falling in love during Christmas time. As long as it gets you into the festive mood, am I right?
"Christmassy!" by The Boyz
The Boyz kicks off my list with their recent release "Christmassy!" together with its adorable music video. The boy group takes on the prom concept and lets you live your y/n dreams as each member tries to win you over as their date for the season.
"
The Best Thing I Ever Did" by Twice
Missing an OT9 Twice, Onces? While waiting for Jeongyeon to return from her mental health break, stream their warm 2018 Christmas song "The Best Thing I Ever Did" and reminisce the good old days of reuniting with your loved ones.
"Miracles in December" by Exo
Of course, what's a Christmas playlist without an emotional ballad? Exo's "Miracles in December" features the powerful vocals of members Baekhyun, Chen and D.O. as they sing about a cold (figuratively and literally) winter.
"Confession Song" by Got7
If you're thinking about confessing to your crush during the holiday break, Got7's "Confession song" might just be the nudge you need. Plus, its music video features the boy group surprising students and helping them confess to their crushes. If I had a boy like Bambam steal me away from my classroom, I wouldn't know how to act.
 "Wish Tree" by Red Velvet
As part of SM Entertainment's 2015 Christmas project "Winter Garden," Red Velvet released the acoustic track "Wish Tree" about making a wish for someone you love. The music video uploaded on their official YouTube channel tells the story of two best friends with a cryptic dialogue in the end that'll hit you right in the feels. Was one pining after the other? That'll have to be up to the viewer's interpretation.
"Memory" by Mamamoo
If you're into sultry coffeeshop music, then Mamamoo's "Memory" would fit right in your playlist. The four-member girl group flexes their powerful vocals for this jazzy track that'll definitely get you in on the warm holiday spirit.
"I.O.U." by NCT U
While it hasn't been marketed as a Christmas song yet, NCT's oldest and youngest members teamed up to create this lo-fi hip-hop track about the winter season. "I.O.U." is a b-side off their album "Resonance" and contains confessional lyrics fit for the holiday season. "Feels like Christmas every time I'm with you."
Aside from original tracks, a lot of K-pop stars also covered some holiday classics that just hit home. If you want your friends and family to get into K-pop through Christmas music, here are some iconic covers you can recommend to them.
"Have Yourself A Merry Little Christmas" by Red Velvet's Wendy, Jay JungJae Moon and Nile Lee
Red Velvet's Wendy collaborated with musicians Jay JungJae Moon and Nile Lee to release a jazzy version of the Christmas classic "Have Yourself A Merry Little Christmas" for SM Entertainment's digital music channel SM Station. Let Wendy serenade your Christmas eve with her soothing vocals as you wait for the clock to hit midnight.
"The Christmas Song" by Blackpink's Rosé
Another beautiful cover on our list is Blackpink's Rosé's rendition of Nat King Cole's "The Christmas Song." She released the track as a 2019 Christmas gift for Blinks and we just can't get enough of her sweet vocals singing about chestnuts roasting and Yuletide carols.
"
Joy" by NCT Dream
From the beats of familiar carols to adding in a rap verse, the boys of NCT Dream showcased their versatility by putting together the songs "Joy to the World," "Jingle Bells" and "Roses are Red" for one groovy Christmas track. With a music video featuring the members playing around in cozy holiday-themed fits, "Joy" is full of warm energy that'll make you fall in love with the season (and maybe the boys, too).
"Christmas Day" by BTS' Jimin and Jungkook
Sampling Justin Bieber's Christmas hit "Mistletoe," BTS' Jimin and Jungkook added their own lyrics and released their rendition on the band's official Soundcloud account. The song was a surprise Christmas gift for ARMYs as it was released on Dec. 25, 2014.
"The Magic of Christmas Time" by Girls' Generation's Taeyeon
When Girls' Generation's Taeyeon released this track in 2017, I was surprised to find out that it wasn't an original song. The K-pop singer's beautiful rendition of Bodine's original track "The Magic of Christmas Time" features her soothing vocals as she serenades fans celebrating the holidays.
"Santa Tell Me" by Twice's Nayeon

Among all the K-pop Christmas song recommendations I got from my friends, this track was a common denominator on their lists and I could see why. Onces fell in love with Twice's Nayeon all the more as she took on Ariana Grande's Christmas single "Santa Tell Me" wearing a reindeer headband fit for the season. With currently over 15 million views on YouTube, her cute cover will make you feel like it's Christmas every day.
Did I miss any of your faves? Let us know what to add to our Christmas playlist.
Photo screengrabbed from Mamamoo's "Memory" music video
Follow Preen on Facebook, Instagram, Twitter, YouTube and Viber
Related Stories:
NCTzens defeat the NCT 2020 member voting system
Can't say we didn't expect that BTS Grammy nomination
My mom got into K-pop 'cause I won't shut up about it
A K-pop slang cheat sheet for the newbie stan