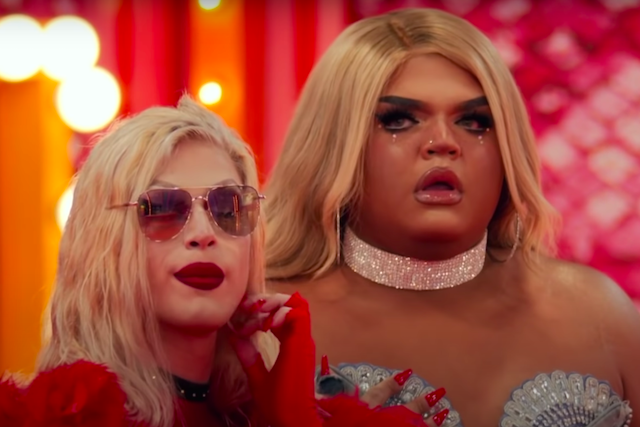 "RuPaul's Drag Race" season 13 is about to start with a bang, as its preview ru-veals that the first episode will not only have the queens making their grand entrance—they'll be battling to see who gets to stay and who will be getting the "pork chop." 
The upcoming season of "RuPaul's Drag Race" has been making waves since it revealed the casting of its first-ever out trans man contestant Gottmik. Today, the show dropped a 10-minute preview clueing fans in on other surprises in store. The biggest one for the first episode? Six "lip-syncs for your life."
In the preview, Dominican doll from New York City Kandy Muse is the first to enter the werk room. She's rocking a denim dress and carrying a boombox. "If you took a sex doll and threw her in the Bronx, that is literally me," is how the queen describes her style. "My most impressive drag talent is my mouth. I'm a good lip-syncer. I'm a loud-ass b*tch," she adds. Will she stir the most drama this season? Kandy spills that she was formerly part of the now-disbanded Haus of Aja and that she thinks Aja was a little jealous of her. The shade of it all!
Next to make her entrance is self-proclaimed filler queen Joey Jay. She comes in wearing a red leotard with a red chicken feather coat. She says about herself: "I am the dumbest b*tch you'll ever meet. She's wacky. She's crazy. She's an adrenaline rush. I can perform the house down." Her name has been trending on Twitter because fans have noticed that she's quite an eye candy out of drag.
Then, the twist is ru-vealed. Instead of having all the queens in the werk room before meeting the Ru, the two racers are asked to report to the main stage immediately. Judges Michelle Visage, Ross Mathews and Carson Kressley are sitting at the panel with glass dividers separating them. There, Ru reveals that, yes, the two are going to battle it out with a lipsync performance to Carly Rae Jepsen's "Call Me Maybe." Before they even get to meet the other contestants, one of them is going to sashay away. 
We get to see their performances in full but the preview ends with a cliffhanger. Now, fans are weighing in on who deserves to win the challenge. Whatever the outcome, it's evident that this season is going to be fun.
Photo screengrabbed from the "RuPaul's Drag Race" Season 13 preview
Follow Preen on Facebook, Instagram, Twitter, YouTube and Viber
Related Stories:
Ring in the new year with 'Drag Race's' first-ever trans man contestant
We want a Filipino version of 'Drag Race' so bad, we already have ideas
Take down gender norms: thoughts on 'Celebrity Drag Race' and its cis-het male contestants
Ongina is *finally* on RuPaul's Drag Race All Stars, thank god