When I saw the words "please breed" trending today on Twitter, my first thought was "Who dropped thotty pictures this time? It's too early for people to be this horny." You can imagine my surprise when I found out that it was because of Albie Casiño's clapback against a DDS.
It all started when the actor uploaded a post on Instagram on Mar. 28 with the caption: "My face when they said [ECQ] season 2. Congrats to everyone who voted nung 2016 sana natutuwa kayo ngayon ?  Vote wisely sa 2022 #ecq #halalan2022" In the photo, Casiño had scrunched eyebrows, a bandana on his head… and was also shirtless. (Can we still classify this as a thirst trap even if we don't see past his shoulders?)
View this post on Instagram
Though one can argue that there is a time and place for combative language against people who voted for President Duterte in 2016 (especially those who are against demands of accountability from the administration), we're happy to see that Casiño is still using his platform to talk about national issues. As in the case of his other sociopolitical posts, Casiño received a mixed response.
While there were netizens who decided to stan, there were also those who bashed him for it. Casiño responded by giving them "a taste of their own medicine," which is far from the definition of fostering healthy discourse.
In one reply, Casiño did explain that we should ask for government accountability because officials are the ones crafting and implementing pandemic response plans but he called the commenter "bobo" and told the person "Please don't breed."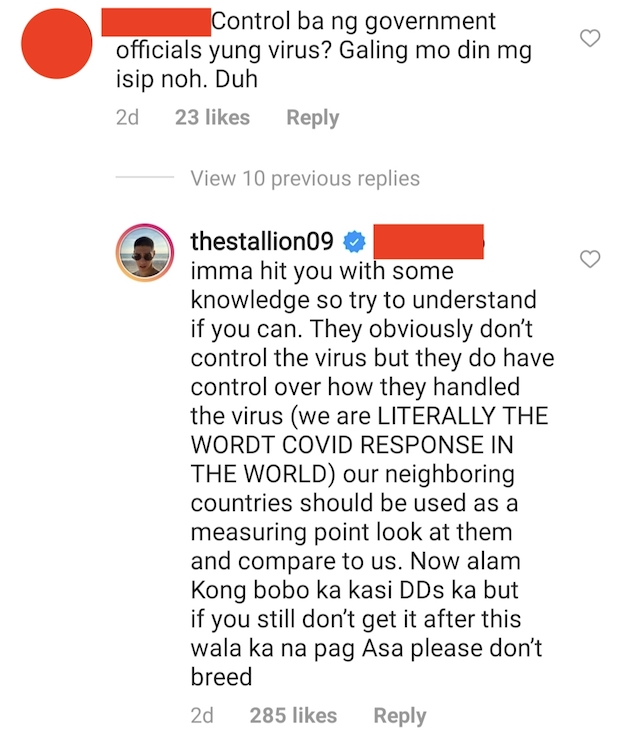 In a back-and-forth with another user, Casiño used the r-word slur and raised that he was probably earning more than the commenter (who claimed that the actor didn't have a career) as clapbacks.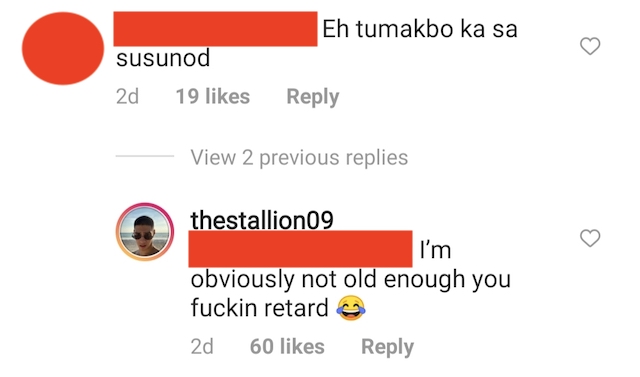 There were a number of other exchanges that were probably made in poor taste and could have breached community guidelines. While it's OK to defend yourself on the internet, calling people ableist slurs and dropping remarks that reinforce the class divide is regressive no matter what context but especially when the bigger issue at hand is how the everyday Filipino suffers in the hands of poor governance. 
it's so concerning to see ang daming mga taong concerned lang din sa mga sick burns imbes na priority ang conversation. the whole point is to foster a shift in perspective and national change, not to shame masses of people for beliefs they have.

— nakakieinis (@kakiep83) March 29, 2021
Frankie Pangilinan aired her thoughts about it in a series of tweets. "1) the slur??? 2) the classism and elitism????? no thanks sit down have some juice," the musician and internet personality wrote. "It's good to be mad. It's not 'nega,' because that means you don't only hope for better, you believe better is achievable. And it's completely okay to be saddened and pissed about people online, but the bulk of that rage should be channeled to the real enemy on top."
Discourse is good but when we turn it into a name-calling contest, we take one step forward and two steps back. Let's focus our energies on positively contributing to voter education.
Art by Pammy Orlina
Follow Preen on Facebook, Instagram, Twitter, YouTube and Viber
Related Stories:
A collection of politicians' confused reactions to the COVID-19 spike
Liza Soberano asks the tough question: Where is the support for the poor?
These celebrities won't be fooled by empty promises anymore—here's why
A cheat sheet to the #PreenPSA on sexual harassment with Kakie and WLB