Gone are the days when we'd have to pull up Ryan Evans' and Chad Danforth's tension-filled "I Don't Dance" sequence in "High School Musical 2" and that outfit switcheroo as proof that Sharpay's flamboyant, fashionable twin is gay. 
In the latest trailer for the fourth season of "High School Musical: The Musical: The Series" (HSMTMTS), we see Ryan kissing his partner.
Yup, some of the OG Wildcats have returned to East High for the final season of the show. In the trailer, we see Ryan (Lucas Grabeel), Chad (Corbin Bleu), Martha Cox (Kaycee Stroh), and now-school principal Taylor McKessie (Monique Coleman) perform "High School Reunion."
It's time for the high school reunion we've all been waiting for… 😉 Here's a sneak peek of the opening number of #HSMTMTS, streaming August 9 on @DisneyPlus! pic.twitter.com/UUhsY1RXU5

— HSM: The Musical: The Series (@hsmseries) July 25, 2023
Ryan's wearing a shiny violet suit with a printed tie and a signature newsboy cap that even has an R on top of it. After performing, he steps offstage where a guy played by Pentatonix's Scott Hoying greets him, saying "You look amazing. This is so cool."
Ryan replies, "This means so much to me that you are here." The guy then tells him, "I love you." Then, they actually kiss on-camera. And this isn't the first same-sex kiss on HSMTMTS, with characters Carlos and Sebastian being the first couple to do so.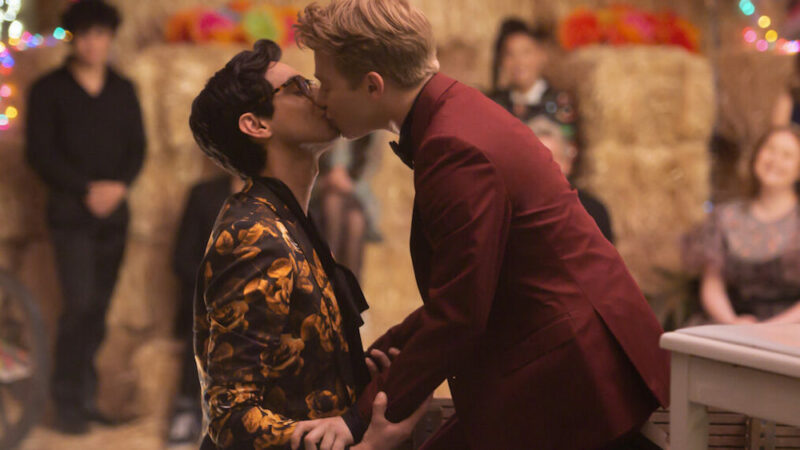 The kiss also isn't the first confirmation that we've had about Ryan being canonically gay. "High School Musical" movie trilogy director Kenny Ortega told Variety in 2020 that Ryan would've probably "come out in college" and that he didn't think that he'd be able to make Ryan openly gay back then but "took it upon myself to make choices that I felt that those who were watching would grab. They would see it, they would feel it, they would know it and they would identify with it. And that is what happened."
When Ortega's interview was published, Grabeel initially expressed hesitance in reprising the role and raising how there were many "amazingly talented gay actors" who could also give the character justice. "The last thing that I would want to do is to take an opportunity away from other people and as a straight white man, I know that even without trying, I know that I've taken away opportunities from people," said Grabeel. 
But it seems the reunion project has convinced Grabeel to play Ryan again and we're low-key excited to find out what the other OG Wildcats have to say about his beau. Hey, maybe we'll even find out if Ryan and Chad really did fool around in the past. 
Photo screen capped from the HSMTMTS trailer 
Follow Preen on Facebook, Instagram, Twitter, TikTok, YouTube, and Viber