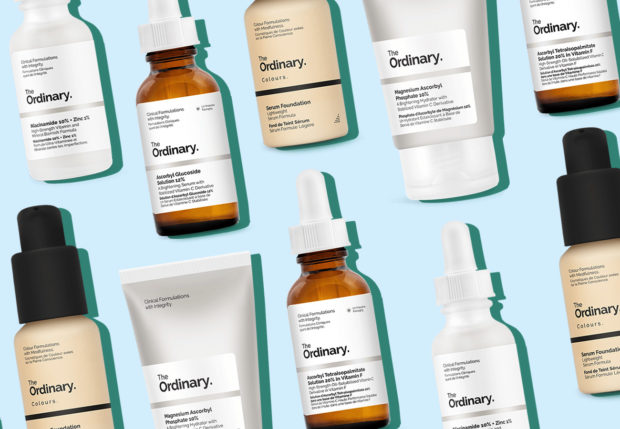 Beauty junkie or not, you may have heard of the new addiction on this brand called The Ordinary. You know it's real when there is a 25,000-person waitlist for their products.
I can't remember how exactly I stumbled upon the brand. But I am sure it was through a passive Instagram Stories post by an influencer or two. Soon enough, I saw it on vlogs and on different publications. If there's one thing a beauty brand must do to reach cult status it's to remain both everywhere and nowhere. It's not in-your-face but it's raved about by the cool people. And even if it hits mainstream, you get the sense that it's still on the hush-hush. It's a legit beauty secret, spreading via word of mouth.
Their major claim to fame is offering Holy Grail solutions like retinoid and niacinamide without demanding the price of your entire bathroom vanity. Sold at around $10 to $30 (That's around P500 to P1,300), it beats out a lot of the high-end competition without compromising quality. And don't forget the low-key, millennial packaging that easily fits into a flatlay.
If you're here to do your research before you begin, we're right with you as we give you some key facts about the brand.
#1 Where does it come from?
The Ordinary is one of the labels under cosmetics company Deciem. Based in Canada, they tag themselves as "The Abnormal Beauty Company." In their company video, they veer away from the usual tight-lipped and almost-surgical vibe of the big players. Notice the co-working office set up, the quirky music, and as I said earlier, the very millennial approach to packaging. One must also note how they just started in 2013 and now holds 15 brands. Not bad for a new player.
Their other video expresses that quirky, out-of-the-box vibe and also takes pride in how they were develop a lot of products, one at a time, rather than with a mass market appeal.
#2 What products do they offer?
The Ordinary carries five major lines: Vitamins and Retinoids, Direct Acids, Hydrators and Oils, More Molecules, and Colours which is their makeup category that contains their foundation, the one with the 25,000-person waitlist. Makeup artist and beauty vlogger Wayne Goss is already a fan.
Under their Vitamins and Retinoids line is the Advanced Retinoid 2% solution which is much celebrated for being just $15. Other brands can demand up to $100 for the same thing. From their Hydrators and Oils comes their 100% Organic Cold-Pressed Rose Hip Oil. An officemate of mine says it helps her skin look brighter, and she hasn't even gone through the whole bottle.
Byrdie reports that the strength of The Ordinary's products is how they don't deal with the other fluff. They report, "Deciem's founder Brandon Truaxe says that because of the low ingredient count, the products can be manufactured and packaged more affordably. He adds that most brands overprice these ingredients and disguise them as 'new innovations.'"
In this, The Ordinary cracks the great irony of our time. The biggest trend is to veer away from whatever is at the top of the feed. Instead of looking for the next-best-thing, The Ordinary, as their name suggests you go back to basics.
#3 How to use them?
Okay, so how simple is simple? How do you know which one to use? On their website, The Ordinary provides a guide for what problems each solution addresses. They also give you a breakdown whether it is oil or water-based. Best still to consult your dermatologist, do a lot of research, and observe your skin very well. You may just need one or two items. But you are free to combine them to address what you need to solve.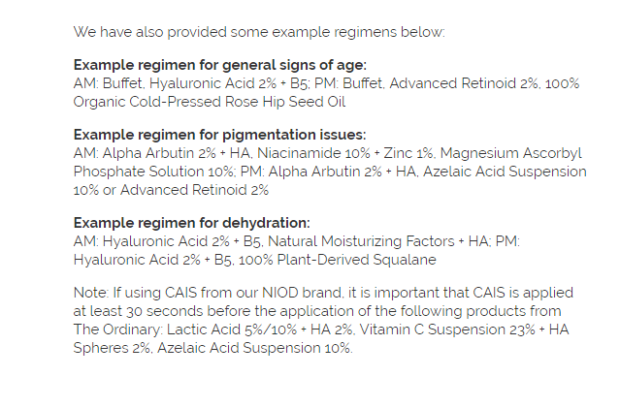 #4 How are the reviews?
Good. Nothing but. For the price, it already makes it worth trying out especially if you are sick of breaking your bank account for the newest concoction that will solve problems you didn't even know you had. Elle UK says it's a must-add to your beauty arsenal, given the packaging, the new products in the works, and how they already carry products very specific to every other skin concern from anti-aging to hyperpigmentation. Even acne scars! Nylon says it's the best dupe brand for the expensive skincare labels saying, "The Ordinary isn't the first brand to offer affordable skin care, but it is one of the first (and possibly only in my experience) to do so while still offering innovative products made with buzzy and cutting edge ingredients."
#5 Where can I get them locally?
If you don't want to pay for crazy shipping, a few online shops offer The Ordinary. Just keep your eyes peeled as the stocks go out fast. There's Make Up Pro Store, which claims to be the official distributor of Deciem products in the Philippines. You can also try The Liquid Lip PH and a few other shops on Instagram.
Art by Dorothy Guya
Follow Preen on Facebook, Instagram, Twitter, Snapchat, and Viber
Related stories: 
'Millennial Skincare' Is Mostly Made of Coconut Oil and Glitter
5 Solutions to Use So You Can Say Good-Bye to Acne Scars
Before Buying Another Tube of Lipstick, Consider the Environment First