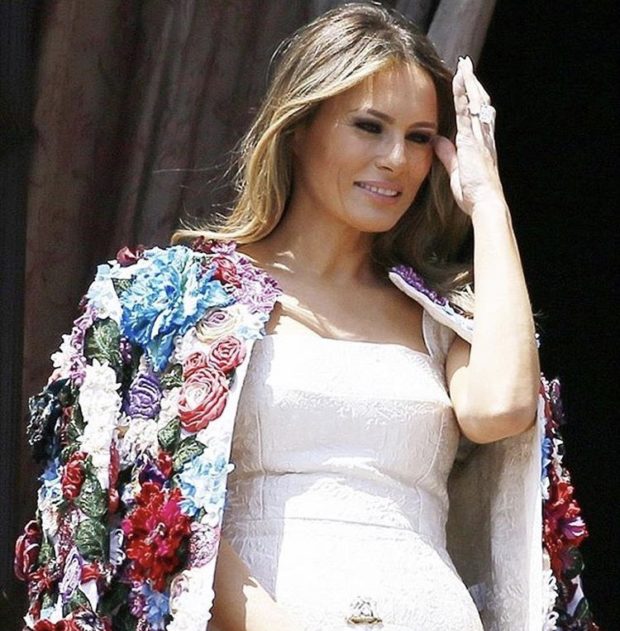 When singer Miley Cyrus got into an Instagram feud with designer Stefanno Gabbana over Melania Trump, a long-time problem in fashion found an uncomfortable spotlight. But first, you can read that sentence one more time, because it is indeed peak 2017. It could only be topped when Raury held his one-man protest against Donald Trump on the Dolce & Gabbana Men's Fashion Week runway.
Fashion designers play quite a pivotal role in society but at the same time, they are just like you and me, doing the jobs they are paid for. As artists, they have the power to support movements or to incite emotions. We saw it very recently when designer labels jumped on the feminist shirt train. Maria Grazia Chiuri of Dior didn't shy away from being identified as a feminist designer. Balenciaga took on the campaign paraphernalia of Bernie Sanders for one of its recent collections, giving a commentary of the fashion scene and American politics. Filipino designer John Herrera doesn't deny this either. "I think art can be political, as any image sent down the catwalk has a subliminal message to whoever is looking." He riffs even from his experience, on how a design isn't as simple as the eye perceives, "When Vice Ganda asked me to design a gown for him at a ball with societal issues print on it, I had to check in with my team first before we made it."
I could cite many more instances where fashion crossed into political territory, and not just in recent years. Because of the power and influence of some of these designers, it helps make an issue more visible. It also creates a dialogue between different sectors in society.
So when someone like Stefano Gabbana, half of one of the most recognized fashion houses worldwide, shows fervor when Melania Trump wears pieces from Dolce & Gabbana, it's bound to make a statement. Whether Stefano intended it or not, his support of Melania (not necessarily of her politics or that of her husband's) looked off especially when a lot of other designers like Tom Ford and Sophie Theallet expressed that they didn't want to be associated with the First Lady. It looked off especially since Trump is…Trump.
Stefano's response was still succinct, regardless. His intentions weren't about the politics, he was happy to regram someone who wears his designs. Stefano is known to repost the #DGWoman, including our very own Heart Evangelista, Marian Rivera, and Gretchen Barretto. "I think every designer's most important agenda is to get their work worn by as many people as possible. And if the rich and powerful would show interest, I personally think I would turn that opportunity down," says John.
One cannot be too quick to judge Stefano over his answer. He's a designer and the best compliment he could receive is to see people wearing his clothes. He's into the business of fashion, so seeing his products being used and worn converts to earnings to continue his business. Do we want to begrudge a man doing well in his livelihood? Think about it: Do we really badger the man who cooks Trump's meals?
Gabbie Sarenas also sees that fashion can provoke conversations, Stefano and Miley's feud is one good example. "Both have their good points. It's just that, maybe, these two personalities have a different set of values that they adhere to." Gabbie also believes that as much as fashion can express one thing, you can't insist on what you believe to others. "Fashion is a powerful tool to give a strong message. It is used to promote what you stand for. At the same time, you can't force your stand to anyone because that's what freedom is—to be able to stat your values and beliefs responsibly."
There is no question that designers are like any other professionals. They deliver to the client what they paid for. But the complicated part is how their business is a medium of expression. Arnold Galang knows this and it shows with his collections that depict societal concerns. His last collection for Philippine Fashion Week was entitled Coalescent Culture: The Peace Collection Series, which reflected sentiments on love and unity. For Arnold, the burden of responsibility as a designer is heavy. "I feel fashion has become a platform to showcase our personal views on political matters," he says. "That was my biggest apprehension when I became peace ambassador since I know the industry is not keen on political affiliations moreso issues. In fact, it was one of the reasons why we were tapped t promote the advocacy, to make sensitive issues more mainstream and readily accessible and informative."
Despite some apprehensions, Arnold stepped up to the plate. "I am able to relay that issues like peace, is something we can actually work on, even in the smallest way we can."
Stefano's posts, without any political implications, skids the fine line however. Since his client was a highly-publicized societal figure, the message of his support can be taken in more ways than one. But our reaction, or at least Miley's, is exactly how and why designers like Stefano need to understand that line. When is a dress ever just that? And when does it mean more than its intended use? The resolution will never come just simply. It will be a constant conversation in the days to come. What will be at stake is how we view the various professionals around us, the role of art, and the responsibility over what we say and do to the audience we involve.
Photo courtesy of Stefano Gabbana's Instagram account
Follow Preen on Facebook, Instagram, Twitter, Snapchat, and Viber
Related stories: 
Did Miley Cyrus Call Out Dolce & Gabbana for Supporting Melania Trump?
Artist Raury on the Importance of Boycott and Why He Protested on Dolce & Gabbana's Runway
#DGWomen: The Local Celebrities Who Made It on Stefano Gabbana's Instagram Is a Feminist T-Shirt Going to Change the World? 
This Luxury Italian Label Designed the Toaster and Coffee Machine of Our Dreams