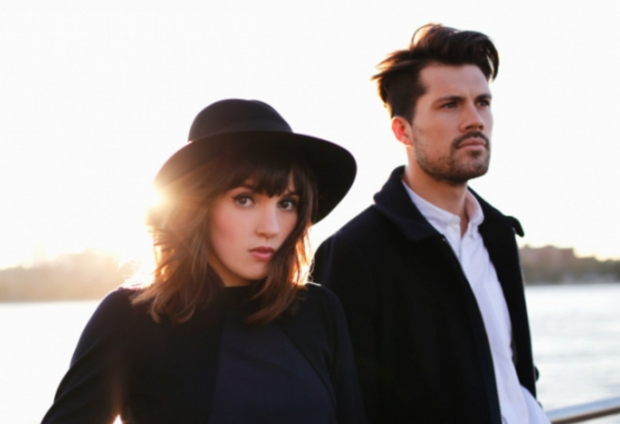 The first time I heard a song by Oh Wonder, it was playing in the car I booked on a busy midday. I remember how I paused from scrolling through my phone to listen to the lyrics: "Over the moon, over the midnight." I also remember how it calmed me down as I was rushing that day.
I don't know why I didn't Google the song sooner and listen to Oh Wonder that same day. I would only hear them again later that year in their first Manila gig. They got a rowdy field full of music festival attendees to slow down and sway. They played "Midnight Moon," the song that I heard in the car and I knew that I was hooked. And that I really should have listened to them sooner.
It's amazing how the London-based pop duo Josephine Vander Gucht and Anthony West have owned stages across the globe since they put together their first album in 2014 in their home studio. Since then, they have played sold-out shows in Paris, London, and LA. Now, they are set to release their new album Ultralife and are on-tour. Next week, they will be making a stop here in Manila on July 21. But that's not before they play back in Manchester and is just a string of stops that include Kuala Lumpur, Seoul, and Sydney. Right after their Asia-Australian trip, they're headed right back to Europe.
Oh Wonder's music falls into the soft and breathy electropop, perfect for lazy and long drives or a Sunday morning when you're cleaning out your things. Not a diss, as every so often we need a break from the heart-thumpers, and the never-ending battle of who will be the next 2Pac of our time.
And hearing them live is also a different experience. To be able to make a large crowd and stage feel like an intimate setup, like a wistful bar in one of your trips abroad is a talent we often don't give a nod to.
If you're like me who is excited to see the duo again to sing along to songs of love, heartbreak, and a bit of nostalgia, we've got a playlist for you. Starting with the crowd favorite "Without You," we're bringing you through the songs from their debut album, interspersed with songs from Ultralife and ending it with the freeing break-up song "Drive."
Oh Wonder Live in Manila will be on July 21, 8 p.m. at the Samsung Hall, SM Aura Premier. Get your tickets online via Ticketworld.
Photo courtesy of The Knockturnal
Follow Preen on Facebook, Instagram, Twitter, Snapchat, and Viber
Related stories: 
How Is Sex Portrayed by Love Songs?
How SONY Extra Bass Wants You to Feel Your Music
The Preen-Approved Music Festival Kit
Press Play: 5 Empowering Female Musicians