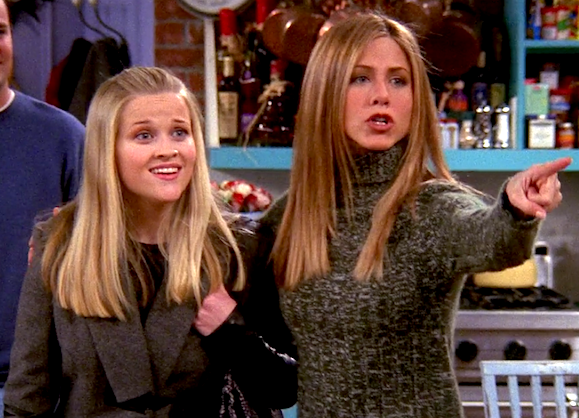 Years have gone by but we still watch reruns of Friends over and over (and over) again. Even if there are no signs of a show revival, we get by through this little silver lining—Jennifer Aniston and Reese Witherspoon, who played siblings on Friends, will be doing their own reunion for a new TV show.
The Hollywood Reporter and Vanity Fair reported that the actresses already signed on to be the executive producers and stars of a new series. The title or even the network? Still no word. What we know so far is that it'll be set in the morning talk show and New York media industry.
Even the direction of the series is still kept secret, so we're still not sure if it's a comedy like the movie The Ugly Truth or a little more serious like TV series The Newsroom. The Hollywood Reporter said that Michael Ellenberg, the former drama head of HBO, brainstormed on the idea and it will be written by Jay Carson, one of the writers of House of Cards. Based on these clues alone, it sounds like it's going to be a really intense drama series.
Jennifer Aniston has only done guest roles the past few years and hasn't really joined a series permanently while Reese Witherspoon starred in HBO's Big Little Lies.
Are you excited for this mini reunion? I am. And that means losing a lot of sleep so I can marathon the upcoming show.
[
Vanity Fair
]
Photo courtesy of Indie Wire
Follow Preen on Facebook, Instagram, Twitter, Snapchat, and Viber
Related stories:
How Big Little Lies Gave Us a Realistic Take on Domestic Violence
Jennifer Aniston Smashed Pregnancy Rumors in a Furious Essay
Why You Won't See Jennifer Aniston in Living Proof Ads Anymore
Jodie Whittaker on Being the First Female Doctor in Doctor Who