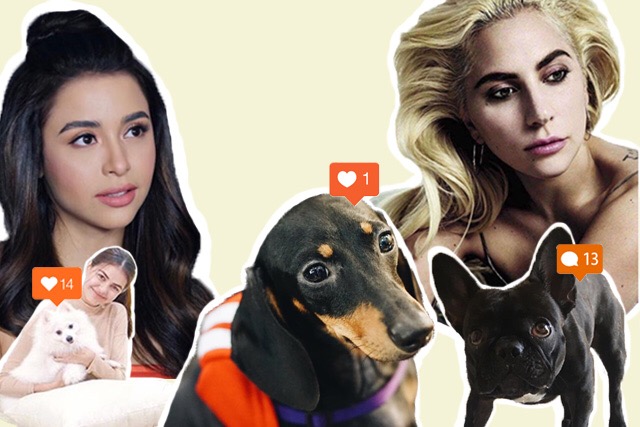 When people started making Instagram accounts and hashtags for their pets, I thought it was ridiculous. Then I realized, that these accounts are godsend to follow if you love cute pets. They're a stress-reliever and they also give us ideas on how to spoil our own pets.
If you share the same sentiment we do, scroll through the feeds of these furry social media stars, manned by their popular owners.
Rocket and Ryder

We've previously encountered Tricia Centenera pomeranians and we're glad to find the adventures of these two continue. From daily walks to car ride, these two have faces you would find hard to resist.
Summer, Storm, and Bambi
Coleen Garcia is a proud mom to three pets: two dogs Bambi and Summer, and Storm, a cat. If you want to know how these three get-along and play a part in Billy Crawford and Coleen's life just click on their hashtags: #Bambitheteenager, #Summerhuahua, and #StormTheSphynx.
Miss Asia Kinney
Sometimes, I think Miss Asia Kinney, Lady Gaga's pet French bulldog has a better life than I do. She was formerly the star of Coach's 2015 campaign and enjoys life backstage at the Super Bowl Halftime show while Mother Monster makes the dough. Asia's third birthday celebration boasted of cute Peppa Pig and My Little Pony balloons.
Choupette
This list wouldn't be justified without Choupette. The pampered cat boasts of a Shu Uemera line, plush toys that demand $45 and trips to destinations we dream about to meet Karl Lagerfeld's different clients. Ah, the high life.
Killa the Daschund

Yassi Pressman's pet Daschund Killa is sporting the cutest dog streetwear. He loves the beach and doesn't mind a trip to the pool often. How can you not love him?
Finn Seyfried
With over 50,000 followers, you could say Finn's got some serious social media game. He's Amanda Seyfried's furry pal who enjoys wading into a lake, shopping trips and the occasional Vogue Australia feature.
Papito and Waffle

No matter how busy Jasmine Curtis-Smith's life gets, she seems to always have time for Papito and Waffle. They even come with her to some business meetings at times. But mostly, they help the rising star de-stress. Click on their hashtags #PapitoPls and #BBWaffle.
Angel and Bailey Gosingtian
Fashion blogger Tricia Gosingtian and her family give us the gift of Angel and Bailey. These two labradors love smiling for the camera and sleeping. Isn't that just the best combination?
Punchy

We know that Janine Gutierrez can take a good selfie anytime anywhere. But guess who is equally photogenic? Punchy! Spot him in Janine's BTS life and even in her endorsements via he hastag #ponchebear.
Art by Lara Intong
Follow Preen on Facebook, Instagram, Twitter, Snapchat, and Viber
Related stories:
Spoil Your Furry Friends the Way Jasmine Curtis and Tricia Centenera Do
Here Are 6 Reminders to Not Stress Out Pets In an Animal Café
Lady Gaga's Dog Joins Ranks of Celebrity Pet Endorsers
Pet Tales: Tricia Centenera, Kai Lim, and Gian Romano with Their Furry Friends