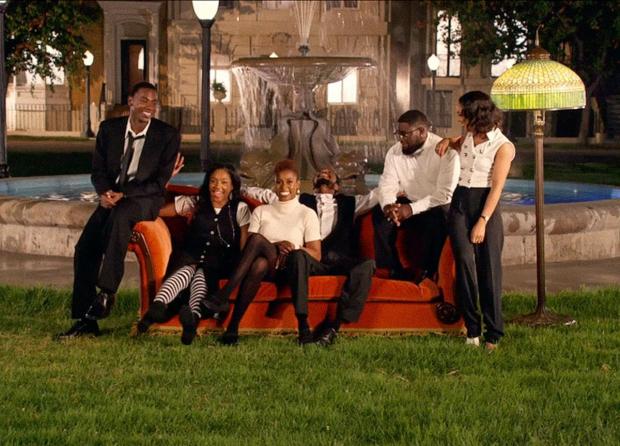 Jay-Z's new music video for "Moonlight" is an all-black version of 90s sitcom Friends. While the video looks lighthearted, there seems to be some shade hidden within it.
The music video stars Lil Rey Howery (Joey), Lakeith Stanfield (Chandler), Jerrod Carmichael (Ross), Issa Rae (Rachel), Tiffany Haddish (Phoebe), and Tessa Thompson (Monica). They recreated the show's iconic opening credits and the second episode of season three titled "The One Where No One's Ready."
https://twitter.com/AlanMYang/status/893578634446983169?ref_src=twsrc%5Etfw&ref_url=http%3A%2F%2Fpitchfork.com%2Fnews%2Fjay-zs-new-video-is-a-black-friends-remake-watch%2F
Netizens quickly picked up that Jay-Z and director Alan Yang were also referencing the fact that Friends allegedly ripped off another '90s show titled Living Single. In case you didn't know, Living Single is an all-black show which starred Queen Latifah. Even she said that Friends was inspired by the show.
#Moonlight "Living Single" was the original "Friends". #WeStuckInLaLaLand pic.twitter.com/sQqJhROTwj

— 🌺 (@breamstream) August 4, 2017
So apparently Jay-Z's #Moonlight video is appropriating white culture but Friends being a rip(spin)off of 'Living Single' isn't. 🙄 pic.twitter.com/ivjD0bunVV

— Stimmy Neutron 🌠 (@themorganjael) August 5, 2017
Plus, the song itself references to this year's Oscar mix-up wherein La La Land was mistakenly announced Best Picture. The award ultimately went to Moonlight.
https://twitter.com/IsotopeRose/status/893589951975182336?ref_src=twsrc%5Etfw&ref_url=http%3A%2F%2Fwww.refinery29.com%2F2017%2F08%2F166708%2Fjay-z-new-new-moonlight-video-friends-all-black-cast
Anyone else want hot tea while reading all that shade?
If you want to see the whole video, it's only available on Tidal for now. But it'll be shown online some time this week as well.
[
Pitchfork
and
Refinery29
]
Photo courtesy of Independent
Follow Preen on Facebook, Instagram, Twitter, Snapchat, and Viber
Related stories:
All that's Happened After the Oscars' Steve Harvey Moment for the Best Picture Award
Jennifer Aniston and Reese Witherspoon Will Reunite For a New Show
'Die With You' Is Beyoncé's Anniversary Gift to Jay-Z
Let's Talk About Being Racist As an Asian