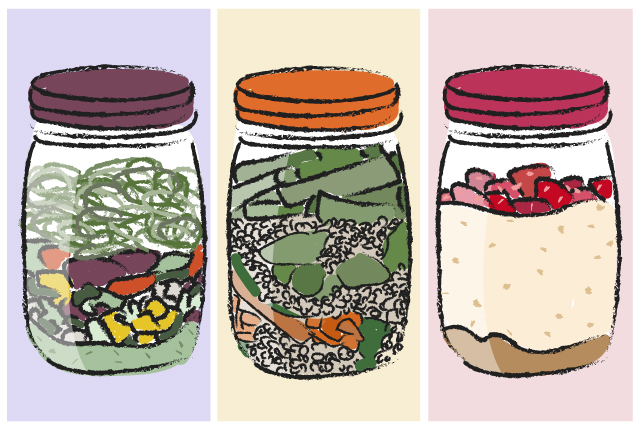 On this episode of "easy recipes for lazy days," we're going to talk about using mason jars for our meals.
Just like mugs, you can quickly put ingredients in a jar and heat it inside a microwave or oven to cook. There are also no-cook recipes which mostly require refrigeration. We rounded a few that you can try making and bring to work, or give them away as gifts.
Apple Cinnamon Overnight Oats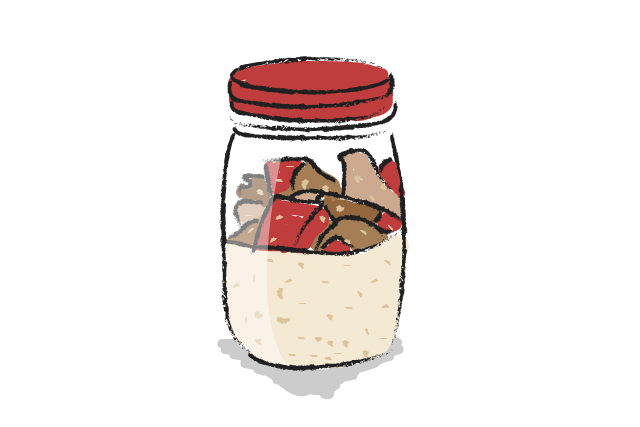 For a healthy start in your day, prepare this sweet overnight oats the night before. This will surely fill you up and provide you with the energy you need. Even Lauren Young is a fan of this.
Ingredients
1/2 cup rolled oats
1/2 cup whole cream or non-fat milk (almond milk for healthier option)
1/4 cup plain yogurt
1/2 cup chopped apples
1/8 tsp ground cinnamon
1 tsp honey
1 tsp chia seeds
Procedure
1. Pour the rolled oats and milk in the jar. Mix so that the milk is evenly distributed.
2.  Mix in yogurt.
3. Put in chopped apples and sprinkle cinnamon and chia seeds on top.
4. Drizzle honey for sweetness. Feel free to add more depending on how sweet you want it.
5. Place the jar in your fridge and leave it overnight.
6. Grab the jar in the morning and enjoy it for breakfast.
Deconstructed Sushi
Do you have leftover white or brown rice? Solution: Mix it with chopped vegetables and create deconstructed sushi.
Ingredients
3/4 cup brown rice
1 tbsp seasoned sushi vinegar
4 sheets of seasoned nori
1/4 cup carrot sticks
1/4 cup cucumber sticks
1/2 avocado, diced
Lime juice
Pickled ginger
Wasabi
Procedure
1. Put warm brown rice in a bowl and mix with sushi vinegar. Let it cool until it's room temperature.
2. Slice the nori into strips so it's easier to fit in the jar.
3. Toss the diced avocado in lime juice.
4. Start your sushi layers with pieces of nori at the bottom. Then put spoonfuls of rice and pat it down before adding the vegetables. Finish it off with more nori. Repeat until the jar is filled.
5. Top it off with wash and ginger to taste.
6. Serve and enjoy!
Zucchini Pasta Salad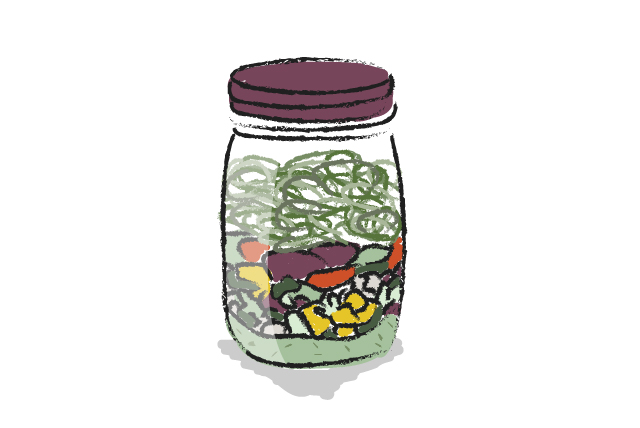 Create a quick and light meal with this zucchini pasta recipe. This is perfect as an on-the-go lunch at the office or after working out at the gym. Feel free to choose or make your own dressing for this one.
Ingredients
2 zucchinis
1/2 cup sliced cherry tomato
1/2 cup diced yellow bell pepper
1/2 cup edamame
1 cup sliced celery
1/2 cup feta cheese
1/4 cup sliced black olive
Dressing of choice
Procedure
1. Use a vegetable peeler or kitchen spiral tool to make the zucchini noodles.
2. Brush an adequate amount of dressing at the bottom of the jar.
3. Add celery and bell pepper first.
4. Throw in the feta cheese.
5. Put the tomatoes, olives, and edamame.
6. Top of the layer with a piece of lettuce or more zucchini pasta.
No-Bake Strawberry Cheesecake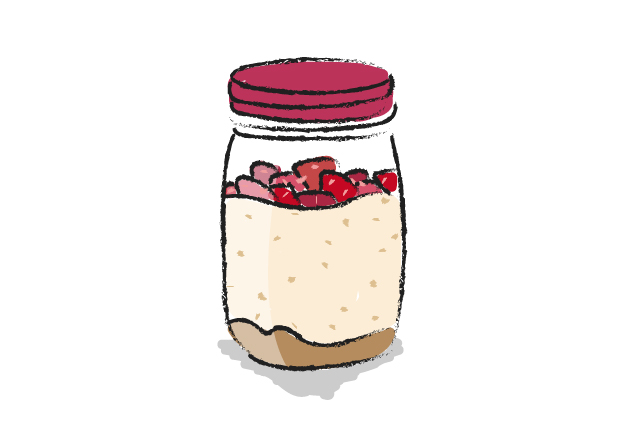 If you're someone who often craves for cheesecake, this recipe is for you. You just need a few elements for your jar and refrigerate it. You can also use other fruits like blueberry and mango for this.
Ingredients
1/2 cup graham cracker crumbs
3 tbsp melted butter
1/8 tsp cinnamon
1 cream cheese
2 tbsp white sugar
1/2 cup condensed milk
1 tsp vanilla extract
1 tbsp lemon juice
10 large strawberries
1/2 cup chocolate chips
Procedure
1. Stir the sugar and graham crumbs together in a bowl. Add melted butter and mix until combined.
2. Beat the room temperature cream cheese in a kitchen mixer. Make sure it's set on high.
3. Slowly add the condensed milk, then the vanilla extract and lemon juice.
4. Assemble your jar. First, pour the crumb mixture and top it with chocolate chips. Then pour the cheesecake mixture and top with chopped strawberries and more crumbs.
5. Refrigerate for two hours.
6. Serve! You can also drizzle chocolate or strawberry syrup on top.
Pizza in a Jar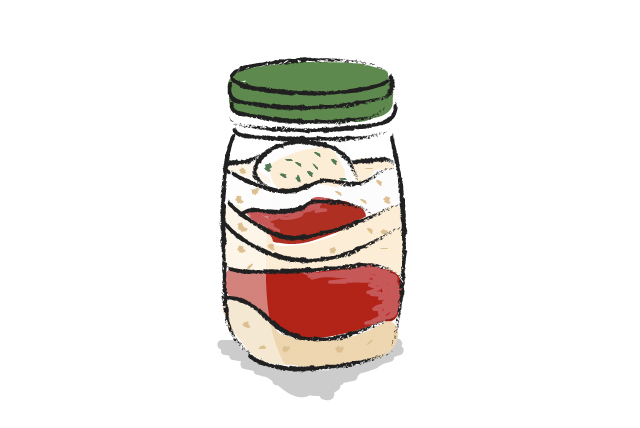 All the elements of a pizza stuffed in one jar, down to the gooey cheese. A great snack for those stay-in, watching Netflix kind of days.
Ingredients
Pizza dough (homemade or store-bought)
1 to 2 cups tomato sauce
1 cup mozzarella cheese
Pepperoni (optional)
Procedure
1. Put dough on the bottom of the jar and bake it at 375 degrees for 15 to 20 minutes. Make sure that your mason jar is oven-safe!
2. Once the dough is golden and crispy, layer the rest of the ingredients. You can do tomato sauce first then mozzarella and pepperoni, and vice versa. Also add more pieces of dough
3. Put the jar in a deep dish filled with water before baking again at 375 degrees for 15 to 20 minutes. Check on it to make sure that the dough doesn't get burnt.
4. Serve while it's still warm so you can see the melted cheese. Yum!
Hummus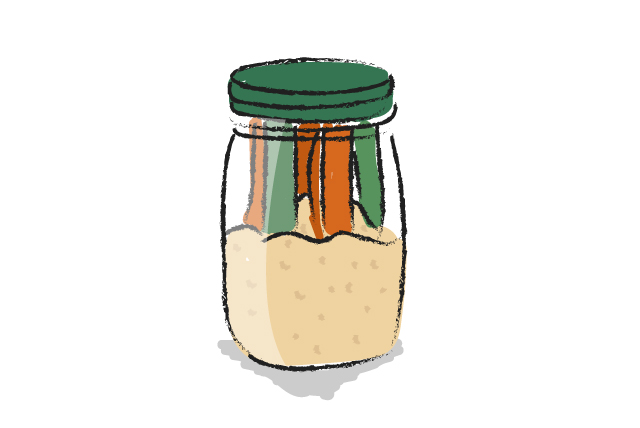 Having friends over for some wine and board games? Prepare this hummus dip with vegetable sticks. They won't stop munching on these while you play.
Ingredients
1 can chickpeas
1 clove garlic
1/4 cup olive oil
2 tbsp fresh lemon juice
2 tbsp tahini
1/4 tsp chili powder
Salt to taste
12 carrot sticks
12 celery sticks
Procedure
1. Puree all the ingredients (except the veggie sticks) until smooth.
2. Pour hummus in a jar and stick the vegetable sticks on top for easy dipping.
Art by Lara Intong
Follow Preen on Facebook, Instagram, Twitter, Snapchat, and Viber
Related stories:
Mug Recipes That Will Save You Time in Kitchen
Make This Free-Form Cheesecake With Ingredients Already in Your Kitchen
How You Can Make a Poke Bowl at Home
Have a UK-Inspired Breakfast Like Solenn Heussaff or Avocado Toast Like Drew Barrymore
A Chia Seed Pudding Recipe to Kill Your Post-Workout Cravings