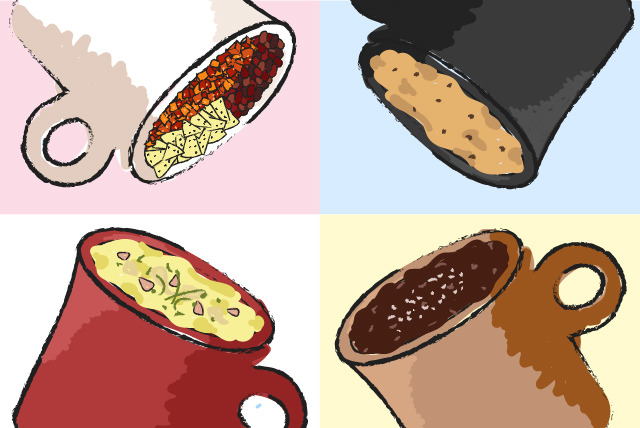 Preparing a home-cooked meal for yourself can take a lot of time and effort but sometimes we don't have the time or energy to do it. Ordering from your favorite fast food chain is a quick solution but why not try a mug meal?
There are many recipes you can try from savory quiches to sweet chocolate cakes. The procedure for each food item is simple too as you just need a microwave to cook. Mug recipes are great for mornings when you don't have enough time to prepare breakfast and midnight snacks when you're craving for something sweet to eat.
We've listed some sweet and savory mug recipes that you can try this week. See if you have these ingredients at home and start cooking.
Quiche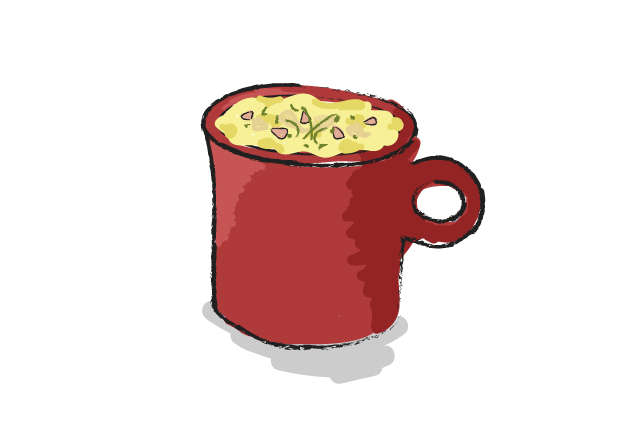 Are you too lazy to make breakfast but want more than just cereal? Try making this quiche in a mug. It has cream cheese and ham, the perfect combination to start your day.
Ingredients:
1 egg
1 1/2 tbsp. milk
salt
ground black pepper
1/4 bagel
2 tsp cream cheese
1/2 sliced ham
Procedure:
1. Beat the egg and milk together while adding salt and pepper to taste
2. Add pieces of bagel and cream cheese then stir mixture
3. Add pieces of ham and stir mixture again
4. Microwave on high until the egg is cooked
Chocolate and salted caramel cake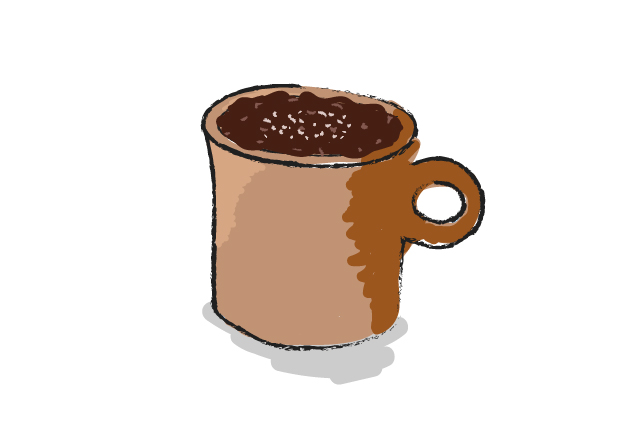 If you're craving something sweet and salty, try making this chocolate and salted caramel cake. You probably have all these ingredients in your pantry and it only takes two minutes to make.
Ingredients:
4 tbsp all purpose flour
4 tbsp sugar
3 tbsp unsweetened cocoa powder
1/4 tsp baking powder
1/4 tsp salt
1 egg
3 tbsp skim milk
1 tbsp vegetable oil
2 salted caramels
Procedure:
1. In a small bowl, combine flour, sugar, cocoa powder, baking powder, salt, egg, milk, and vegetable oil
2. Pour the mixture into your favorite mug and drop the caramels into the center
3. Microwave on high for one minute and 30 seconds
Burrito
This recipe is great for family lunches or laid back gatherings with your friends. Create a burrito making station and have your guests make their own burrito mug. They can customize it however they like by adding the ingredients and toppings below.
Ingredients:
cooked brown rice
canned black beans
pico de gallo or salsa
corn chips
diced avocado
Procedure:
1. Combine all the ingredients in a mug and give it a stir
2. Microwave on high for one minute
Chocolate chip cookie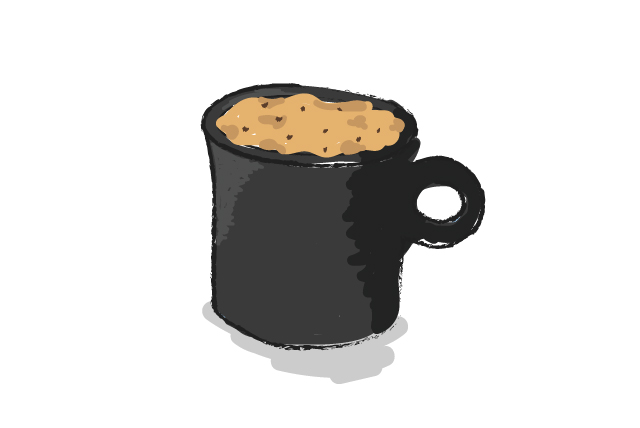 Having a warm chocolate chip cookie and a glass of milk at the end of the day is the perfect treat. So why not make this mug version tonight? It is a simple recipe that you can eat with milk or even a scoop of ice cream.
Ingredients:
1 tbsp unsalted butter
1 tbsp granulated sugar
1 tbsp brown sugar
1/2 tsp vanilla extract
1/8 tsp salt
1 egg yolk
3 tbsp all purpose flour
2 tbsp chocolate chips
Procedure:
1. Microwave the butter in the mug until it melts
2. Mix in granulated sugar, brown sugar, vanilla extract, and salt
3. Mix in the egg yolk and flour
4. Fold in the chocolate chips
5. Microwave on high for 40 seconds
Art by Lara Intong
Follow Preen on Facebook, Instagram, Twitter, Snapchat, and Viber
Related stories:
The Breakfast of Champions Comes In the Form of a Shake
Who Knew Fruit Balls Make for a Good Cocktail
How to Make a Poke Bowl at Home
Reward Yourself This Weekend With a Choco Mint Mocktail