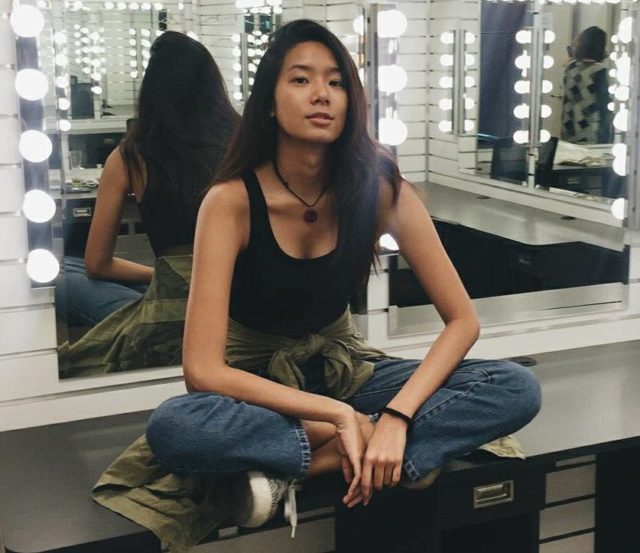 Project Runway is a show that not only scouts for up-and-coming designers, but also gives models more exposure. Especially for Filipino models who are trying to make it big on the international stage. In the past, supermodel Charo Ronquillo was featured on season two. For the show's 16th season, we're going to see Samantha Gomez.
Samantha started her journey in the Philippines under modeling agency Cal Carrie's. She then moved to New York and now represented by Major Models. We spoke with her about the Project Runway experience, her edge as the only Asian model in the roster, and also a glimpse into her life in the Big Apple.
How was the experience being one of the models in Project Runway's new season?
Being a part of the show was so fun! One of the things I love about this industry is you get to meet different kinds of talented people that love what they do, and everyone in the show was like that. Being chosen and being able to be a part of that kind of work environment just makes me feel so blessed and just proves why I love my job.
Did it feel like a regular modeling project or was it more hectic?
Honestly, it just felt like a regular modeling job. There was a lot of waiting, standing in high heels for a long time, and being dressed with new cool garments designers make.
What's your favorite part about it?
My favorite part of it is the runway day, where we all get to see the final look the designers came up with in just a day! I'm always impressed and amazed how they make it possible with just a short amount of time.
Were there moments when you worried about wardrobe malfunctions or felt uncomfortable in the clothing on the show?
I speak for all of the models in the show that the unconventional challenges were uncomfortable for all of us. Luckily, mine wasn't that uncomfortable so I was fine. All of us just couldn't sit in breaks so we had to stand the whole time until we finished taping. But as a model, you should always know how to work with what you're given because that's our job and that's why we get to be called models.
Previous seasons showed a lot of drama among the designers. Did you witness any of them as well and how would you rate it?
On set, the models have a different holding area so we don't really witness the drama in their work room. But during deliberation where you get to stand on stage with your designer, there were a lot of fighting words and throwing each other under the bus. I was shocked and felt awkward because we should only stand still while everything was going on.
What do you think is your edge among the other models in the show?
Being the only Asian model was great because I didn't really have a similar look among the others. But as a model, my strength is my walk so I always bring it on the runway.
Since moving to New York, how are you adjusting to living in a new country/city?
I could say I've traveled quite a lot throughout my career, so living in a new place is not new to me. But I've always loved New York to begin with, so I'm just enjoying myself in this city living like a local.
How about adjusting to New York's modeling industry?
The industry here is way bigger! More competition so you need to work as hard or harder than anybody else, and everything's super straightforward. But it only means there's more opportunities to be better and hone my craft.
What do you miss in Manila?
Definitely not the traffic. But I don't miss Manila, I miss Pampanga because that's home.
What do you like doing on your free time?
As long as it's an activity or something new. Hiking, rowing, or going to a place or restaurant I haven't been before.
What's your favorite spots in New York?
I love Greenpoint in Brooklyn. I love all the spots there from restaurants, shops, to views, and people.
Have you randomly bumped into famous personalities in New York? If not, who would you love to see while strolling the streets?
I met Gigi Hadid and a bunch of top models. I saw Casey Neistat! He's famous New York-based vlogger. He's awesome.
What's your dream runway show that you'd love to walk in?
Victoria's Secret Fashion Show. Its every model's dream.
Do you have a "good luck charm" that you always have to put on or bring during go-sees or fashion shows?
My good luck charm is praying. I always pray before anything else and just lift everything up to God.
If you weren't modeling, what would your profession be?
I would be a graphic designer or creative director.
Photo courtesy of Samantha Gomez's Instagram account
Follow Preen on Facebook, Instagram, Twitter, Snapchat, and Viber
Related stories:
Who Are Charo Ronquillo's Best Friends?
Danica Magpantay on Who She Thinks Is the Most Beautiful Woman in the World
Kelsey Merritt on Her Crazy Student-Model Schedule and Working With Gigi Hadid
Why Did Victoria's Secret Choose Shanghai For This Year's Show
Bianca Guidotti, Jodilly Pendre, and Hye Won Jang Share Their Ultimate Cheat Day Snack