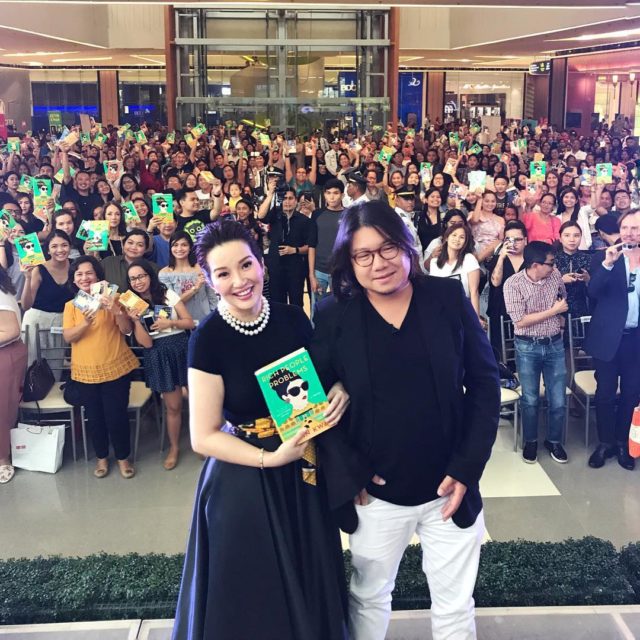 If anyone should serve as ambassador to the Philippines for any arriving dignitaries or—in this case, celebrated author—it should clearly be Kris Aquino.
The Queen of All Media hosted the final leg of Kevin Kwan's Rich People Problems book tour in Cebu and introduced him to Jollibee.
"He asked me for Jollibee Chicken Joy," she told her IG followers, after posting a photo of the two of them dining in the airport lounge.
"Kevin had Chicken Joy, Jolly Spaghetti, Yum with cheese then Chowing Milky White halo-halo," Kris told Preen. "Kevin said he now understood why Jollibee is so iconically Filipino because, in his words, 'you can take pride in how the flavors have come wonderfully together.'"
Kris added: "He said Filipino hosts are the most wonderful because we really know how to feed our guests. All his hosts have been feeding him really fancy food and of course he is super grateful but he just really wanted to try Jollibee."
National Book Store flew Kevin, along with Kris, to the Queen City of the South to meet the author's Birkin-toting fans who lined up at SM Seaside City Cebu.
Kris, who interviewed Kevin at the book signing, couldn't help but ask personal questions about the author's family.
Kris on the Kwan family tree
Kris Aquino: Are your parents still alive?
Kevin Kwan: My mother is.
KA: And does she still live in Texas?
KK: She lives part-time in Texas, part-time in Singapore.
KA: Do you have a good relationship? Are you close?
KK: Yeah, we are close.
KA: Are your brothers married?
KK: I have two brothers and, yes, they're married.
KA: So how many nephews and nieces do you have?
KK: None [laughs] KA: Oh… By choice?
KK: Yeah, both of my brothers decided not to have kids.
KA (to the audience): Parang feeling niya siguro tsismosa talaga tong babaaeng 'to. [Laughs]
She had to plug her Jollibee and Chowking franchises
KA: I'm so excited 'cause they told me… you had never tried Jollibee.
KK: I always wanted to try Jollibee.
KA: I do have a Jollibee but it hasn't opened yet. It's opening in Tarlac by Christmas. I have two Chowkings. So the crazy rich, I'm trying to reach that. So I'll bring you to Jollibee tomorrow but you have to have Chowking halo-halo. Do you know what halo-halo is?
KK: Absolutely, I love halo-halo.
KA: Okay, thank you. You have to have that. So I can make a little money. [Laughs]
Kris is grateful she and her siblings aren't fighting over money
KA: All of my friends who love brands, and who love jewelry are in love with you.
You made reading something that every Filipino can identify with because we all love families and we all have in-fighting. My sisters, they read it… and they were like "Krissy, aren't you glad we're not fighting over inheritance?" And I said, "Yeah, thank God."  If there's one thing we can be grateful for it's that our mom did a good job in making us feel that we really love each other. And money is something we should never fight about.
KK: And that's the most precious gift of all, don't you think?
KA: Yes and I think the book is coated in glitter and glamour but at the end of the day, it's really about 1. self-love, 2. self-acceptance and 3. following your own path.
Photo courtesy of Kris Aquino's Instagram account
Follow Preen on Facebook, Instagram, Twitter, Snapchat, and Viber
Related stories:
What's the Craziest Thing Kevin Kwan Bought With His Money?
Get to Know the Actors Who'll Play the Crazy Rich Asians
Is Kris Aquino Playing a Princess on Crazy Rich Asians?
Kris Aquino Is Working on a New Project with Google