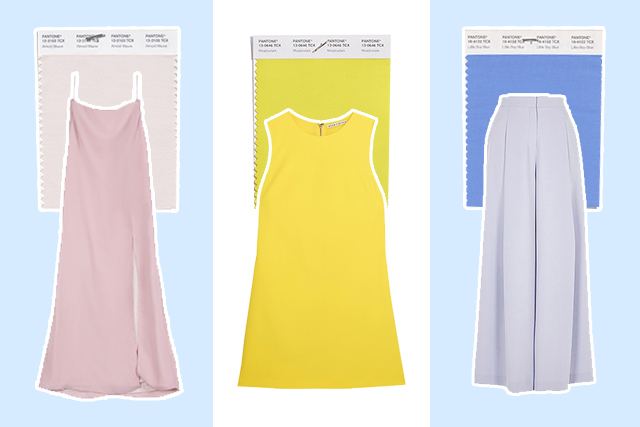 We watch out for Pantone's trend forecasts like it's the new iPhone release. We admit that we get excited whenever they announce the Color of the Year. (Speaking of, what's next after Greenery? Hmmm.)
During NYFW season, they came out with 12 swatches that will be big for spring 2018. It's a lot of color to take in, but we already have a few pieces in mind for each. Refer to our list below if you ever feel stuck in a fashion rut.
Cherry Tomato: Miss Selfridge Red Poplin Volume Sleeve T-Shirt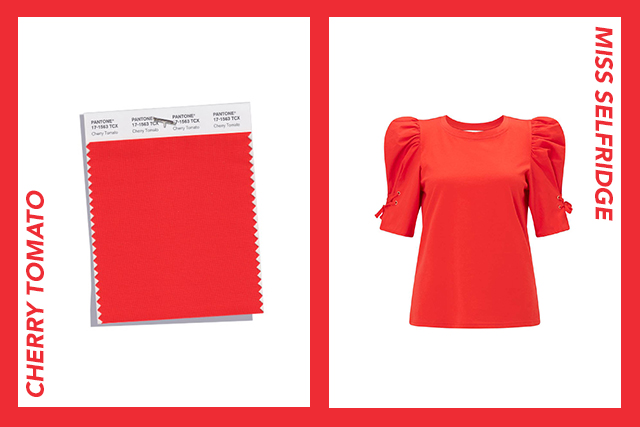 This orangey red hue is described as an eye-catching color that "exudes heat and energy." It's safe to say that wearing this color alone is a statement in itself. Go opt for this poplin top from Miss Selfridge for a casual day out. Available at Greenbelt 5.
Meadowlark: Alice + Olivia Coley Crepe Mini Dress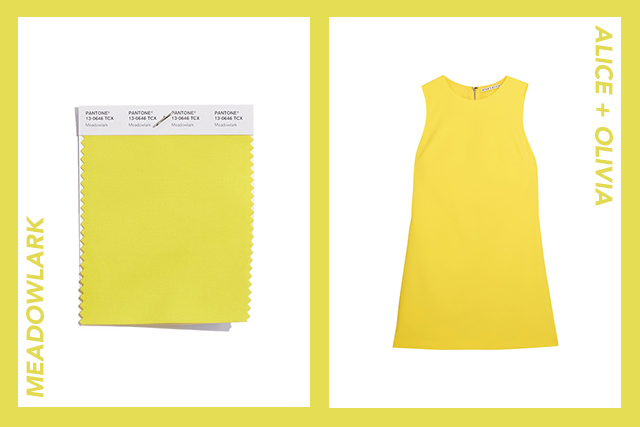 Following the mustard trend is Meadowlark, a bright yellow shade. You can wear this hue to contrast the rainy day or save it for summer days. A good way to incorporate this is via a dress like this Alice + Olivia piece, which can be worn in the office. Available on Net-a-Porter.
Little Boy Blue: River Island Light Blue Wide Leg Trousers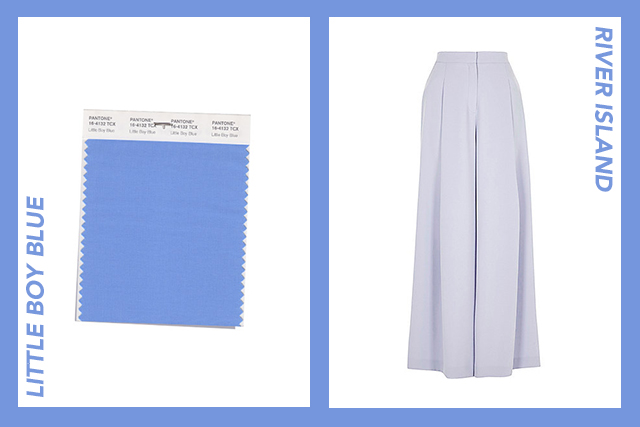 Little Boy Blue is like a darker version of Serenity, and it also reassures a "promise of a new day." Since it's a fresh-looking color, these wide leg trousers fit the criteria. They're high-waisted and have spacious pockets for your phone and wallet. Wear these at the beach or even formal events. Available at SM Aura Premier.
Chili Oil: Mango Zip Leather Jacket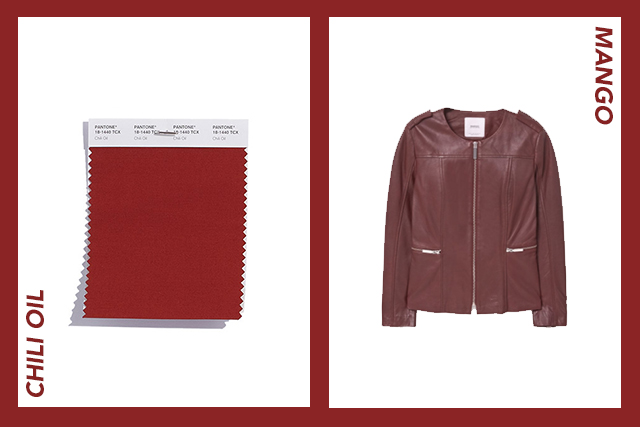 Add this biker jacket to your current leather clothing collection. It has the same burgundy color as Chili Oil, setting it apart from the usual black leather jackets but still as edgy. Available at Glorietta 2.
Pink Lavender: Dolce & Gabbana Mini Pink Lucia Bag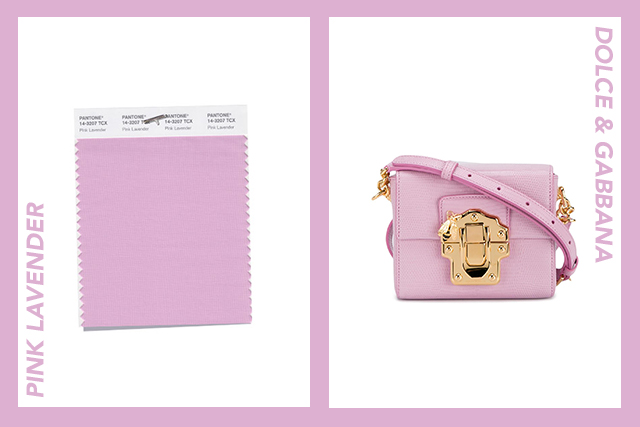 This is described as "a soft and romantic violet rose that charms with its soothing sense of quiescence." It also gives off a feminine vibe so we chose the Dolce & Gabbana Mini Lucia Bag. It's made with pebbled leather and has adjustable straps to switch it from a handbag to a body bag. It also comes with a portable mirror attached on the flap. Available on Farfetch.
Blooming Dahlia: Bershka Push-up Jeans in Pink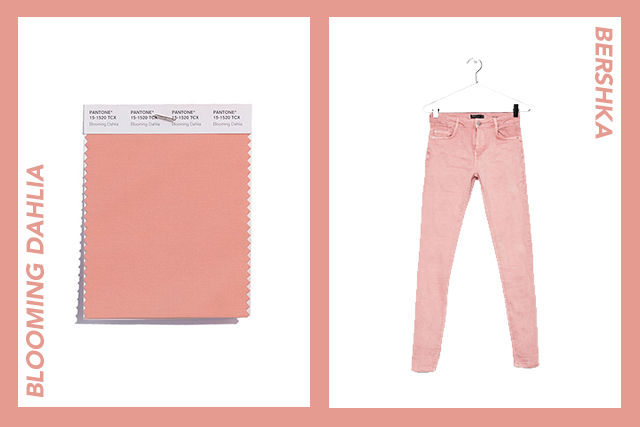 Blooming Dahlia is a baby pink color that's both subtle and alluring. Aside from wearing a top or dress in this color, it might be time for you to try pink jeans. For this, opt for Bershka's push-up jeans, which is a comfortable skinny pair. Available at SM Megamall.
Arcadia: Miz + Moxie Number 1 Fan Earrings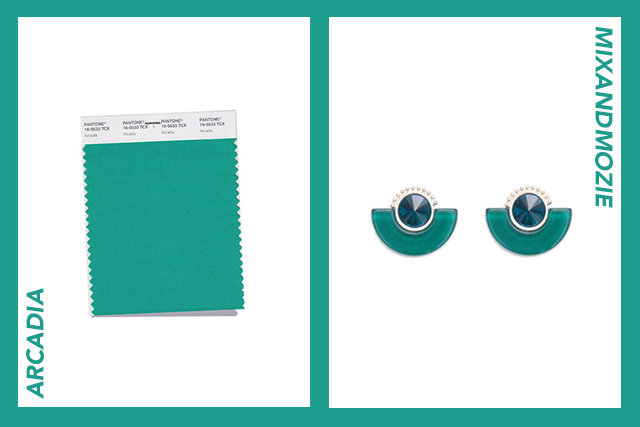 Arcadia is said to give off a retro feel with its cool teal hue. These Miz + Moxie earrings look timeless with its simple fan design, but still gives your outfit that pop of color. Available on Miz + Moxie.
Ultra Violet: Well Suited Ruched Assymetrical Blazer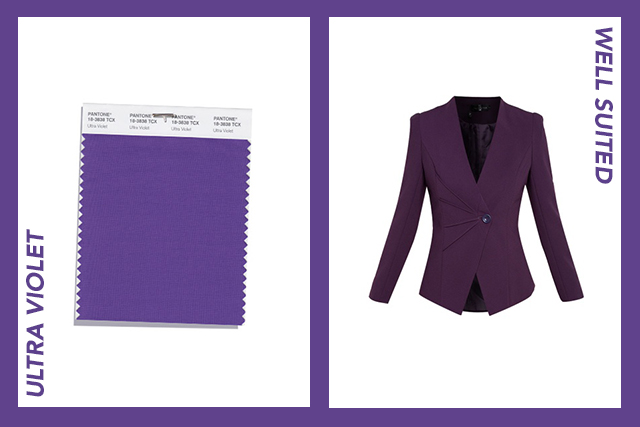 Nothing says regal and power than with Ultra Violet, a deep purple shade. That said, we're eyeing this blazer which has a slim-waist structure and padded shoulders. Perfect for business meetings. Available on Zalora PH.
Emperador: Charles & Keith Slingback Mules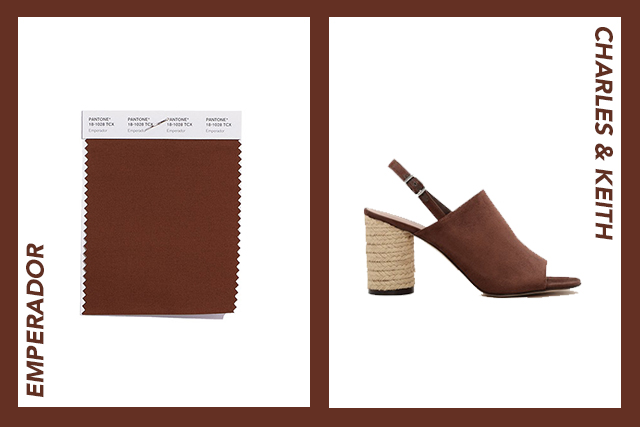 A rich chocolate color, Emperador is versatile and can be incorporated in either clothing or accessories. In this case, we chose these Charles & Keith Slingback Mules which goes well with dresses, pants, and skirt pairings. Available at Bonifacio High Street.
Almost Mauve: Rosenthal Tee Maxi Skirt with Thigh-High Slit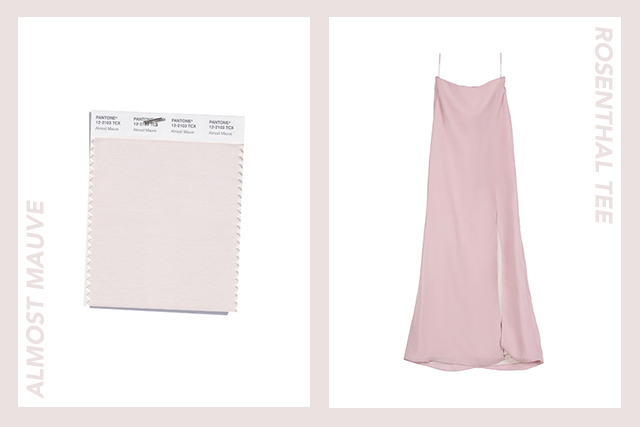 Almost Mauve is the lightest pink shade in this list. It's described as "delicate and ephemeral" which adds a touch of nostalgia. Rosenthal Tee's Maxi Skirt has a soft pink hue that's similar to Almost Mauve and it's also flowy. The slit adds an element of sexiness to the look. Available on Miz + Moxie.
Spring Crocus: Aviva Fitness Racerback Tank Top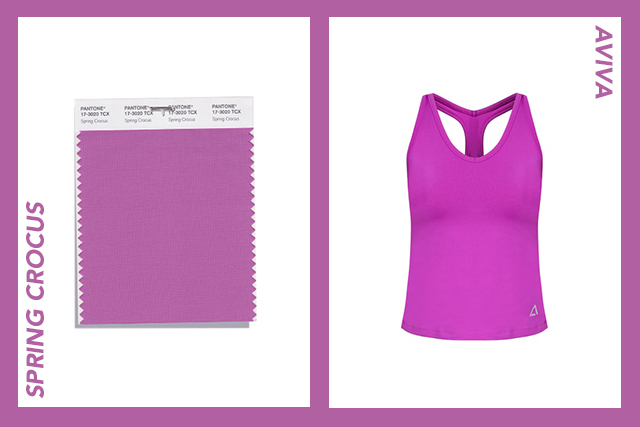 If you're someone who likes wearing vibrant workout clothes, grab one in the Spring Crocus shade. This is a "flamboyant and tantalizing fuchsia" that you won't miss. Go for this Aviva tank top which has a quick-dry material, leaving you feeling fresh during each routine. Available on Zalora PH.
Lime Punch: Sunnies Elsa Sunglasses in Basil Full Brown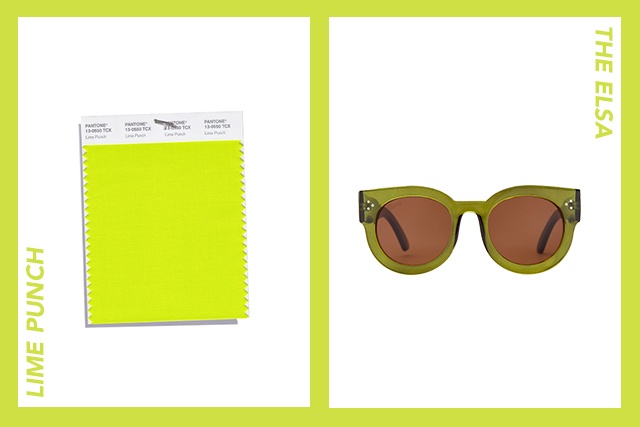 When you say that something is a bright lime green color, some might hesitate a bit. But these Elsa sunglasses mutes the color a bit with its rounded translucent frames. They also have brown lenses that have UV 400 protection. Available at SM Mall of Asia.
Art by Lara Intong
Follow Preen on Facebook, Instagram, Twitter, Snapchat, and Viber
Related stories:
What's the Story Behind 2017's Color of the Year?
Pantone Announces the New Colors to Calm You This 2016
The New Pantone App Is Going to Make You a Color Pro
Mustard Yellow Is the New Color Trend of the Moment
Maureen Wroblewitz and Kryz Uy Are Taking Over New York Fashion Week