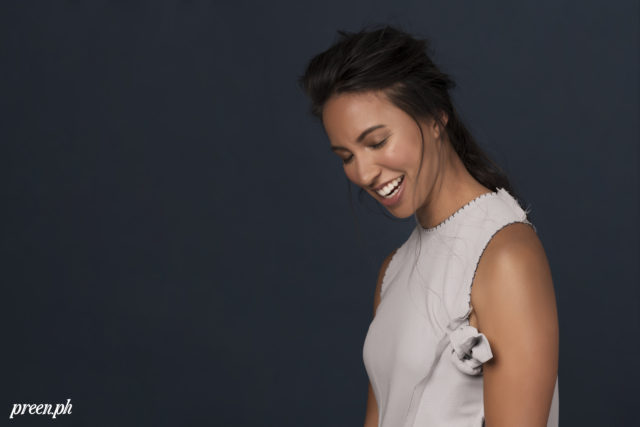 Rising Hollywood actress Elizabeth Frances visited our Preen.ph headquarters with a game for anything attitude. It was great because it was just what we needed to end our otherwise gloomy Friday on a high note. Her Filipina roots calls her back to the homeland for a bit and with her, she's got a lot of stories to share. "I'm an open book," she tells me before we start the interview.
If you aren't familiar with Elizabeth yet, maybe you should start watching The Son, where she stars alongside Pierce Brosnan. You can also catch her on a few episodes of Judd Apatow's Love which is on Netflix. Yes, Elizabeth just broke into the mainstream scene but she's already got a chance to work with some of the best. That just means she's headed for even bigger things, right?
Below we talked about her start in the acting scene, the jobs she had to do in between, and the best local spots to hit up in Los Angeles.
How did you get into acting?
When I was really young, I lived in San Diego and I did some kind of report in school, and I thought this is such a boring way to present it. So I memorized it and acted it out. And someone said, "You should be an actress." So a couple of years later, maybe when I was 12 or 13, there was a local theater in San Diego we passed by. Both my parents were at work so I hopped on a city bus and I told this woman there to teach me Shakespeare. And I knew then that I'm supposed to do this. So after that, I studied so I got my BA in CalArts, which is like Julliard but on the West Coast. After that, I started out doing theater. That was my first love and I toured around the Bay Area and LA because of it.
What's the biggest struggle you had when starting out?
It was hard and it was really competitive. I remember when I graduated college, we had a big writer's strike in LA and the economy tanked that year so there were no jobs. I did jobs in theater instead. I was able to thrive that way. I always loved it…I got a little obsessive. I studied everything, I saw every play that I could. I would watch movies and plays and read books. It doesn't feel like work when you love especially when you're not getting paid at first. [Laughs]
What jobs did you take on while you were still trying to make acting your main career?
I was a personal trainer for a while. In LA, fitness is a huge thing. I used to train in a gym where Don Cheadle trained and boxer Vladimir Klitschko. Mickey Rourke would come in also.
Acting was a hustle so was personal training so I faked a resume to become a director of marketing and that was my day job. I taught myself marketing because I didn't want to go back to school. During my lunch breaks I would do auditions.
What did you learn from those jobs?
I always knew it was temporary. It made those jobs more fun because it was almost like acting. I got into marketing to learn numbers and analytics without going back to school. For me, that was a great education because I spent all this time as an artist and I was able to develop the other side of my brain a bit. So it was rewarding a for me but it definitely affirmed that I [want acting.] I was not going to last forever.
Do you feel that it's important for actors who are just starting out to work other jobs as well?
Oh, surely. Anything you experience, especially as an actor, colors your abilities more. The more experiences you have as a human, the more you have a drop on as an actor.
In the States, it was great because I didn't worry about being paid paycheck to paycheck anymore so when I have parts that come at me that I felt that was kind of racist or sexist, I could say no to things. There was no desperation so there was a lot of focus.
What's the best place to eat in LA?
There are some fancy restaurants that I could tell you [to] go to. But if you really want a nice local experience, go to any taco truck and sit at Eco Plaza or Silver Lake and you will feel that you live in LA.
LA tourist places that you feel people miss out on?
At LACMA, the lamp posts there. I think that's beautiful. And then at The Broad, the mirror room. It's by this artist [Yayoi Kusama] who sees sounds. That room is her way of expressing what she sees.
Best spot in LA to get avocado toast?
There is a place on Wiltshire and Fairfax called Campanile. That's the best place also for coffee. It's expensive but it's good.
What makes LA a great place to be in as an artist?
I think what makes LA cool is because it's so spread out, whether you an artist, a film actor, a director, you can always meet people to connect with. I call it finding your tribe. You find your tribe and you find the same people who want to do the same thing that you do. LA is a town that's literally built on ideas.
Best place in LA to shop?
If you go to Little Sta. Monica, there are a lot of boutiques there. Also in Silver Lake, it's cool because it's all full of local artisans rather than big companies. Los Feliz on Hillhurst Avenue, that's where you want to go also. That's where I used to live and some mom and pop shops are there.
Best place to get a manicure?
On Melrose, there's a place called Pampered Hands. They're really good.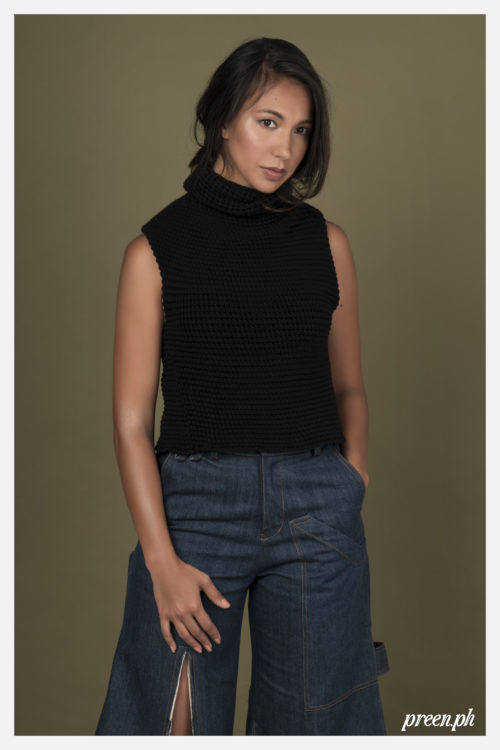 How is the social climate in LA given the current administration?
I have a theory that because of the current administration that we are going to have better art. If you look throughout history, if you look in times of turmoil, that's when the best art [emerges] because that's when the artists are responding to social changes. We have The Handmaid's Tale, which [is based] on the book that was written a while back by Margaret Atwood but now it's so popular. I think if you made it ten years ago, it wouldn't [be so popular] but because it's such a mirror to what's happening right now. In LA, what you feel right is that if people used to be lazy before, now people are much more responsive and active. So I think you're going to get some really good art. And you'll get a lot of good comedy too.
How was working with Judd Apatow like in Love?
It was great. I got really lucky with working with good people. The whole cast was down to earth. I don't know if it's a Netflix thing or because of Judd Apatow but you could tell there was a care for the creatives, the people who were creating the story.
What would you consider your big break so far?
Love was a big one. I also did a film that Robert Redford produced which was called Drunktown's Finest. That was a big move for me. I had done some indie films before but that's the one that got the most attention.
How is Pierce Brosnan as a co-worker?
Fantastic. A really wonderful and kind person. He's supportive to the Native American community. He's so supportive of young creatives and it was very encouraging for everyone in the group especially our filmmaker. He's so down-to-earth and kind and it made everyone else [feel like] we're a big family.
Could you tell us what makes The Son a challenging project for you?
I am ancestrally a Cherokee but here I play a Comanchee woman. I would take the tapes [to learn the language], and listen to them and then I have a dictionary. I would take the transcript and look up each word and look them up in English so I knew what was going on and then I memorize the language and how it was said. That's my process, everyone is different. But I noticed that when I got going, I actually felt I could understand a lot. I also drove to Oklahoma to spend time with the Comanchee people and did a lot of research going in. I want it to feel authentic. I want to honor and respect that culture. There are a lot of times that there would be representations in cinema that aren't accurate or they don't feel whole.
I would also be required to speak in Spanish. For that I would go and listen to the karaoke of Selena on YouTube to learn it. [Laughs]
https://www.youtube.com/watch?v=mBwJLfJcOfA
As a woman of color, any odd auditions you experienced where you felt slighted?
One time I remember going in for a part that required another language. So I came in and I learned the language and the white women sitting across me said, "Okay, you speak gibberish and I will speak gibberish back to you." And I was like, "Gibberish?" So I would speak the language and she would respond with gibberish and it was the most bizarre audition. I also felt bad because she was doing a job which she wasn't capable of doing. I have a lot of friends who are Korean or Chinese [but grew up in the US] so they don't even speak the language. And in the auditions they have to say "I don't speak 'my language,' I'm from here." But they wouldn't say to a Caucasian actress, "Speak your language."
I have been on sets with coaches for people to speak in an accent in English. But then, when you speak another language, you don't have anybody. So you'd think this is not equal.
What's one thing we must do to address the gender pay gap?
It's not just also about women getting paid less but also women feeling empowered enough to ask for what they deserve. It has to be both.
For people of color, it's like they're happy to be here. But we have to step up from being grateful for the scraps and go, "You know what, I just want to make sure that I am valued in the same way."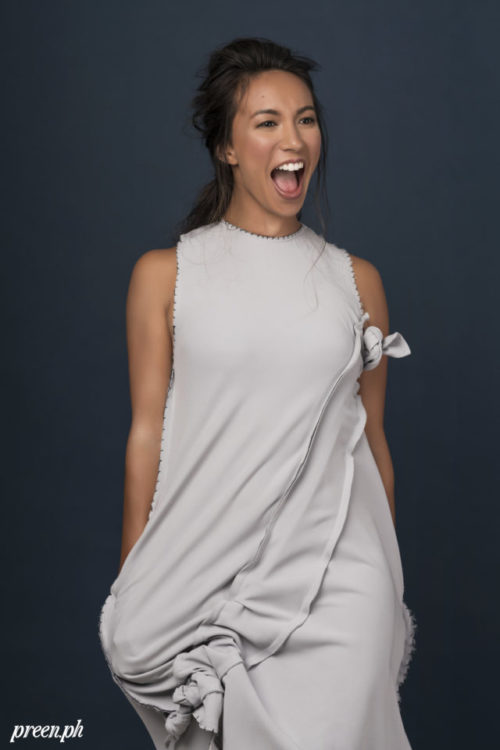 I noticed on your Instagram you love the beach. What's the best one you've visited?
The best beach is Coron. I was there last week. Hands down, California has nothing on Coron.
What's in your makeup kit?
Concealer, a dark red NARS lipstick, mascara. For mascara, I use Anastasia Beverly Hills and for eyebrows too. I also use for foundation Bare Minerals where you take a photo with an app and they make a custom foundation for your face and they send it to you.
What are your skincare essentials?
I use everything from this brand called 100% Pure. I put serum, toner, and a green tea moisturizer form the décolletage and up to my face. Sometimes, I do avocado and honey mask and I put it on my face. I also used the Kiehl's Cilantro and Orange Mask.
How do you prepare for a shoot?
I always exercise first because it wakes me up. I'll do cardio if I can or I will hike. I do lot of yoga and I like to lift.
What's your latest fashion splurge?
I got a cute Rebecca Minkoff clutch. I love shoes and clutches. I also bought my first pair of Louboutins, just a classic black one.
Fashion brands you can't live without?
Pretty Little Things, Naked Wardrobe, and Solace London
Photos by RG Medestomas
Styling by Jacque De Borja
Follow Preen on Facebook, Instagram, Twitter, Snapchat, and Viber
Related stories:
Kaila Estrada Is Tired of Being Asked Why She Won't Be an Actress
Coco Rocha on What It Takes to Be a Successful Model
Why 'The Handmaid's Tale' Is the Anti-Woman Series You Need to See Right Now
5 Shows You Should Binge-Watch on Netflix First Before You Chill