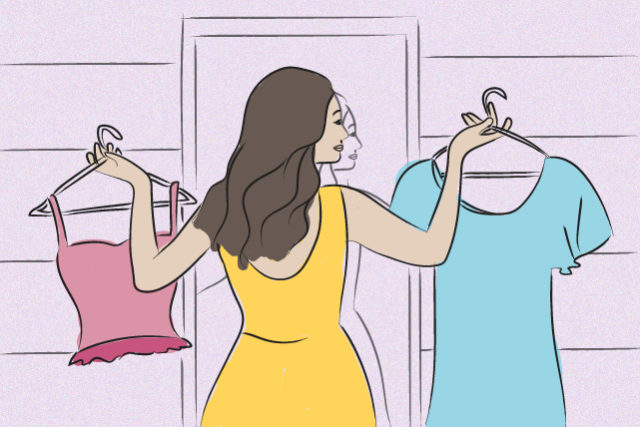 Every week, Preen tackles motherhood sans the rose-tinted glasses. Our columnists L. Juliano, Marla Darwin, Monica Eleazar-Manzano, Rossana Unson, and Ronna Capili-Bonifacio tell their personal experiences like it is—at times frustrating, oftentimes confusing, but always enlightening.
I've worked in the fashion industry for a decade and have always been a keen observer of fashion trends. (Note the term keen observer. I don't get carried away by fashion trends though. As a matter of fact, I don't own a pair of tassel earrings yet and I don't think I ever will.) This means I do have some sort of credibility when it comes to giving out fashion advice.
These are things I've noticed over the years that can really make or break a look. This is advice I have given and will give my daughters so let me leave these right here:
Wear the right panty. So you're wearing an ultra-tight skirt and a short blouse, maybe because your stomach is washboard flat (or maybe you just don't notice that you've got a pouch) and you want to show off your J. Lo butt. The thing is, you're wearing a normal bikini panty and it just ruined your whole look. Since thongs went out sometime in the year 2000, your best bet is boyleg underwear. Seamless boyleg underwear? All the better! Same goes for when you're wearing low waist jeans and you wear full-sized, high waist panties. It doesn't matter if you're wearing a blouse or shirt that's not tucked in. There will be instances when your panty will be seen. It's not even about modesty. It's simply about wearing the right underwear.
Wear the right bra. Have you seen people wearing racerback tank tops and normal brassieres? So their bra straps can be seen with their tank top? Why? Why? WHY? A racerback tank top can be worn with a racer back bra or a strapless one. If you think bra straps showing are sexy, you are so wrong. How about people who wear black bras under white tops? What is up with that? If you think your top is too thin and your bra can be seen, then wear a camisole under your top.
Hide your foot socks. For those with sweaty feet (and yes, I have sweaty feet, too, but I don't wear foot socks except with full covered shoes.) I know foot socks are a big help but please buy foot socks that won't show through the sides of your shoes. Foot socks peeking out of your ballet flats or your office pumps just bring tears to my eyes.
Clean your shoes. Your shoes don't have to be Tory Burch or Repetto. Even if they were and they were dirty, they'd still look bad. It doesn't matter how much they cost, just make sure to keep them clean.
Accessories are great, but don't wear your whole jewelry box in one go. So the love of your life gifted you with a really expensive jewelry set. Earrings, necklace, bracelet, and ring. I know you're excited to show it all off, but please don't wear them all at once. If your necklace is big and chunky and your earrings are big and chunky, you may want to either take off one or go to an '80s throwback party. Earrings, necklace, and watch are okay. Big chunky earrings, no necklace and a watch are good. Big chunky earrings, big chunky necklaces, big chunky watch and two diamond rings are just "too much of a good thing."
Of course, I have a lot more than just these five but I think these pretty much sum up the advice I've given my girls. So far, they've taken this advice pretty well, if I do say so myself. Hope my dear readers will, too!
Disclaimer: The views expressed here are solely those of the author in her private capacity and do not in any way represent the views of Preen.ph, or any other entity of the Inquirer Group of Companies.
Art by Lara Intong
Follow Preen on Facebook, Instagram, Twitter, Snapchat, and Viber
Related stories:
What to Shop in Your Mom's Closet?
Why Kris Aquino Swears by Bandeaus, Athleisure Wear, and Filing Clips
How I Want My Daughter to View Fashion
A Letter to My Daughter About Looks and Privilege