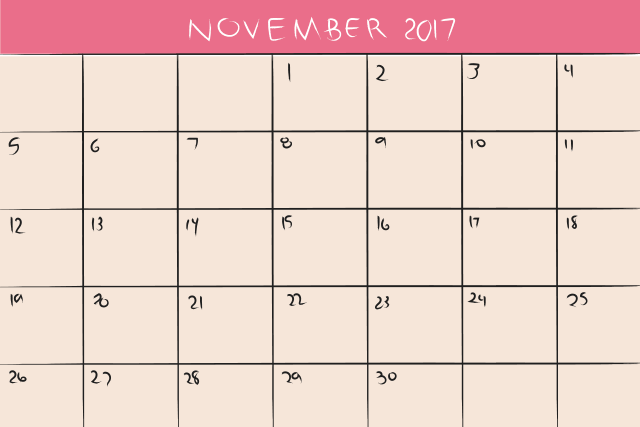 We're not complaining that we get an extra day off this week because of Bonifacio Day. It's just a bit of a problem that it comes on Thursday which means most of us have to report back on Friday. (But Andres Bonifacio who fought for our country's independence is not a problem. We thank him everyday.) If we had our way, it would be more preferable to have the free day on Friday so we can have a three-day weekend. But those things aren't in our hands.
What is in our hands is to find a way to make the most out of the day. A half-joke in my office is how we're filing for leave on Friday (keeping in mind to make sure no tasks are left pending) so we can get the most out of it. If that isn't an option for you, don't worry. We came up with a list so this free day helps you recharge. We all need it because we're already entering December. *insert panicked/excited screams*
#1 Hit up Basic Movement Club Pop-Up
https://www.instagram.com/p/BcEj-svBbj7/?taken-by=basicmovement
Tomorrow, Basic Movement Club opens its first public pop-up at Commune. Update your wardrobe with the latest from Basic Movement and designers like RJ Santos, Jaggy Glarino, Jennifer Contreras, BAGASAO, Eliz Marcelo, and a lot more. Hint: Major points if you shop here for Christmas gifts.
#2 Binge-watch Alias Grace and The Sinner
Apart from you re-watching the first official interview of Prince Harry and Meghan Markle, you can also do yourself a favor and catch the current hits on Netflix. We've mentioned Alias Grace before and its unnerving take on some very relevant feminist issues.  Another recommendation is The Sinner starring Jessica Biel. Unlike the usual crime series, it is tagged as  "Whydunnit?" rather than a "Whodunnit?" It explores the very violent and public outburst of Cora Tannetti to tackle the nature of crime and human fragility.
#3 Declutter a space in your house 
I recently cleared out my desk (Who knew you could accumulate so many folders in a year?) and it automatically made me feel a little bit more productive. (My boss might have a different opinion, but that's another story.) The point is, a free morning is the best time to clean out a section that begs some decluttering. As we told you at the beginning of the year, start small or with a certain space. Clean out your closet to make way for the purchases from #1 or just simply throw out the old makeup you've kept too long on your vanity. Do it now because Christmas is going to bring a lot of things. You need to be ready.
#4 Do a hair treatment
If you're lucky, your salon might be able to accommodate you for an appointment tomorrow. But most of them will be most likely closed. It's time to DIY! Start by gently cleansing your hair and using a conditioner. Proceed to your hair mask. For dry hair, we hear the Gloss Modern Clean Luxury Masque from SephoraPH is a good choice. Leave it on while you set up the show you want to watch or as you brew some tea. Use a wide-tooth comb as you rinse as to not put more stress on your hair. As it dries, leave on a coat of the L'Oreal Extraordinary Oil for All Hair Types. All set for the night out.
#5 Discover a new drink 
There is such a thing as Happy Thursday even if college is long over. It's a life-saver especially since you're skipping out on the notorious Friday traffic. Try a Sake Sour at Dulo MNL and perhaps pair it with their crowd-favorite Clam Miso Soup. Our friends at Nolisoli.ph describe it as a "mouthwatering in-between of a broth and a chowder." You can also go to FUCT for a White B*tch. Move the hump day drinking session from tonight to tomorrow. Because face it, you'll be chasing after deadlines tonight.
Art by Lara Intong 
Follow Preen on Facebook, Instagram, Twitter, Snapchat, and Viber
Related stories:
Where Should You Book Your Next Vacation?
What the FUCT: Your Guide to the Cocktails at Manila's Newest Speakeasy
Netflix Series Alias Grace Shows Why Female Oppression Must Stop
What to Do When You Just Can't Anymore