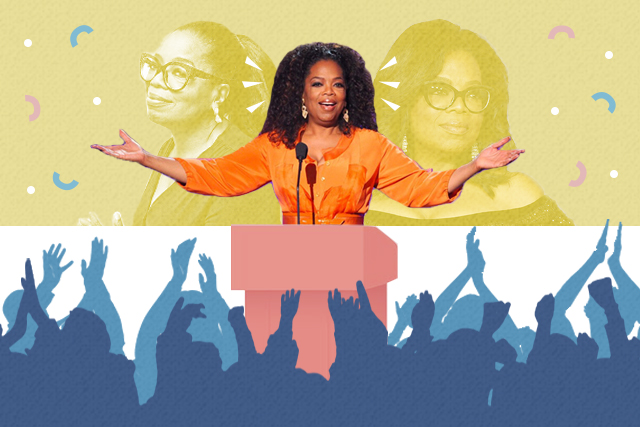 In an ideal world, Oprah Winfrey would be the first female US president. After her powerful Golden Globes speech, people have been convincing the talk show queen to run in 2020. Even late-night hosts like Stephen Colbert, Trevor Noah, and Seth Meyers (who also hosted the Golden Globes) are rooting for her.
While Oprah isn't planning a presidential run (yet), many are still hopeful. There are also those who think that Oprah should vie for a seat in the White House any time soon to build up her political resumé. But with a president like Donald Trump, we doubt that lack of experience would be a problem if she does run in 2020. And yes, we believe that she might just win against Trump if the opportunity arises.
So why should Oprah give the presidency a shot? Here are a few reasons.
#1 Powerful influence
Despite her minimal political background, Vox noted that Oprah's star power is "unmatched." She's a well-known household name everywhere, and "appeals to a number of coalitions vital to Democratic success—women, African Americans, perhaps young people." If she wins, she'll definitely use her influence to rally for policies that'll benefit the marginalized. This is an important matter since Trump has made it difficult for women and immigrants ever since he took office.
#2 Positive change
Vice reported that compared to most celebrities, Oprah has done more to make a change. In the '90s, she helped lobby for the National Child Protection Act, also known as the "Oprah Bill." This includes a database of known sexual abusers and child predators.
Barack Obama's former campaign manager Jim Messina also said that Oprah would be the perfect candidate for 2020. "She should consider running. Both President Obama and President Trump won in part by being perceived as non-typical candidates who could change politics," he told Politico. "To beat Trump in 2020, Democrats will need a candidate who can unite the party, stand up to Trump's attacks, and rise above petty politics."
#3 You'll actually listen to her speeches
Just imagine the relief you'll feel if Oprah stood at the podium and said a meaningful piece like her Golden Globes speech. No more mention of "fake news," provoking North Korea, and fighting with whoever disagrees with him. Trump will feel like nothing more than a passing nightmare.
#4 An inspiration for women
Once the era of a misogynistic president ends, don't you think it's time for a female president to stand up for women everywhere? (America almost got their first woman-president if the Electoral College didn't mess things up.) Independent UK writer Jessica Morgan emphasized that Oprah is far better than Trump who acts like "a petulant child." She wrote, "It's about time we had a strong, independent and intelligent woman leading the way and encouraging young women like me to follow suit."
#5 A favorable choice for the Democratic party
A 2017 Quinnipiac University poll found that 52 percent of American voters, including 72 percent of Democratic party members, would consider voting for Oprah. That's an impressive number and a slight hint that the Democrats should let her run in 2020. Because why not, right?
Art by Lara Intong
Follow Preen on Facebook, Instagram, Twitter, Snapchat, and Viber
Related stories:
Celebrities Speak Out Against Sexual Harassment at the Golden Globes
Hillary Clinton's Loss Was Sadly About America's Fear of Smart, Ambitious Women
#TimesUp: This is Why Celebrities Wore Black to the Golden Globes
Get to Know the 46 Women Changing the World
Isn't It Time We Gave Women the CEO Position?