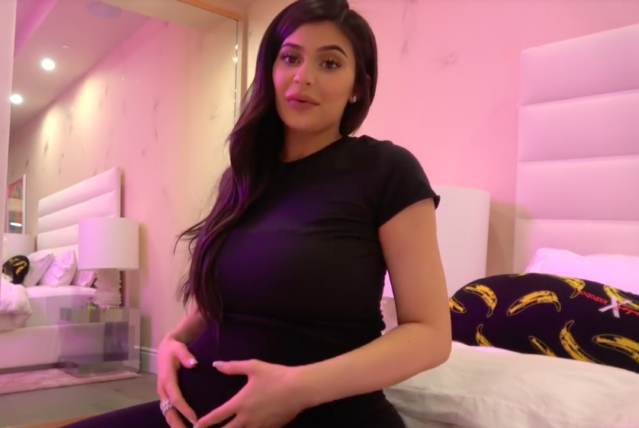 It's been 24 hours since Kylie Jenner announced the birth of her baby girl. The video, which features never-before-seen footage from the last nine months, now has 30 million views and is still being talked about today. And of course, fans are starting to speculate on the baby's name.
One possible hint is "Butterfly," which seems to be a significant symbol in Kylie and rapper Travis Scott's relationship. Tattoo artist Jon Boy congratulated the couple with a photo of tiny butterfly ink behind their ankles.
Travis also gave Kylie a butterfly necklace for her birthday and released a song titled "Butterfly Effect" which is hinted to be about his girlfriend.
Meanwhile, fans also became creative and made polls to predict which Lip Kit shade will be the baby's name. (My idea of a new Kylie Lip Kit collection or shade inspired by the baby is still on the table.)
https://twitter.com/astrophycid/status/960287427494596608?ref_src=twsrc%5Etfw&ref_url=http%3A%2F%2Fwww.newsweek.com%2Fkylie-jenner-baby-names-announcement-viral-twitter-799836
Bringing back my Kylie Jenner's baby names poll since it's actually real now

— King Kyley (@KyleyWolff) February 5, 2018
She can also have a K-name or, as one netizen suggested, named something "weird" since the Kardashians apparently have a penchant for unique baby names. You know, like North and Chicago.
I am pretty sure Kylie Jenner's going to name her daughter Winter Squash Meadowlark or something. The Kardashians have a thing for weird baby names .

— Apoorva (@Apoorva26742668) February 5, 2018
Fans already have the perfect "weird" name: Kiwi Jenner.
https://twitter.com/davidjuarez/status/960270585887522816
https://twitter.com/abhiratht/status/960288090819518464
https://twitter.com/EliSmales/status/960571383989366785
Knowing the Kardashian-Jenner clan, they'll have us waiting for the official baby name. But which do you like from the speculations above? Or do you have your own prediction?
[
Refinery29
and 
Newsweek
]
Screengrab from YouTube
Follow Preen on Facebook, Instagram, Twitter, and Viber
Related stories:
Kylie Jenner and Travis Scott Welcomed a February Baby
Kylie Jenner's Baby Bump Was Finally Spotted
Is Kylie Jenner Dropping Baby Hints Via Cinnamon Buns and a Turkey?
Jordyn Woods Gets Tired of Answering Your Kylie Jenner Questions