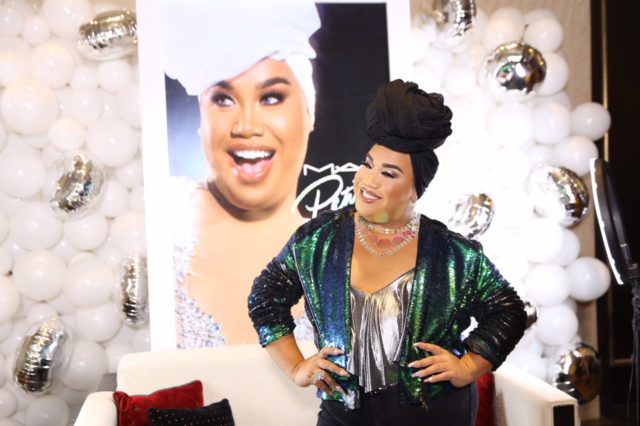 If you haven't watched any of PatrickStarrr's videos, here's one thing you should know: He takes his makeup (#extra) seriously and he makes it look fun. As someone who's subscribed to his YouTube channel for over two years now, I'm both inspired and fascinated by watching a man wear makeup that anyone can wear. It was a plus when he kept repeating his belief that makeup should be a one-size-fits-all, and of course, whenever he proudly said that he's Filipino.
From doing makeup tutorials, Patrick's latest achievement is releasing a collection with MAC Cosmetics and also working as their key artist of the year. This collaboration is also why he flew back home to the Philippines (after 18 years!) to teach a makeup class with fans. He also brought his mom (@mamastarrr on Instagram), dad, and younger brother with him.
But before his event yesterday, we got to chat with him for a bit about doing makeup as a man, meeting his grandma and the rest of his family, and how to distinguish drag makeup. Keep scrolling to read!
On making clear that his makeup tutorials aren't drag makeup looks
"What I do is wearable [for] every day and it's not those harsh lines. Drag makeup is harsh. I can show you a look at the club tonight if you're going. [Laughs]"
On toning down his looks for tutorials
"Looking back, [I used to always do] very big lashes—top and bottom and so glamorous—powder, and lots of lines. Almost like the neapolitan ice cream—that's what I looked like. I wanted to tone it down and make it more attainable for people to learn. People were able also see past the layers and see a little bit of me."
On wanting to do his grandma's makeup
"She's 86 but I think I can beat her face. I think I'll do "glam grandma" or "glam lola." I think it would be so fun and it would be a great video to see a lola Starrr get glam."
On meeting some of his relatives
"It was so funny because my family members would go, 'I'm tito Starrr! I'm tita Starrr!' I'm like, 'I don't remember you. You have to audition to be a Starrr.' [Laughs] You know, grabe naman wish list nila. (Their wish list is crazy.) [Laughs]"
Photo by Tammy David for MAC Cosmetics Global
Follow Preen on Facebook, Instagram, Twitter, and Viber
Related stories:
Meet Patrick Starrr: The Filipino Beauty Vlogger Who Snagged a Major Beauty Collab
Pia Wurtzbach Got This Fil-Am YouTuber to Do Her Makeup For Miss Universe 2017
SuperStarlet and Gigi Holliday Shed Some Light on Drag Culture in the Philippines
Bretman Rock's Highlighter Palette Will Give You that Hawaiian Glow
The 6 Best LGBTQ Vloggers You Should Be Watching Right Now