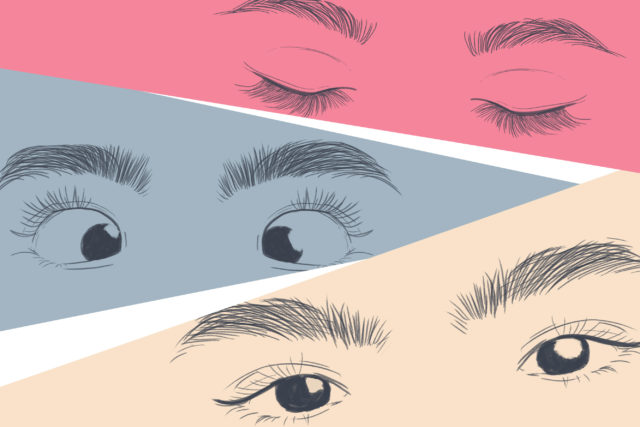 When I was younger, I would always hear my female relatives, mostly my cousins, making a fuss about their eyebrows and body hair. Although I was still an elementary student, I would already hear comments about how my face would look better once I'm old enough to get my brows fixed. I think that's also why I have a faint memory of cutting a bit of my brows—sometimes arm hair—with scissors.
My dad's side of the family was the most adamant when it came to any type of body hair. Thanks to genetics, most of us were born with thick hair. So plucking eyebrows and getting waxes was like a rite of passage for the women once they're old enough. The only person who told me not to change anything was my mom.
"Don't get them done. They're perfectly arched anyway!" she would tell me. She even stopped a makeup artist from using a brow pencil and running a blade on them (without my permission). My mom would make a point that my eyebrows will never look the same, and that I might be obsessed with "perfect brows" once the hairs start to grow out.
One thing my mom was wrong about though is that I don't have arched brows like Cara Delevingne. But it wasn't like I was aiming to have brows like her. I don't even draw on or fill them in. Because, really, what constitutes as a perfect brow?
Last year, we saw celebrities like Bea Alonzo and Heart Evangelista opting for more natural-looking eyebrows. Many women are also flaunting their beautiful unibrows.  While we love watching how women and beauty gurus do their brows, it's also refreshing to see them embrace what they have.
If there's one thing I learned from the many questions and comments I got for my brows, it's that keeping them as they are is my choice. Natural brows shouldn't be seen as unappealing. If you can look at perfectly sculpted brows and think, "That looks great!" then you should be able to appreciate them when they're not.
Art by Yayie Motos
Follow Preen on Facebook, Instagram, Twitter, and Viber
Related stories:
Put the Tweezers Down: Kathryn Bernardo, Lovi Poe, and Bea Alonzo Are Rocking the Natural Brow
Try These Long Lasting Eyebrow Products to Save Time Getting Ready
Gabs Gibbs Reveals Her Beauty Hack for On Fleek Brows
Are You Ready to Try Barbed Wire Brows?
How Did We Get from Jean Harlow to Cara Delevingne?