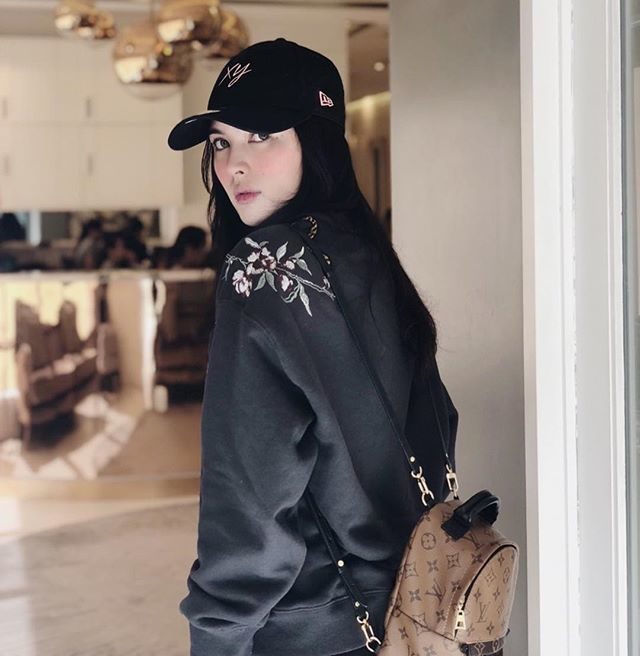 Rumors are going around that actress Sofia Andres was snobbish and didn't entertain interviewers during a press conference for her teleserye Bagani. They said that she would make faces and just end up using her phone.
After facing a lot of criticism, Sofia addressed the issue, "Hi everybody. I just want to say sorry. Really sorry for those who think that I ignored them. And think that I never wanted to say hi or acknowledge them whenever they see me. To tell you honestly…I have this fear. Fear of rejection."
Sofia explains further and from what we picked up, what happened was mostly her defense mechanism against rejection.
"I know it's just simple to say hi or hello with a smile but I'm having a hard time to do that to some people I really don't know. I am always scared they might just judge me or ignore me or say nothing at all. My defense mechanism is to always act like I'm a strong woman and you can't bring me down."
She even talked about the reason behind her RBF (resting b*tch face). "But the truth is I have no self confidence, I have insecurities, yes I do. I always feel like I'm never enough. Believe it or not I have been rejected so many times. Seriously, when I don't smile I have this b*tch face, like a strong face. I feel like whenever I see people around they're saying bad things at the back of their heads. I feel pressured, I feel like they don't even want me at all."
"I don't know how I will approach them properly. Do they even want me to be with them? Or do they want me to say hi? I am really sorry. I am working on my personal relationship for such a long time. And again. I just wanna say sorry. I'm really, really sorry."
Truth is, Sofia is probably just one of us. We get off days and a little awkward too. What do you think? Share them on the comments section below.
[
Bandera
]
Photo courtesy of Sofia Andres' Instagram account
Follow Preen on Facebook, Instagram, Twitter, and Viber
Related stories:
Tricia Centenera, Sofia Andres, and Martine Cajucom Reveal the Lipstick They Can't Live Without
How Many Movie References Can You Spot in the Bagani Trailer?
The Designer Sneakers Sofia Andres Wears on Casual Days
Fans Are Comparing Bagani to Star Wars and Game of Thrones