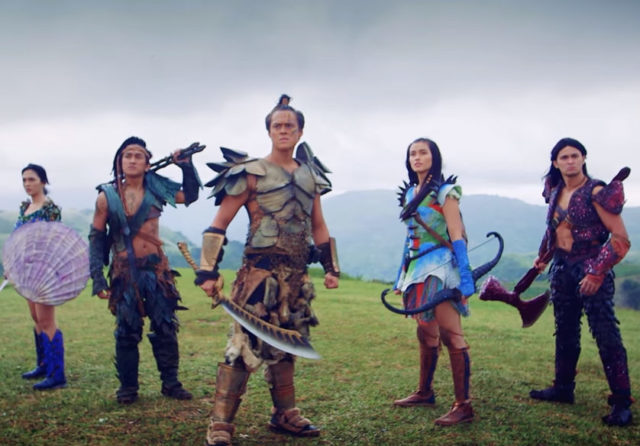 Bagani premiered its pilot episode last night and it instantly dominated the trending pages. Using the hashtag #UnangSabakNgBagani, fans' shared their reactions which ranged from praise to comparisons between other movies.
Before its premiere, the show received a lot of flak for its casting and even the alleged misuse of the word "bagani." One fan called on to the critics to watch the show first and see "the whole concept" and production.
Say hi to those who criticized the story, characters and bashed this serye without even knowing the whole concept of the story and seeing the pilot ep. The solid production may have proved you all wrong. Hehe peace #UnangSabakNgBagani

— 💜💕🌈 (@KellaEunWinB) March 5, 2018
Speaking of production, many fans couldn't get enough of the cinematography, set design, fight scenes, and the phoenix-like eagle.
The pilot episode is definitely good and promising that this fantasarye has more to offer, just wait for it. The cinematography is on point!!
#UnangSabakNgBagani

— ; (@elio_perlman27) March 5, 2018
Bagani is like a very expensive movie made especially for TV – the production design, location, costume, characters, and all these special effects… Just WOW! 😍👏 hate all you want but it's undeniable that ABS CBN just gave us another series worth watching. #UnangSabakNgBagani

— EL Mira (@MiraMasarap) March 5, 2018
My new fave animal XD#UnangSabakNgBagani pic.twitter.com/XqjS2vUbnq

— ed (@ULTIMATE_LQFANB) March 5, 2018
From set design, cinematography, VFX, this fantaserye really wowed me 👏👏 Congrats on its pilot episode #UnangSabakNgBagani pic.twitter.com/AL3G693ONC

— sujuwin🌻 (@mrslee44) March 5, 2018
Some couldn't help but compare scenes from films and shows like Game of Thrones, Star Wars, and Clash of the Titans. (We made our own comparisons too based on the trailer. Check it out here.)
The set reminds me of Tatooine 🙂
Seriously, the production details, costume, everything is incredible! It makes the story so much more powerful!#UnangSabakNgBagani pic.twitter.com/iGqE6lBv86

— LizquenChannel (@LizquenChannel) March 5, 2018
https://twitter.com/iamtonitony/status/970641553818468352
The different "kingdoms" with a lost heir seems familiar…#UnangSabakNgBagani

— Bluemoon (@bluemoon5303) March 5, 2018
https://twitter.com/danthology91/status/970641478383906816
Apart from the main character played by Enrique Gil, they're also loving Albert Martinez's performance.
I wish someone could look at me the way he looks at his tomato#UnangSabakNgBagani pic.twitter.com/gxlhw8LmP2

— ed (@ULTIMATE_LQFANB) March 5, 2018
Albert Martinez's consistency is awesome!!! From Ang Probinsyano, to La Lunu Sangre, to The Good Son, and now Bagani!!!

Lets all wait for his presence in BLACK hahahahahahahaha #UnangSabakNgBagani

— dani (@nodanica_nomae) March 5, 2018
A day hasn't even passed yet but the Bagani fans are already making the second episode's hashtag trend. As of writing, #AngLAKASngBAGANI already has over 37,000 tweets. It's probably a clear sign that it'll be a top trend once the episode airs tonight.
Did you watch the show? What did you think? Let us know!
Screengrab from YouTube
Follow Preen on Facebook, Instagram, Twitter, and Viber
Related stories:
Liza Soberano Defends Her Role in Bagani
How Many Movie References Can You Spot in the Bagani Trailer?
Enrique Gil Calls Liza Soberano His 'Forever' on Her Birthday
Ranking the Game of Thrones Houses After the Season 7 Finale
Star Wars Has a New Trilogy and This Might Be the Plot