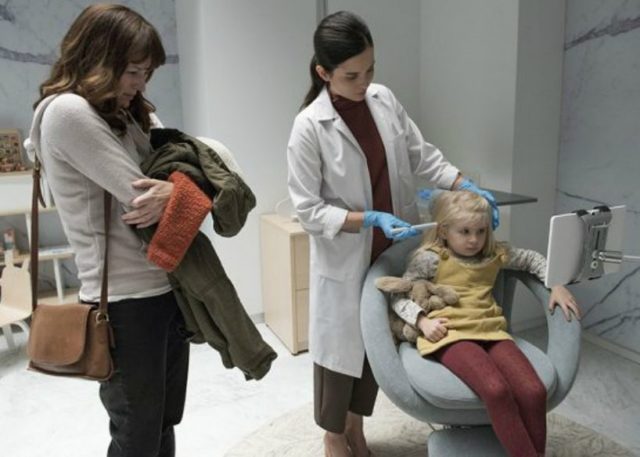 While many of us were sleeping, Black Mirror decided to drop some big news on Twitter. The 17-second video, which showed snippets from previous seasons, was a mystery to fans at first. But be glad to know that the show announced that it's been renewed for another season on Netflix.
The future will be brighter than ever. pic.twitter.com/slVeg3VPd7

— Black Mirror (@blackmirror) March 5, 2018
There are no details yet on what the new season will cover and when it'll premiere. Knowing Black Mirror, it will just surprise us with spooky trailers and even spookier plots. Of course, that didn't stop fans from speculating on future episodes.
One pointed out how the cryptic video had 12 TV screens, and said that it might be a hint that they're releasing 12 episodes. If ever, season five will have the most episodes.
I think that might be 12 new episodes. But when? 🤔

— lubi (@luisakayser) March 5, 2018
Another predicted that we'll have to wait for a year or so for the next season. (But we want it now!)
Watching this video and realizing that this means new episodes, only to realize they may come after a year or so pic.twitter.com/Ls7FeTxRdb

— ***** (@ClosetedFlop) March 5, 2018
There's also a PSA for Black Mirror to connect the four previous seasons to the upcoming one. Hmmm, interesting proposal.
https://twitter.com/MojoStilinski/status/970702804150050824
While we wait, I guess it's time to binge-watch Black Mirror and get mindf*cked all over again. Popcorn, anyone?
Screengrab from Black Mirror
Follow Preen on Facebook, Instagram, Twitter, and Viber
Related stories:
What We Thought When We Watched Black Mirror Season 4
Next in Tech? Smart Mirror and Apps That Tell You How to Dress
6 Shows and Movies That Will Creep You Out
Explore the Cosmos and Artificial Intelligence Through These Sci-Fi Shows