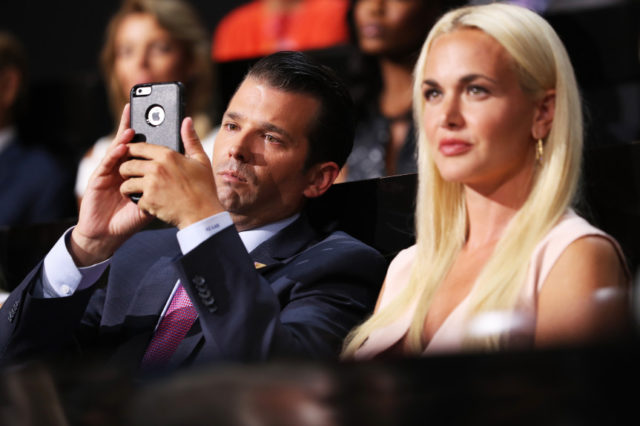 This column may contain strong language, sexual content, adult humor, and other themes that may not be suitable for minors. Parental guidance is strongly advised.
So Donald Trump, Jr. and his wife are divorcing after 12 years of marriage. Watch out Tinder, here comes Donny Jr.!
Little Donny is probably going to find that the dating scene has changed quite a bit since 2007, unless he's had a secret Tinder profile all along, like many other married men who claim on the app that they're in an open marriage, or allowed to play, or, as one such man told me, looking for a regular hook-up during business trips to Asia.
If he's been a good boy all this time but feels the need to start marketing himself as available once the apparently uncontested divorce filing goes to court and is finalized, he most likely will turn to The League, which might not reject him. That leaves him with Tinder or Hinge. He might try Bumble, too, but I can't imagine many women initiating conversation with him should they match, because part of the fun would be to see what kind of douchebag opening line he would come up with. Who knows, he might just channel his father and start with, "Can I grab you by the p*ssy?"  But then again, Donald Trump, Sr. never bothered to ask the women he (allegedly) assaulted for permission to jam his fingers into their vaginas; he took it as one of the perks of his celebrity status.
Or he could open with: "What about you and me go colluding?"
There is a chance, too, he may start the conversation on a paranoid note: "How do I know you're not with the FBI?"
But first he'll need a profile.
The challenge, however, is making him appealing. He has a reputation of being a dumb trophy-hunting douchebag who's so full of himself. Granted, there are women who'd swipe right just to ridicule him, engage him in a political discussion while making it clear that the apple does not fall far from the tree, i.e., dumbness, trophy-hunting (of the Eastern European kind), and douchebaggery seem to be genetic traits passed on from father to progeny (Jared's family originally came from Belarus, but his status as a trophy is subject to his ability to broker peace in the Middle East), or take a screenshot of his profile and send it to Page Six. Also, like his father, he has a penchant for models—his soon-to-be-ex wife Vanessa was a former model. And, in echoes of Donald pere, he's cheap but uses the media when it suits him. For instance, He apparently staged his proposal to Vanessa, presented her with a free $100,000 engagement ring from a jewelery store in a New Jersey mall which TV cameras were invited to witness and film. Dude was too cheap to even shop at Tiffany's—and it's just across the street from Trump Tower!
But there are enough clueless crazies in this world who'd probably swipe right because they want to meet him and sleep with him. Maybe around 52 percent of white females? After all, they voted for his father. They should be careful though and prepare for the possibility of a watertight pre-nup should things go well, or an NDA if they don't.
They can always take heart, nevertheless, that lawyers such as Michael Avenatti will be all too happy to represent them against David Dennison, Jr.
So let's say he's on Tinder.  He might like to present himself as:
Don Jr, 40
New York City
CEO (I run the company now!)
Strategic Mastermind (ask Wikileaks!)
U Penn (believe it or not)
Looking for Russian babies to adopt (wink, wink)
I can get you an Einstein visa if you play your cards right
You're looking at the most desirable gene pool—I'm the son of a very stable genius, believe me!
I definitely don't have small hands
Definitely not a moron (that's my brother)
Definitely not jealous of my sister… Tiffany
No porn stars please
You
What I love:
Travel – Have you been to India?  What an incredible place. Even the poorest of the poor have smiles on their faces.
Hunting – Love the rush! Best time to hunt prairie dogs is on Earth Day.
Elections – We won! Lock her up!
Russia – Think of all those Russian babies waiting to be adopted into loving American homes. And think of all the Trump Towers we could have had by now in Moscow and St. Petersburg!
The Second Amendment – If I had a gun I would have barged into that classroom and killed the shooter. And I love to hunt, so that's that.
Family – I believe in loyalty. I'm my father's surrogate, don't you know? The best one! His loudest defender! I don't really like Jared, though.
What I hate:
Fake News – The failing New York Times – puhleeze!  Don't believe a word they say. I'm the smarter brother, and my father loves me as much as Ivanka.
Snowflakes – When will coastal liberals accept the fact that we won the elections?
Witch Hunts – The FBI didn't go after that deranged shooter in Florida despite several warnings because they were too busy investigating my father's supposed campaign ties to Russia.
Robert Mueller – There was no collusion, ok?
So ladies, are you going to swipe left or right?
B. Wiser is the author of Making Love in Spanish, a novel published by Anvil Publishing and available in National Book Store and Powerbooks, as well as online. When not assuming her Sasha Fierce alter-ego, she takes on the role of serious journalist and media consultant. 
For comments and questions, e-mail [email protected].
Disclaimer: The views expressed here are solely those of the author in her private capacity and do not in any way represent the views of Preen.ph, or any other entity of the Inquirer Group of Companies.
Photo courtesy of The Mercury News/John Moore
Follow Preen on Facebook, Instagram, Twitter, and Viber
Related stories:
How an App Renewed My Faith in Dating Once Again
Donald Trump Is Qualified as Predator-in-Chief Not as President
An Intellectual Analysis of a Man's Need to Snap His Junk
Why Settlements Take the Longest to Process During a Divorce