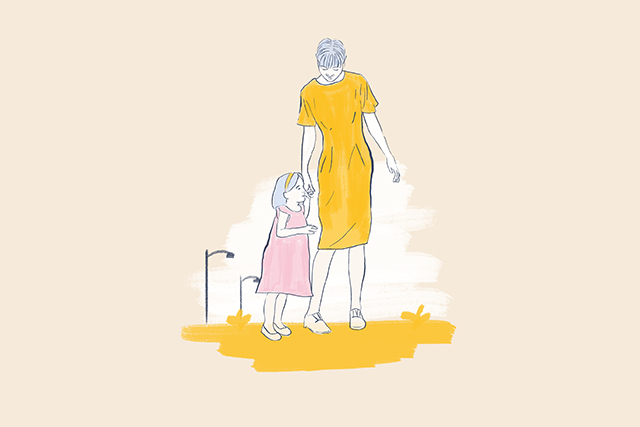 Every week, Preen tackles motherhood sans the rose-tinted glasses. Our columnists L. Juliano, Marla Darwin, Monica Eleazar-Manzano, Rossana Unson, and Ronna Capili-Bonifacio tell their personal experiences like it is—at times frustrating, oftentimes confusing, but always enlightening.
I had this perpetual look of exhaustion. I was losing weight, working on several projects, managing the household, and determined to be a hands-on mom as much as time could permit. My single answer to every iteration to the question "Why do you look so stressed?" was always, "It's so hard to take care of little bub kasi!"
Hubby and I joined a couples care group who meet monthly, and in one of those dizzying days of meeting deadlines and caring for a child, we decided to end it with seeing the group. Immediately, they asked me, "Why do you look so tired?" and the answer slipped off my tongue without thought. These couples are older than me, with kids much older than mine. I will never forget the advice of a well meaning elder that night:
Words are extremely powerful. And it doesn't just matter when you're in front of your child. It doesn't end with what you consciously tell her as you interact. It flows to your daily life outside of home. Always regard your child with positivity wherever you may be. Whether you are talking about her with strangers, with your family, or writing about her in your journal (and in my case, this column), you choose your words. Don't say "terrible threes," say "terrific threes." Because that way, it affects your psyche, and you will tend to parent with joy. You describe her the way you want her to be. Give her words of affirmation. Whisper to her ears before she falls asleep all your dreams and aspirations for her. Use love, always. Feed yourself and your child the words that will shape you both positively.
It had such an impact on me that I immediately focused on just that. Words of positivity. That night when I came home, I told her that she's the best gift the universe has ever given me. That she's an inspiration. I pray that she'll always be gentle, loving, and kind. She looked at me with fresh eyes, filled with pride and joy. She was already changing at that very moment.
The effort to do this, especially on the most testing situations, require a conscious millisecond to stop what I'm about to say or do. Down to how my face looks. Little bub is quite empathetic and I used to roll my eyes or huff under my breath when she's being a handful. I noticed that when I was doing those less and used positive words more, she immediately reconsiders her own actions. It's as simple as changing something like "you're being mean" to "you're my respectful and loving daughter, why did you do what you did?"
Surprisingly, as we progressed, I realized that I'm doing so much more than just rephrasing words. I'm forced to constantly communicate, not because I want her to fully understand my point but more to let myself hear my very own reasons, to help me gauge my emotions, and simmer down when I have to. It's surprising how much she understands at three years old. She herself began communicating better. From there, I'm learning to be more proactive compared to just being reactive in my ways. I discipline with reason rather than just out of exasperation. It's not a science down pat and there's still those special crazy days when I find myself off course. But instantly seeing the change in her behavior pulls me back to the right track.
It's been three months since and it's doing wonders for my child. It's doing wonders for me! Her teachers, our friends, and family recently asked what happened, what made her change almost instantly from being tantrum-y to this maturing little girl. We've done other adjustments too, like cutting out screen time during the day completely among other things. Those, with my new approach, have helped tremendously. And hey, I've been getting compliments too myself! All thanks to harnessing the power of words.
Disclaimer: The views expressed here are solely those of the author in her private capacity and do not in any way represent the views of Preen.ph, or any other entity of the Inquirer Group of Companies.
Art by Yayie Motos
Follow Preen on Facebook, Instagram, Twitter, and Viber
Related stories:
The 'Hood You Need in Motherhood
My Thoughts on Apologizing for My Child
Change Yourself, Change the World
What My Cat Has Taught Me About People