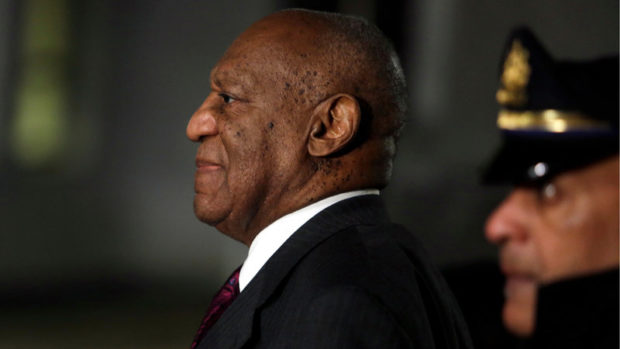 This column may contain strong language, sexual content, adult humor, and other themes that may not be suitable for minors. Parental guidance is strongly advised.
Finally, a conviction.
After four decades of plying women with spiked drinks and then sexually assaulting them, Bill Cosby was found guilty by a jury of three counts of aggravated indecent assault against Andre Constand. The verdict is a victory, however late in coming, for the many women he has victimized over the years, women he and his family and his lawyers continue to insist are in it for a big cash pay-out, or some measure of fame.
As if any woman were so desperate for her 15 minutes in the spotlight that she'd deliberately distort what was meant to be an innocent, friendly evening with a celebrity—known to be a devoted family man—kind enough to take her under his wing and mentor her in her career, into a sordid encounter that included alcohol, drugs, and rape.
As if a woman so enjoyed the trauma of her personal life being dissected in court and in the media, branded as a slut and a money-hungry whore that she'd fabricate sexual assault charges just to destroy the reputation of a nice man who happens to be a Hollywood legend and a cultural icon.
All any of his accusers ever wanted was to be heard and believed. Just because some of them might have aspired for a career in the entertainment industry didn't mean they had ulterior motives in reporting Bill Cosby's behavior to the police and going public with their ordeal. Just because some of them might have chosen to remain silent for years about the assault didn't mean it never happened. And just because Bill Cosby was a powerful celebrity with a wholesome image didn't mean he didn't lure, drug, and rape these women. It certainly didn't mean that his word was valued more than the women he assaulted. It didn't mean his version of events was what truly and definitively occurred. And it didn't mean that his credibility was unimpeachable next to that of the 60-plus women he victimized over the course of 40-plus years, women who didn't know each other yet recounted experiences that were strikingly similar, attesting to a deliberate and serial predatory mode of behavior on the part of Bill Cosby.
And for years he got away with it because he was a man, because he was a celebrity, because he could.
But he no longer will.
Unless old habits die hard and he attempts to find new prey in prison, where he is likely to be sentenced to at least 10 years for every count of sexual assault. For a man of his age (80) and (now fallen) stature, that's akin to a life sentence.
The verdict was delivered after a two-week retrial. Last year's trial resulted in a hung jury, with Cosby no doubt feeling vindicated and expecting to escape conviction even if a retrial were to occur.
Cosby, however, never reckoned with a phenomenon that is the #MeToo movement sweeping through society, suddenly giving voice—and credence—to women who have remained silent all this time, because of fear, because of shame, because of pain.
"Today, this jury has shown what the #MeToo movement is saying is that women are worthy of being believed," said one of Cosby's accusers, Lili Bernard, who attended the trial in Pennsylvania, after the jury pronounced Bill Cosby guilty.
In fact, Bernard and other survivors of alleged sexual assault by Cosby who were also present at the courthouse, broke down in tears, sobbed openly and embraced each other, happy that their accusations would no longer be dismissed as mere fame-whoring or malicious extortion, and relieved to have received some form of justice.
The lawyer Gloria Allred, who represents around 30 of the accusers, some of whom took the stand as witnesses for the prosecution, said, "We are so happy that finally we can say women are believed, and not only on #MeToo, but in a court of law where they were under oath, where they testified truthfully, where they were attacked, where they were smeared, where they were denigrated, where there were attempts to discredit them."
"And after all is said and done," she added, "women were finally believed."
And what was Bill Cosby's reaction?
Always keeping it classy, he shouted at the prosecutor, calling him an "asshole" for suggesting Cosby might be a flight risk, since he owned a private plane.
Meanwhile, his legal team vows to keep up the fight, saying "it's not over" and asserting their claim that Constand—and presumably all Cosby's other accusers—was nothing more than a "con artist" and a "pathological liar" out to frame the once-idolized celebrity for more money.  And the #MeToo movement? Nothing more than a "witch hunt."
Yet, as Time reports, Cosby himself admitted in a deposition he gave over a decade ago as part of Constand's lawsuit, that "he had obtained quaaludes to give to women he wanted to have sex with." The same, he was quoted as saying "as a person would say, 'Have a drink.'"
And then he had the gall to call the ensuing drugged up sexual encounter—in Constand's case, he waited until she was woozy and passed out to assault her with his fingers up her vagina—consensual.
B. Wiser is the author of Making Love in Spanish, a novel published by Anvil Publishing and available in National Book Store and Powerbooks, as well as online. When not assuming her Sasha Fierce alter-ego, she takes on the role of serious journalist and media consultant. 
For comments and questions, e-mail [email protected].
Disclaimer: The views expressed here are solely those of the author in her private capacity and do not in any way represent the views of Preen.ph, or any other entity of the Inquirer Group of Companies.
Photo courtesy of NPR/Jacqueline Larma for AP
Follow Preen on Facebook, Instagram, Twitter, and Viber
Related stories:
Bill Cosby and the Battle Against Rape Culture
What Are the Effects on Women Who Come Forward for Sexual Assault
Rape Has Nothing to Do With Desire, but Everything to Do With Power
The Rise of Sexual Harassment Accusations Is Not a Witch Hunt
Bill Cosby and the Other Alleged Rapists Think They Can Always Get Away With It