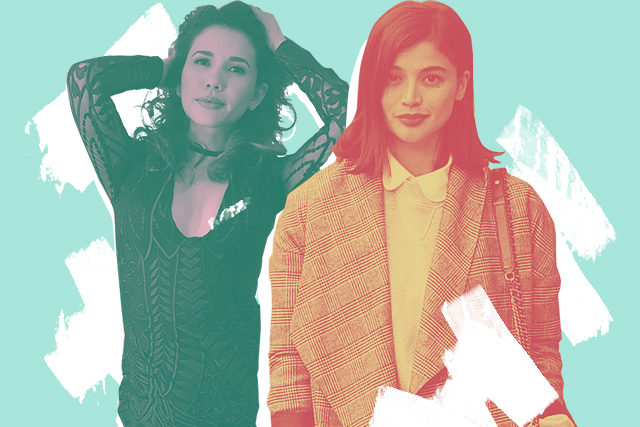 Before 2017 ended, Anne Curtis and Karylle announced that they're officially business partners. The two ladies opened a KTV restobar named Rockstar, which features themed rooms inspired by musical legends like Beyoncé, Prince, and Elvis Presley. There's also a K-pop room because both Anne and Karylle are avid fans.
"I've always wanted to be a partner for a KTV. So when K called me and said that they're opening Rockstar, I was so happy!" Anne told everyone. "This is a place where non-singers can become superstars. Just like me!" She also showcased her singing talent, together with Karylle and Spongecola vocalist Yael Yuzon, with Celine Dion's "It's All Coming Back."
In the middle of touring the rooms and trying out the dishes, we had a quick chat with Anne, Karylle, and Yael about the things that interest them—both musically and in their personal lives. Keep scrolling to read what they said.
Which diva do you resonate with and/or love the most?
Anne Curtis: Me, Beyoncé because [she can] sing and dance. [Laughs] Yael Yuzon: I like Barbra Streisand in the sense that her singing isn't necessarily about highs and lows. It's about story-telling—a light tremble can make you feel so many emotions at once. Parang there's a Barbra Streisand out there that I feel like I can channel in some level. But as a fan, I really like Celine Dion because she sang in so many movies that I love and I can channel my inner child when I hear "Beauty and the Beast" and "My Heart Will Go On." And they have a song together!
Karylle: Diana Ross would have to be my favorite favorite because she has curly hair too! I used to sing her songs at my dad's clinic and it was so loud.
What would be your song diva titles?
AC: Annebisyosa. [Laughs] YY: Yael "the Glass Case of Emotions" Yuzon.
K: No, you [had another nickname.] YY: "The Nicholas Sparks of OPM?" Okay din yun! The writer of the saddest stuff.
K: I've never thought of mine.
YY: "Kulot Kilabot"
AC: "K-labot"!
K: Yeah, you know I like it when I get shivers. Plus, I have curly hair. Before, I'm not as comfortable with my curly hair. But now, I've embraced it and loved it.
Aside from hanging out at Rockstar KTV and at work, what other activities do you like doing together?
K: [Yael and I] had our nails done!
YY: Yeah, it was fun.
AC: [Karylle and I] are with each other every single day [because of work.] YY: I see them together through my phone, talking about K-drama stuff. Also, [I see Anne and Erwan Heussaff] when we watch Erwan's videos before we go on trips.
Do you find your itinerary through Erwan's videos?
YY: No, I want to make my own itinerary but I always want to know what Erwan suggests.
K: He'll memorize everything.
AC: Thank you, guys!
YY: I copy how he talks every episode. Also, we talk about his V-necks.
AC: Yeah, he likes wearing V-necks.
YY: I also like his travel companion, Sarie [Cruz]. They have the same glasses and wit. Super cool.
What do you love about K-pop and K-drama, and what are your favorites?
K: For me, one of the best things about K-pop that I feel the Philippines can learn from is that they have original music. Goblin had a two-disk OST and I can sing from that. I super wish that the Philippines would have an original soundtrack. Enough of the remix.
AC: In the acting side naman, what I love is that there are only 20 episodes. That's it, there's no season two. I really like that and I hope one day, we can do something like that. But to choose my favorite, Goblin and Descendants of the Sun is still my top two. Slowly after It's Okay, That's Love.
YY: I only watch what K's watching. But I like Fight For My Way, which is a boxing series. I like how they used MMA-style fighting in a love story context.
Who's most likely to…
Be late to call time
K and YY: [Points at Anne] K: And she's also promoting [Blk Cosmetics] even when she's running late!
YY: iI'm not even on Showtime but I know that Anne is the one.2
K: It's because she runs in the morning.
AC: Yeah.
Send photos of pets or any cute animal
YY: Do I count as a pet?
AC: [Laughs] Yeah, 'cause Karylle sends photos of Yael.
YY: [I'm usually] copying Erwan. But I don't have glasses yet.
K: Mostly we post online eh, so we just see it on our feed.
Forget to reply
YY: I would say Anne.
K: No, you do.
YY: Oh yeah, it's me. I don't really reply to group messages.
K: You're in a bridesmaid chat nga and I got a warning that you weren't replying. [He"ll reply] if it's for fantasy basketball.
Laugh uncontrollably
K: I think it's Anne. Actually, it was the biggest clue that she was engaged because her laugh changed.
AC: Really?!
K: Yeah! It became so high and big. I was like, "Somethings up with her." And you didn't announce it pa.
Tease someone just because
K: Yael? I think he's just mean. [Laughs] YY: Yeah, because my humor is Family Guy level.
Follow Preen on Facebook, Instagram, Twitter, and Viber
Related stories:
The Number One K-Beauty Product Anne Curtis is Obsessed With
Anne Curtis' New Product Is Perfect For the Popsicle Lip Lovers Out There
Holidays with Karylle Include Carols, Cheese, and Singing Dogs
Cop Karylle's Pink Wednesday Makeup Look