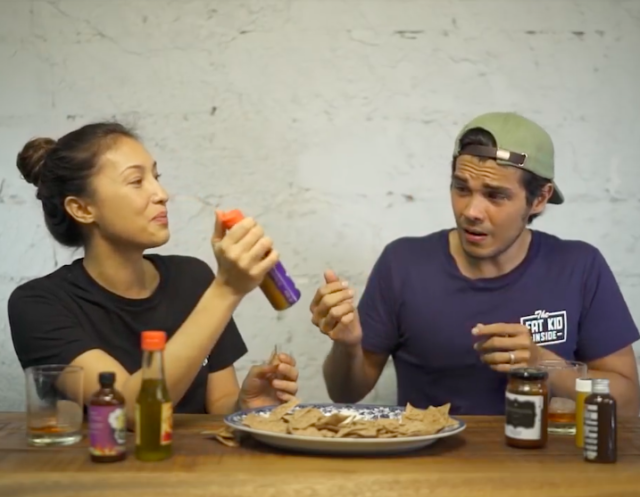 As if the summer sun is not hot enough, siblings Erwan Heussaff and Solenn Heussaff decided to try 12 local hot sauces—just because. And Erwan aptly named the show, "Hot Sauces with Hot Sos."
Halfway through and Erwan already regrets lining up 12 sauces in one video while Solenn describes it to be worse than their Spicy Noodle Challenge with her husband Nico Bolzico. What's tough is that they wouldn't really eat the sauce with the chips, but instead lick it off. And they had no water or milk in sight, just one glass of Negroni each. Man, that's insane! I'm already sweating just looking at it.
The two struggle to get through all the bottles, but what pisses Erwan off is how Solenn can look so chill (and fresh, mind you) while he goes through beads of sweat.
We now list down the sauces that made them sweat and sniff, literally.
The Mad Hotter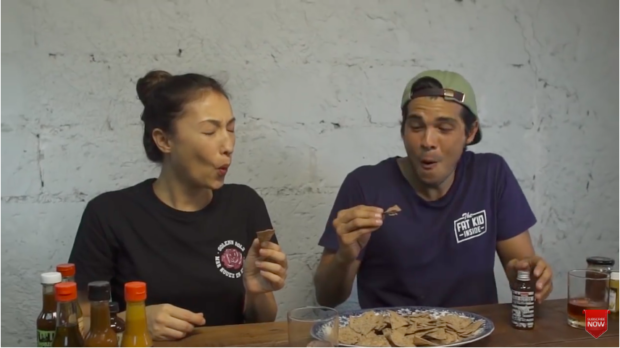 "I didn't think it'll be that hot in the beginning," says Erwan as they try their best to breathe through the heat.
Kornbanero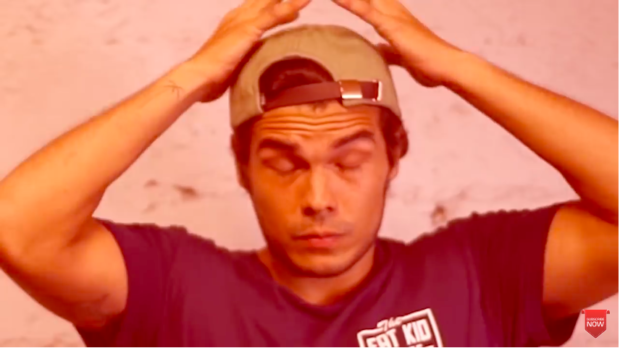 It reminds Erwan of his favorite childhood snack that you can buy in sari-sari stores (I bet it's Sweet Corn), but boy did it burn. How can Solenn even talk through this? She choked a little bit in the end though.
Spicy Louis Habanero Rosemary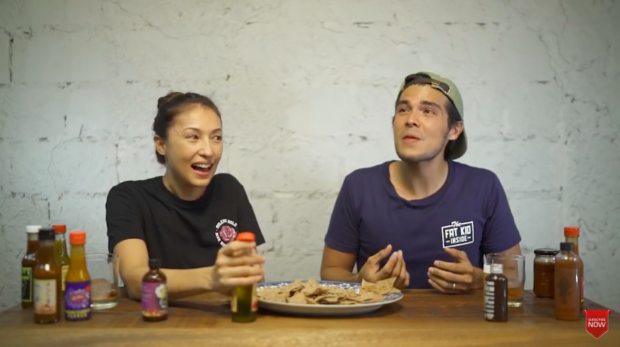 "Let's smoothen things up with some olive oil," says Solenn. Followed by squinty eyes, stressed facial expressions, and a loud, "ooohhhh, ahhhhhhh!" Erwan candidly describes the experience, "You know what my mouth feels like? I feel like my mouth feels like what my butt feels like when it has diarrhea. Such confusing emotions!"
Chilli Beri Indian Carbon Pepper Sauce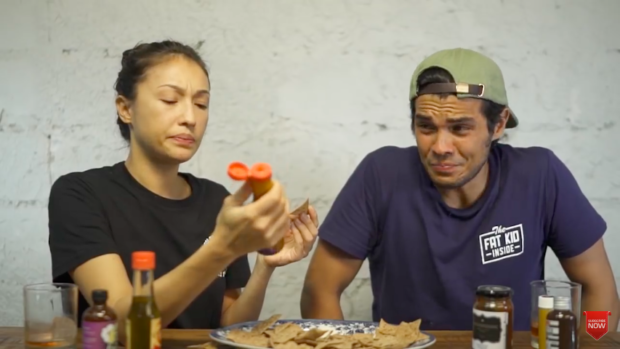 "Oh that's wrong! It's up my nose now," says Erwan. On the other hand, Solenn said it's great when paired with chicken. "How are you chill? Look at you, you're not sweating and I'm beading."
Bad Boy Tikboy Black B*tch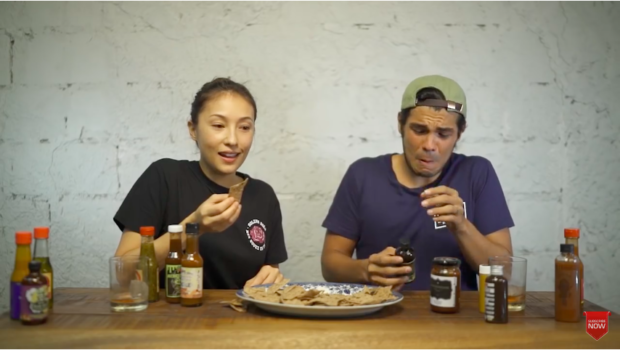 After recovering Erwan blurts out, "Oh boy that is a black b*tch!" Solenn said it has a bitter aftertaste which is probably because of the activated charcoal.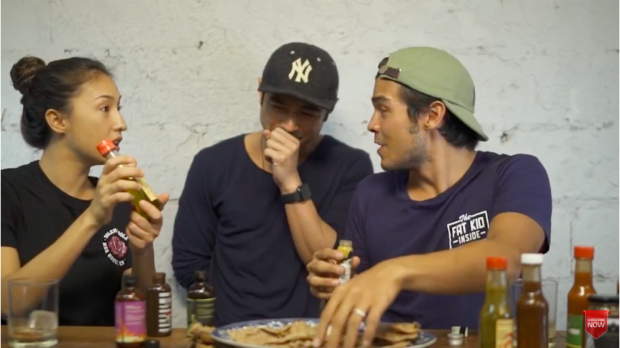 As if it's not over, they called on Ben Alves who happened to be with Solenn (they're currently shooting a movie.) They  made him try combinations of the hottest ones and he didn't seem to mind—at first.
Screen grabs from YouTube
Follow Preen on Facebook, Instagram, Twitter, and Viber
Related stories:
Nico Bolzico Couldn't Handle the Spicy Noodle Challenge
Solenn Heussaff Receives The Silver Creator Award from YouTube
Anne Curtis Doing the 4x Spicy Noodle Challenge Is Us on a Friday
What Do Solenn and Erwan Heussaff Hate About Each Other?