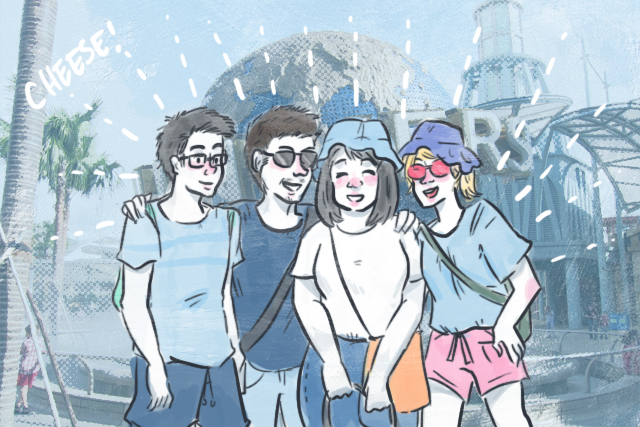 I love to travel and I have my family to thank for taking me to different destinations ever since I was little kid. I can sort of remember going to Disneyland with my mom when I was around three or four years old. My dad didn't go because he was scared of flying. He can get on planes now but he still doesn't enjoy it.
But my addiction to travel began in grade school when my great grandfather took the whole family on a cruise around Europe. I remember being on long haul flights, visiting massive museums, and watching movies under the stars on the cruise ship. This became a regular family trip every summer where would take different routes around Europe. We visited Barcelona, Venice, Istanbul, Athens, and the list goes on. This tradition eventually came to an end when my great grandfather passed away. He was the only one who could bring everyone together for a trip. This was when I was in my sophomore year of college.
Around three years later, my great grandmother decided that we should all plan another family trip. So, after months of getting everything together, we were off on another cruise, but this time around Japan. Since then, I haven't really been on a trip with my family, not even my immediate family.
For the past three years or so, I've been traveling quite frequently but with my friends and boyfriend. So when my parents told me that they were planning a vacation to Singapore for their anniversary, I was shocked but also excited. We were going to spend eight full days together and I was interested to see how that was going to turn out.
I took care of our Airbnb accommodation so this was the first time I had some responsibility during a family trip. But my mom still took charge of the bulk of our itinerary. She had a list of places to eat at and visit.
Another thing that was brought to my attention was how different our interests were. My family wanted to visit all the malls and go shopping. I did too but there were other activities I wanted to do. One of the spots I really wanted to visit was Haji Lane. I dragged them there but they didn't enjoy it as much as I did. Granted, it was really hot that day but all of the store fronts caught my attention. I could have spent hours there just looking at all the unique clothes and then maybe grabbing a drink after. But we only stayed for two hours or so and moved on to another mall.
I didn't mind (I ended shopping a bit, of course)  but I started to think back on trips I had gone to in the past three years without my family. I went to many obscure street shops and just exploring (somewhat) aimlessly until I saw a place I liked. I also took trips to museums and clubs at night.
When I wasn't traveling with my family I was able to build and explore my interests more. The itinerary I planned was based more on what my friends and I enjoyed. It also taught me to be more independent, learning the transportation system of a new country, managing my funds, etc.
But I did value this recent trip with my family. I still live with them but I don't spend as much time with them I used to. We just got back to Manila less than a week ago but my parents are already excited to plan our next trip for 2019. I wonder where we'll be heading to this time?
Art by Marian Hukom
Follow Preen on Facebook, Instagram, Twitter, YouTube, and Viber
Related stories:
The many reasons why I'm thankful I travel with my family
All the travel essentials for the modern mom
Why Sorsogon is my current favorite summer destination
What to remember to keep your road trip safe