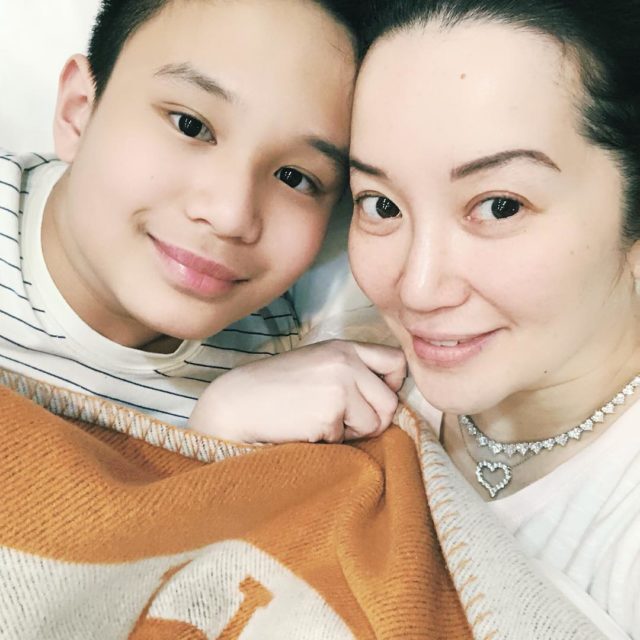 Yesterday, Kris Aquino went live on Facebook and Instagram once again but this time on a positive note. She was joined by her sons Bimby and Joshua. It started off with surprise videos from her kids to celebrate her on Father's Day. Bimby then went on to ask her some questions including a moment wherein she was proud of him. Kris then shared a story that was quite recent.

"I've been doing this movie and there are certain things in that movie, there was a line there na na-affect po talaga ako," Kris said. "My proudest moment for you is that I said to you, 'How could I effectively deliver those lines if I can't make it true in my heart, right?' There was a message there about forgiveness, about doing forgiveness not because you're doing it for another person but you're doing it for yourself because it's a gift." Because she was feeling this way, she asked Bimby a favor, "So I was asking you if we could do something privately, a Father's Day video that I wanted to send your dad. I knew you did it because I asked you because I really want peace. But I also saw how much you couldn't handle it after. It will come."
She went to explain that if Bimby isn't ready to reconnect with his dad James Yap, she respects that. "Hindi ka pa handa (you're not ready). I'll give you that. You deserve that. Please don't ever feel na si mama ang nagpe-prevent sa 'yo, na it's out of loyalty for me or anything like that because your mama is ready."
Now that she and Bimby have reached out, it is up to James to respond. Kris said, "It's up to him now. I hope he will reach out. I am also not gonna force you to be the one to reach out."
Kudos to Kris for trying to keep the peace between everyone involved and for stepping up and becoming both mother and father for her kids. Belated happy Father's Day, everyone!
Photo courtesy of Kris Aquino's Instagram account
Follow Preen on Facebook, Instagram, Twitter, YouTube, and Viber
Related stories:
Kris Aquino vs Mocha Uson reinforces negative stereotypes about women
Kris Aquino has launched a makeup line and a new Instagram account
Bimby Aquino doesn't care if you bash him online
kris Aquino is the queen of clapbacks in the comments section