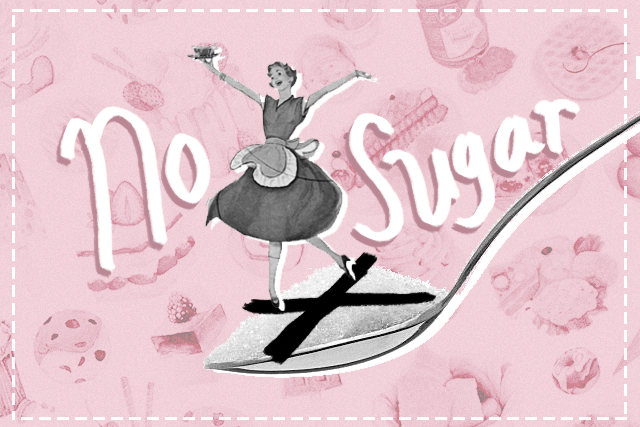 Every week, Preen tackles motherhood sans the rose-tinted glasses. Our columnists L. Juliano, Marla Darwin, Monica Eleazar-Manzano, Rossana Unson, Chrina Cuna-Henson, and Ronna Capili-Bonifacio tell their personal experiences like it is—at times frustrating, oftentimes confusing, but always enlightening.
With the dawn of social media, being on a diet and getting into shape is no longer the solo journey that it used to be. When we diet, we post, we tell, we photograph, and we let the world know that we need their support. I was 18 years old when I was diagnosed with insulin-dependent Diabetes, social media was unheard of so I really had no one to share the terrible news with—that for the rest of my life I would be unable to eat a bar of chocolate or a cup of ice cream when I simply felt like it. But as hard as it was, through the grace of God and fear of my mom, I managed to accept my fate. It hasn't been too easy but I've been able to find gems of sweetness sans sugar which I'd like to share for everyone's enjoyment. For those of you who are quite used to eating food with voluminous amounts of sugar, please bear in mind that it will take some getting used to, but once sugar has been eliminated from your diet or at least reduced significantly, you will appreciate each one's sweetness.
Recently I've learned, it's not just diabetics who need to stay sugar-free. I've had friends in their mid-20s who have been diagnosed with ailments that have made their doctors advise them to drastically reduce their sugar intake. In fact, my 14-year old daughter has reduced her sugar-intake so she can lose some weight (doctor's orders). Which brings me to the conclusion that its never too early to start cutting down on sugar. Having said this, for those who are on strict sugar-free diets, be sure to ask your doctor or dietician first before bingeing on any of these items. Bingeing, by the way, is seriously discouraged. Everything in moderation is key, especially when it comes to food.
Lily's Peanut Spread Lite
I used to buy another local brand of sugar-free peanut butter but since stock became scarce, I was overjoyed to discover Lily's now had a Lite version of their peanut butter. What I particularly like about it is that it's sweetened with Stevia extract and for me, Stevia is the best sweetener there is, because it's natural. 
Clara Ole Sugar-Free Strawberry Jam and Orange Marmalade
I am one of those kids who grew up on peanut butter and jelly sandwiches. So yes, when there's peanut butter, there should be jelly (or jam, at least) and I've found Clara Ole's sugar-free Strawberry Jam to go very well with Lily's Peanut Butter. 
Arce Dairy No Sugar Added Ice Cream in Vanilla Lite, Cappuccino Lite, Cheese Lite, Dark Chocolate Lite, Macapuno Lite, Mantecado Lite (my absolute favorite!), and Ube Lite
I don't know anyone who doesn't like ice cream. Even my 84-year old mom who suffers from dementia, is lucid enough to never say no to ice cream. When I am particularly sad, I grab a big scoop of Arce's Vanilla Lite ice cream and pour some Coke Light over it so I can have a good Coke float. I haven't tried having a milkshake yet, but I'd expect the Vanilla or Dark Chocolate Lite and some non-fat milk will make for a great sugar-free milkshake.
Mom & Tina's Sugar-Free Chocolate Fudge Cupcake (plus their mini American Apple Pie, Mini Mango Cream Pie, and their Mango Walnut Torte)
Who says you can't have any cake? If you're craving a chocolate cake, Mom & Tina's sugar-free Chocolate Fudge Cupcake should put those cravings to rest. I do notice a bit of an aftertaste with this one but I'll take the aftertaste over not being able to have anything at all. On a warm day, try their Mango Walnut Torte which is refreshing as it is delicious. 
Goldilocks' Sugar-free Chocolate Cake Slice and Sugar-free Mamon
Their sugar-free Chocolate Cake Slice eaten a la mode with sugar-free Vanilla or Mantecado ice cream is wonderful. The mamon goes well with coffee.  
There are actually many, many more products that have become part of my sugar-free life. Over the years, I must say that our local market has developed really good sugar-free, or at least no-sugar added choices. Most recently, San Miguel Zero absolutely made my day. So if you suddenly find yourself on a diet, forced or otherwise, don't lose hope. There are sugar-free sweets not too far from where you are now.
Disclaimer: The views expressed here are solely those of the author in her private capacity and do not in any way represent the views of Preen.ph, or any other entity of the Inquirer Group of Companies.
Art by Marian Hukom
Follow Preen on Facebook, Instagram, Twitter, YouTube, and Viber
Related stories:
How I lived my life without desserts
Order these desserts for every craving possible
A 20-something's guide to food and wine pairing
Food parks and halls are an indecisive girl's BFF