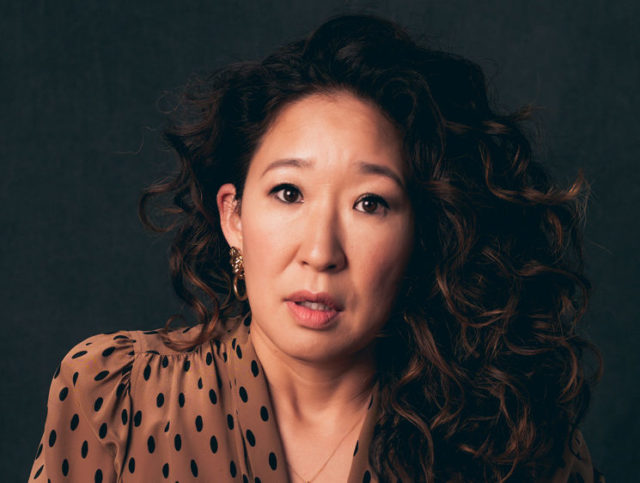 Actress Sandra Oh just made history for being the first Asian woman to be nominated an Emmy for a lead actress in a drama. This is for her performance in the thriller series Killing Eve. 
The series just debuted this year and is already getting a lot of recognition for its complex female characters and nail-biting scenarios. Women in our office here at Preen are also big fans as they've been raving (and losing sleep) about this show. 
After learning about the nomination, she posted a selfie on Instagram of what looked like utter joy at the brink of a meltdown—I guess that's what it feels like to break ceilings without realizing you did it. 
She captioned the post with, "Omg wtf??? This is me hearing about Emmy nom w/ fellow sister @michellekrusiec — my expression is kinda… what?" We can only imagine what you feel, Sandra! 
Omg wtf?? This is me hearing about Emmy nom w/ fellow sister @michellekrusiec – my expression is kinda ..what? pic.twitter.com/1Mwlj2FETc

— Sandra Oh (@IamSandraOh) July 12, 2018
Sandra talked about her nomination with The New York Times and how it helps diversity and equal representation, especially because it took this long for them to nominate an Asian woman. "Let's celebrate it, man. I'm serious, just [expletive] celebrate it. It's like, we've got to start somewhere. And I'm happy to get that ball rolling, because what I hope happens is that next year and the next year and the next year, we will have presence," she said. 
 She even addressed the fact that change is slow, but we, especially women, should be relentless in what we do and believe in. "I mean, women [laughs] — can we talk about women for a second? The change is slow, but let's just continue pressing on with the change. I'm not going to say that the tide has changed, no. But what I do feel is that people are more open. And what I mean by people — I think people who have been in power, who have mostly been white men, and people who are white, they listen now. They not only listen and are open, they make the effort for change. I do feel that has changed. I can feel it now because of the way I can push: 'Hey, what about this? Hey, what about that?' Trust me, I'm relentless."
Congratulations, Sandra! Now we're rooting for more of our brothers and sisters to be a part of the bigger picture. Asians, represent! 
Photo courtesy of Shuttershock for Variety
Follow Preen on Facebook, Instagram, Twitter, YouTube, and Viber
Related stories:
Women shouldn't have to hide behind men and their accomplishments
Let's talk about being racist as an Asian
'Ocean's 8' proves women can pull off a heist too
Pia Wurtzbach on how to empower yourself