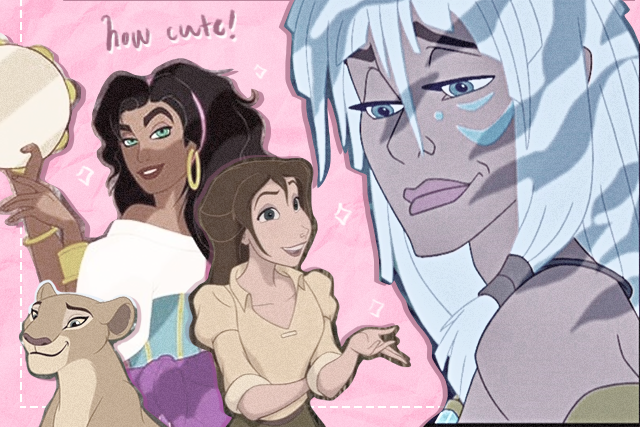 Mulan may be the poster-girl for badass Disney princesses, but that title doesn't solely belong to her. Don't get me wrong, I am obsessed with Mulan. But she isn't the only revolutionary who broke gender stereotypes to save her home and protect the people she loves.
Here are some other badass princess warriors that deserve the same recognition as my girl, Mulan.
Kidagakash
If you don't know her, you might want to brush up on old Disney flicks. Kida is the leading female character of Disney's Atlantis: The Lost Empire, based from the legends of the mythical underwater city.
The daughter of the king of Atlantis, Kida is a princess in every right. But she's not your typical Disney princess. She doesn't sing songs. She has tattoos. She's well-trained in combat. And she went on to become the queen of Atlantis by fiercely fighting for her citizens.
Nala
So yes, she's a lioness. And a royalty only by marriage, but royalty nonetheless. She didn't put up with Simba's nonsense even before they were married. While Simba was off and going all Hakuna Matata, she stayed and dealt with the struggles at Pride Rock, was actively against Scar as a tyrant, and cared fiercely for her pride by seeking help through the drought and joining the final battle to overthrow Scar's dictatorship.
And lest we forget, when she found Simba and had fallen in love with him, and then found out he didn't want to return to Pride Rock and deal with all the drama, it never even crossed her mind to just stay with him and leave her family behind.
Esmeralda
I cannot stress how much of an icon Esmeralda should be. Technically she is not a princess (she's actually a gypsy vagabond) but she is included in the Disney Princess franchise.
She is the lead female character from The Hunchback of Notre Dame, which I believe isn't appreciated enough because compared to other Disney flicks, its themes are relatively mature and overtly political, and maybe harder for younger audiences to follow. But if, like me, you weren't able to fully understand it the first time, rewatch it now and I promise you will get goose bumps. Aside from the remarkable animation (imagine breathtaking scenes in and out of Notre Dame), it, I believe, has procured the best female character in all of Disney through Esmeralda. She is a true heroine who stands for the marginalized and isn't afraid to go against society and the people in power in order to stand up for her beliefs and principles—a defining characteristic of a true princess.
Special Mention:
Jane Porter
She may not have fought for her country per se, but I believe Jane belongs to this list. As an animal researcher and a skilled artist, Jane is one of Disney's smartest female leads. She even taught Tarzan multiple subjects including history and science. Considering she's from the Victorian Era and a member of the upper class, Jane was very much ahead of her time, and like the other strong Disney female leads, broke social norms to save what she considers her home and family.
Art by Marian Hukom
Follow Preen on Facebook, Instagram, Twitter, YouTube, and Viber
Related stories: 
What would your favorite Disney princess look like in Givenchy?
Marc by Marc Jacobs teams up with Disney for final collection
Strong female leads in movies inspire us to break gender stereotypes
Disney just dropped 'Little Mermaid' merch for the best pool party ever