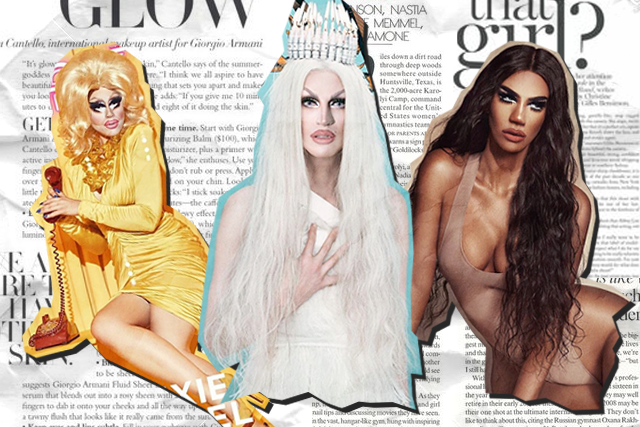 Drag culture is steadily making its way mainstream, thanks to shows like the highly addictive RuPaul's Drag Race. But to Carlos, the person behind the Instagram account @dragmorph, it's not enough. With the motto, "More queens on the cover of magazines," the account is a reminder of what the fashion world is missing.
In an interview with Dazed, Carlos shared the inspiration behind creating an account dedicated to highlighting drag. "Growing up in Honduras, I never met anyone who identified openly as LGBTQ+. Drag Race was my introduction to the queer community, and it will always have a very special place in my heart. My mission with dragmorph is to show people how drag can, and should, become more common in fashion."
Dragmorph is the realization of what it's like when drag takes over fashion. His creations speak for itself. His feed is a lovely exhibit of our favorite drag queens, dominating fashion week runways, and magazine covers and editorials. Drag icons like Miss Fame, Aquaria, Shea Coulee, and The Vixen transform into muses of high-end magazines and fashion brands, such as Vogue Italia, Harper's Bazaar, Moschino, and Versace.
Carlos explains how his works are not borne merely by choosing a random muse and Photoshopping them to a cover or editorial. Behind every post is a whole creative process. "I try to look for fashion images that look somewhat inspired by drag. Drag, to me, is all about exaggerating features – so I look for fashion images that, for example, feature models with huge, long hair or colourful couture gowns," he further explained how he manages to make each image believable "I then think of how that image might fit a queen's brand: for example, Miss Fame is very editorial and high fashion, while Miz Cracker is more playful and fun. Staying true to each queen's brand makes the image look more realistic in the end."
Though his creations bank on staying realistic, Carlos shares how fantasy is thematic to both fashion and drag, which ultimately makes it work—proving further that drag truly belongs to the exclusive industry. "Through this pairing, I have been able to find how drag and fashion ultimately rely on the same thing – and that is, to create an illusion," he says.
Take a look at some of his incredible works.