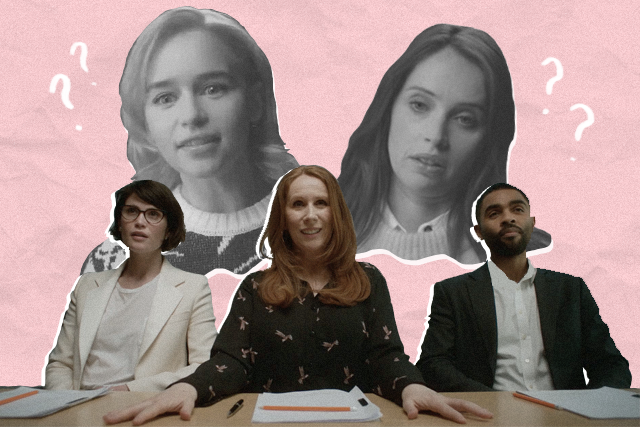 According to a comedy short by BBC, written and directed by Jessica Swale, this is what usually happens during casting calls for the part of leading lady—more or less.
In the star studded satirical piece, we see award-winning British actresses Gemma Chan, Emilia Clarke, Lena Headey, Felicity Jones, Stacy Martin, Wunmi Mosaku, Florence Pugh, and Katie Leung try to get the part of a movie's leading lady. The women do a reading for Catherine Tate, Gemma Arterton, and Anthony Welsh, a tough panel who schools them on what it really takes to bag the role.
Apparently, these are the requirements to be a leading lady: A big no-no to being feisty, bold, and calling the shots. Yes to pretty, but a giant turn-off to pretty clever. "Clever is not something we want or care about at all actually."
If you don't want to earn a "You do realize this is the leading lady part?" comment, regardless of the plot, your acting should be "smiley" (if crying is necessary, then it should be sensual, sexy crying); you better have make-up on; be vulnerable, delicate, and thin like a "twiglet"—but with boobs and hips (but not too big!); be all about sex but a virgin, and lastly, young and white.
Oh and also, be prepared for nudity, because, well, sometimes character's clothes can "get in the way"—even if the character is a doctor doing an operation.
By the end, it seems as though the only one who can bag the part is—surprise, surprise—a man. To understand, watch the clip below.
The short is part of the Hear Her campaign, which "aims to give free reign and the opportunity for normally unheard women from across the UK to tell their stories and give their opinions on all matters 'women,' and elevate honest and uncensored opinions to make them un-ignorable."
The piece seems timely, as BBC reported that the number of female-led films has considerably dropped in the previous year. While films like Star Wars: The Last Jedi, Beauty and the Beast, and Wonder Woman, dominated box office rankings, study showed that the number of films with exclusive female protagonists fell from 29 percent in 2016 to 24 percent in 2017
The study, which based its research on the top 100 grossing films in the US, also noted that movies with male protagonists account for more than double the movies with female protagonists. When it comes to age, the study showed that male characters were most likely to be in their 30s and 40s, while female characters tend to be in their 20s and 30s. It was also reported that among all female characters with speaking roles, 30 percent were women of color (16 percent were black, 7 percent were Latina and 7 percent were Asian). When it comes to genre where we are most likely to see a female lead, comedy or drama ranked highest, followed by action, horror, animated features and science fiction as the least.
Going behind the camera, women account for only 11 percent of film directors.
These numbers all make sense, considering the tedious and somewhat absurd process satirically shown in BBC's Leading Lady video.
Art by Marian Hukom
For the latest in culture, fashion, beauty, and celebrities, subscribe to our weekly newsletter here. 
Follow Preen on Facebook, Instagram, Twitter, YouTube, and Viber
Related Stories:
Strong female leads in movies inspire us to break gender stereotypes
Big Bang Theory leads take pay cuts to give female co-stars a raise
Sandra Oh is the first Asian woman to be nominated for a Lead Actress in a Drama
Jodie Whittaker on being the first female doctor in Doctor Who