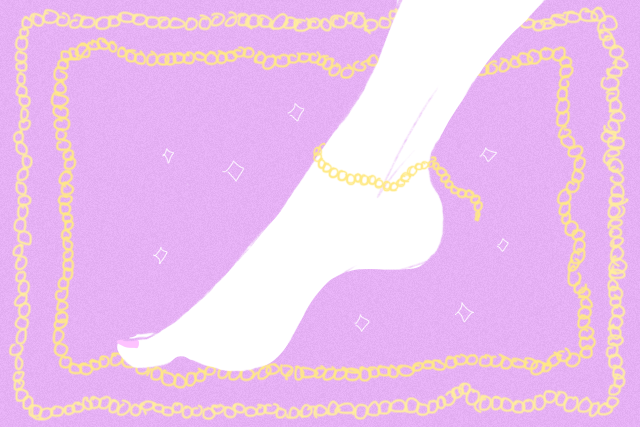 There I was in the middle of the mall last Sunday, whispering to myself to be strong and stay firm in the face of every store sale. Wave a final sale sign in my face and I'm like a rutting male bovine faced with a halfwitted tourist in a red Supreme shirt who decided to run with the bulls in Pamplona.
It was when I walked past a jewelry store with a discreet sign advertising 50 percent off cash purchases that I finally succumbed.
I tried on a delicate cross bracelet in 18K gold. A pendant with Mother Mary emblazoned on the face, surrounded by a fine cross-hatching detail. A chunky chainlink necklace. They were cute but nothing stupendous.
Then the salesperson took out a tray and said, "Would you like to try these anklets?"
"Anklets?" I scoffed. "What is this? 1998?"
Then I glanced at the display and found something straight out of Mariah Carey's jewelry tray. (This is a compliment, by the way. I don't believe in God, but I believe in Mariah.) There it was: a fine chain specked with dainty butterflies in gold.
I laughed, like haha, look: a Mariah anklet. With butterflies! Who would even wear that. I don't know who I fooled—definitely not the blasé saleswomen who've clearly seen it all.
A confession: I bought it. Instantly. In cash. And have not taken it off since.
Here are my learnings so far:
1. Anklets are officially back. Because I said so. Of course, fashion people will note that Calvin Klein brought it back as far back as 2016, but whatever. I'm staking a claim.
2. A delicate anklet feels almost invisible, so you can wear it all day, all night. In the shower. To the gym. To feed your dog. To run down to the parking basement of your condo at 11 p.m. in your nightgown and no bra, because you forgot your iPad in the glove compartment, ugh.
3. You can wear it with anything. I've worn it with heels and a dress, T-shirt and Birks, nightgown with no bra.
4. It used to not be cool. But things have changed. See: no. 5.
5. I made anklets cool again.
Art by Marian Hukom
For the latest in culture, fashion, beauty, and celebrities, subscribe to our weekly newsletter here  
Follow Preen on Facebook, Instagram, Twitter, YouTube, and Viber
Related stories:
How to make a statement with these minimalist jewelry pieces
Mariah Carey bathes in milk and we want to do the same
Jul B. Dizon's family designed jewelry inspired by her iconic pieces
Mari Jasmine and Laureen Uy show us the accessories to wear at the beach