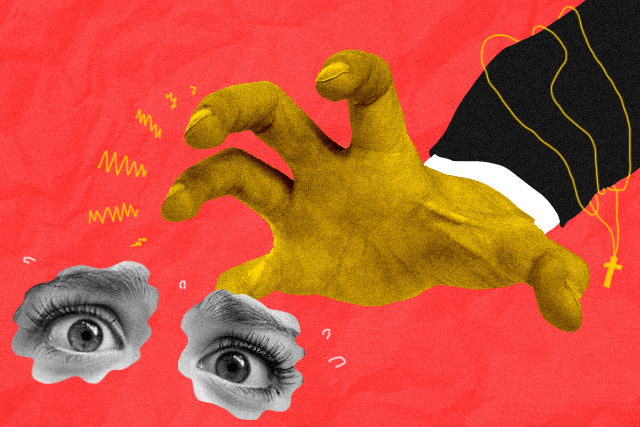 You might have heard the latest misogynistic episode on Why This World is Seriously F*cked Up. The weekend's trending hashtags #RespectAriana and #RespectArianaAndAllWomen were borne from the whole cringe-y exchange between Ariana Grande and Bishop Charles H. Ellis III, the pastor presiding over the late Aretha Franklin's memorial service, whom one netizen pointed out was being too handsy with the pop star's breast.
First of all, let's get this straight: Ariana Grande got groped. No, there's no question about it. The pastor didn't "accidentally" put his hands there. I mean, the footage speaks for itself. Watch it carefully and you'll agree it just isn't possible. His claims, "I was, I don't know I guess I put my arm around her" and "I hug all the female artists and the male artists. Everybody that was up, I shook their hands and hugged them" are total bullsh*t. Excuse me, pastor, but that is NOT how you casually hug someone. Several netizens think so, too.
WAKE UP PEOPLE she looks so uncomfortable here and ya know what? He is so disgusting, he groped her many times and people still "it was an accident" omg those who say that can keep your opinion away bcs yall are toxic asf. Every woman deserves to be treated nicely #RespectAriana pic.twitter.com/40Hzepprsu

— #sweetener ?? (@yuchisyuta) September 1, 2018
BISHOP CHARLES H. ELLIS III is a pervert, his daughter is younger than her, he knew what he was doing, he knew she wouldn't cause a scene at a funeral, she was clearly uncomfortable. What a complete lack of respect to Ariana and Aretha Franklin. #RespectAriana #RespectAllWomen pic.twitter.com/XQqrpMYIl4

— STEPH ? (@SLHardwick) September 1, 2018
While bishop Elis did offer an apology after getting called out by the public, as netizens pointed out, "Maybe I crossed the border, maybe I was too friendly or familiar, but again, I apologize" don't really seem like a real apology. His statement, "It's not about the way that I meant it, or it went bad. If somebody took it the wrong way, or if they were offended by it, the easiest thing and the right thing for me to do, as a Christian, as a man of God is to apologize, and I sincerely apologize to Ariana again if I offended her in any kind of way" really ticks me off, too. It's like he's reaching out because he's basically obliged to do so "as a man of God," and it's "the easiest thing" to do; not because he sincerely admits to his wrongdoing.
Bishop Charles H Ellis III apologises to @ArianaGrande after his conduct at the Aretha Franklin funeral sparks #respectariana criticism pic.twitter.com/mqoZTgdQba

— ITV News (@itvnews) September 1, 2018
Worse? People somehow found a way to blame it on Ariana. Some said her dress was too short and inappropriate for the funeral service. How many times have we gone over this, people? A woman's way of dressing is NEVER an invitation for any kind of harassment. This happened because the man was an a**hole, period.
A WOMAN'S OUTFIT DOESN'T DETERMINE HOW MUCH RESPECT YOU TREAT HER WITH AND IF SHE'S WEARING A REVEALING OUTFIT SHE'S NOT "ASKING FOR IT" #RespectALLWomen #RespectAriana

— ˗ˏˋ ????? ˎˊ˗ (@arianasgrnds) August 31, 2018
friendly reminder that :

A SHORT DRESS IS NOT AN INVITATION
A SHORT DRESS IS NOT AN INVITATION
A SHORT DRESS IS NOT AN INVITATION
A SHORT DRESS IS NOT AN INVITATION
A SHORT DRESS IS NOT AN INVITATION
A SHORT DRESS IS NOT AN INVITATION #RespectAriana

— TO FREEDOM AND TO FRIDA KAHLO!!!!!!! (@captainassmrica) September 1, 2018
Still, others argued it was Ariana's fault for not doing anything. Several netizens actually noted how uncomfortable she was during the whole exchange, and at one point, even attempting to lose the pastor's hand on her chest, but to no use. He was plainly harassing her, and poor Ariana felt trapped. I've been in a similar situation once, and believe me, I always thought I could do something, but at that moment, I totally froze. Not being able to do anything doesn't negate the fact that something wrong did happen.
Her reaction at the beginning of the Video makes my hearth get broken so hard ??? Please Ariana Do not give up this ♥? pic.twitter.com/Ch41fW2gF7

— Arianator Arts (@MarkEFanpage) September 1, 2018
She CLEARLY looked uncomfortable. I can't believe some would expect her to defend herself on live TV one someone else's funeral. Her dress had nothing to do with anything. What women wears will never be an invitation for assault, she never asked for it #RespectAriana

— 윌러우 ❣ (@ilsansqueen) September 1, 2018
that was disgusting what ariana went through. you can see she was trying to be polite bc she was on tv but you can tell she was uncomfortable w how the man was touching the side of her breast. that is unacceptable. it shouldn't happen to any woman ✨ #RespectArianaAndAllWomen

— ً (@Iovekoya) August 31, 2018
The whole episode was disturbing especially because it happened at a public and supposedly solemn event, by a man of the church. The statement, "That's what we are all about in the church. We are all about love," coming from the pastor, is just all levels of disgusting. It's true we can't generalize the religious institution in its entirety. I think that beyond that, this is eye-opening on how men in general—but especially those in power (be it the church, government, corporate ladder, etc)—have become too privileged to do something like this before the eyes of the world, unabashedly and without remorse, and still expect to get way with it. It really makes you question how f*cked up our society can be.
I don't have the words to express my infuriation. This man should be charged with assault.

Men: This is sexual abuse. If you brush it off as no big deal as it happens this publicly, you're part of the problem that enables it to happen behind closed doors.#RespectAriana https://t.co/HjPRcTK5uM

— Qasim Rashid, Esq. (@MuslimIQ) September 1, 2018
The fact that a woman was disrespected multiple times on live television by men who are in positions of power blows my mind. Just imagine what happens behind closed doors. This was totally inappropriate, a short dress is NOT an invitation #RespectAriana #respectallwomen pic.twitter.com/bsdBxqgzNx

— caesar (@gngdaddy) September 1, 2018