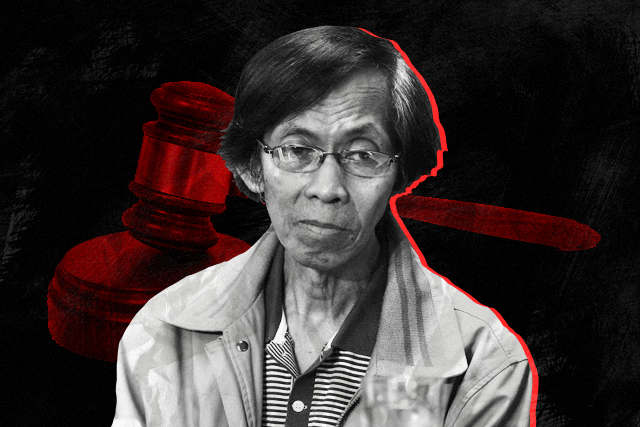 In 2006, unidentified armed men seized University of the Philippines students Karen Empeño and Sherlyn Cadapan in a house in Hagonoy, Bulacan. According to Inquirer.net, the two were conducting research for a school requirement when they were abducted. Years after their disappearance, a witness testified before the Bulacan RTC that the two students were "hung upside down naked, tortured and sexually molested" and "pieces of wood were inserted on [their] private parts." Retired major general Jovito Palparan was also tagged as the head of the military group that did this heinous crime, and he went into hiding before he was arrested in 2014.
Yesterday, Palparan was found guilty of kidnapping and serious illegal detention, and was given a life sentence. Plus, he was ordered to pay P100,000 for civil indemnity and P200,000 for moral damages for each count. He also didn't take too kindly with the verdict—Inquirer.net reported that he cursed at the judges and prosecutors.
LOOK: 12 years ago, UP students Karen Empeño and Sherlyn Cadapan were abducted by AFP while doing a research in Hagonoy, Bulacan. They were also tortured and raped with wooden sticks.

Today, the butcher Jovito Palparan was found guilty of kidnapping, serious illegal detention. pic.twitter.com/buqXCn8brC

— Roentgen #MagpaRehistroKa (@ronaldgem) September 17, 2018
It took 12 years to find justice for the two students. Many were asking, "Why just now? Why did it take so long?" While it seems disheartening, it's also a staunch reminder that no one's safe in the eyes of the law. Whether it'll take a year or a decade, if a person violated human rights, especially in the most heinous way possible, they'll get the punishment they deserve.
What Palparan and his men did to the young women was inexcusable. They took them away from their families, destroyed their dignities, and allegedly murdered them. They may have hidden for years but the authorities and the judicial body of Bulacan showed that we shouldn't lose hope in our justice system just yet—albeit, the results not being more instant than we want. Still, it's a step toward the right direction and we can only hope that it continues that way.
Additionally, if a retired major general was found guilty for his crimes and was given a proper sentencing, it also gives a clear message that the law doesn't—and shouldn't—exempt anyone. One's power and high status aren't going to save them in the long run. Our history has proven just as much.
It's time that we—the citizens and the government—stop impunity and let justice prevail. No more getting away with killing and other human rights violations.
Art by Marian Hukom
For the latest in culture, fashion, beauty, and celebrities, subscribe to our weekly newsletter here
Follow Preen on Facebook, Instagram, Twitter, YouTube, and Viber
Related stories:
Watch: A chilling look at Duterte's war on drugs
Our current justice system thinks male rape victims deserve less justice than female victims
Romeo Jalosjos filing for pardon means we're okay with rape
Unpacking Pres. Duterte's rape joke: Why it reeks of more than just misogyny
Why are women still going through the worst human rights violations?