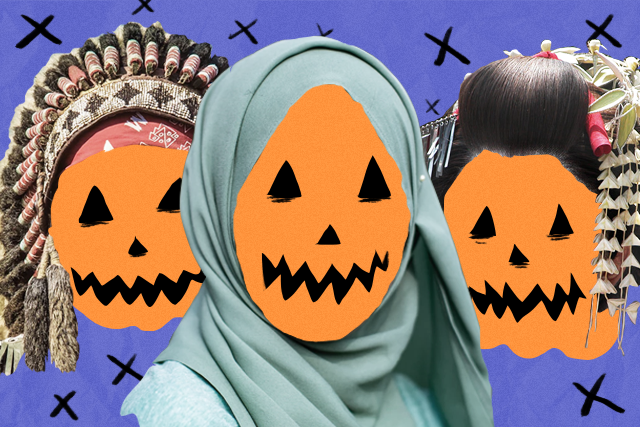 As I'm writing this, I'm also organizing a Pinterest board for possible Halloween costumes. What, you're not? October's next week and in one glance, it's going to be Halloween. You can never be too prepared!
There's a wide variety of movies, TV shows, books, and other pop culture stuff to get inspiration for your costume/s. But there are certain boundaries that you shouldn't dare cross. A prime example was the sexy Handmaid's Tale-inspired outfit that was pulled out from Yandy.com—one, because it's insensitive and two, the show is about oppressing women.
Now that's out of the way, here are other costume ideas you should think twice about wearing this year and every year.
Blackface
This is basically what non-black people do to significantly darken their skin tone to play a role. Blackface was popularly done in the stage show The Black and White Minstrel Show, aired from 1958 to 1978, where Caucasian actors "comedically" portrayed African-American archetypes by painting their faces black.
https://twitter.com/uhchoni/status/966722627917287424
It's obviously seen as a racist gesture since it ridicules African-Americans. Despite its history though, prominent people still commit this sin. In 2013, Julianne Hough dressed up as Crazy Eyes from Orange Is the New Black. In the Philippines, there have been instances of blackface in the media as well but the "casual racism" here makes it seem frighteningly normal. Just go with your natural skin color this Halloween, 'kay?
Sexualized young character
It doesn't matter if it's a mature, more nudist version of Eleven from Stranger Things or a character from Rugrats. Do not normalize the sexualization of children—it is creepy and promotes other harmful practices and mindsets. Likewise, don't dress your kids in inappropriately sexy outfits!
Another person's culture
You might've seen people saying, "My culture is not your costume." While some of you may think they're killjoys, they're right to call out any form of cultural appropriation.
The costumes under this category include dias de los muertes skulls, a Native American headpiece, a geisha outfit, and a hijab. Teen Vogue explains that once a marginalized person is oppressed, their identity can be used for another's entertainment and is open for mockery.
View this post on Instagram

During Halloween, you dress up as characters that you enjoy watching or reading about. When you culturally appropriate a costume, it's like you're putting actual people at par with the fictional characters that you like to poke fun at. Don't be like LPA creative director Lara Pia Arrobio who had the gall to dress up as a Muslim woman.
Disrespecting religion
Jesus didn't die on the cross for you to dress up as him on Halloween. Just imagine how awkward it must be if you go to a party dressed as a priest, nun, a saint, or the Messiah himself. The implications and the mental image isn't so good, to be frank—especially if you went as "sexy [person]." This isn't the Met Gala—oh wait, Catholic fetishism.
A tokhang victim
Remember that tokhang victims are alleged or suspected drug dealers, and many of them were defensless children and teens. Have some respect for the people who lost their lives and those who are still mourning for their family members.
Art by Marian Hukom
For the latest in culture, fashion, beauty, and celebrities, subscribe to our weekly newsletter here  
Follow Preen on Facebook, Instagram, Twitter, YouTube, and Viber
Related stories:
A sexy Handmaid's Tale costume was actually up for sale
Makeup products to complete your Halloween look
8 last-minute Halloween costume ideas for fashion girls
The scariest beings for women aren't ghosts at Halloween