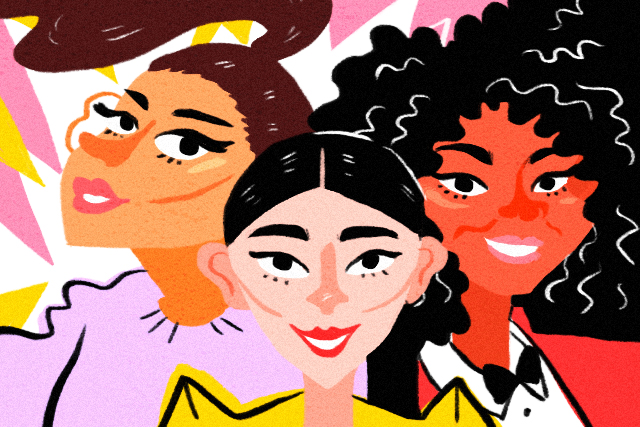 The new year brings a lot of emotions from all of us. On the one hand, it brings us hope and optimism. But also, to some, the new year can also be cause for anxiety. The truth is, no one can really predict what 2019 will bring. But maybe that's okay. To those who are unsure of how this new chapter in their lives will play out, you're not alone. We're all lost, in some way. The important thing is, we continue to uplift each other. So to help you get motivated this 2019, here are some inspirational messages from lovely ladies you can reflect and take note from.
On dreaming big
Swedish singer and songwriter Zara Larsson was only 10 when she was launched to pop stardom so it's safe to say she's familiar with the sexism in the industry and how real it is. Just before 2018 ended, she took to Twitter to share her experience of being underestimated. She said it shocked people whenever she says she doesn't doubt herself. "I've always had big dreams and I'm not ashamed of that. I really believe in myself and for some reason that's not okay for a lot of people," she said. "A lot of times people think a woman is rude when she expresses her big dreams with confidence." A known feminist, she then encouraged women with similar big dreams to be unafraid to pursue theirs and remain steadfast in staying true to their passion. "Tell people about your big dreams girls!!!!! It's okay to want more. It's okay to know that you deserve better and that all your goals are reachable and THAT'S THAT ON THAT," she wrote. I say that's a damn good boost for 2019.
Tell people about your big dreams girls!!!!! It's ok to want more. It's ok to know that you deserve better and that all your goals are reachable and THATS THAT ON THAT. thanks for coming to my Ted talk

— Zara Larsson (@zaralarsson) December 27, 2018
On being compassionate
Shay Mitchell revealed that she had a miscarriage and "lost the child of my hopes and dreams" last year and even shared a sonogram of her baby on Instagram. "We all have to deal with various struggles and challenges in life. And sometimes it's easier to only showcase the good times on social media," she said. She further explained that she really appreciated her supporters' kind words and affection during her darkest days, even though they weren't privy to it. Thus, she had one great suggestion for a New Year's resolution: "I think that we need to remember that we are all on this journey together—in good times and in bad—and to remind ourselves that we seldom really know or understand the struggles and hardships that other people are going through. So, for 2019, let's all try to be a little more compassionate, empathetic, patient and thoughtful with each other."
Dua Lipa had the same wish for her fans. Aside from hoping that "We all learn to love ourselves a little more [every day]," she added, "I hope in 2019 we show more compassion, care and kindness for each other."
https://www.instagram.com/p/BsEoIs9hAel/?utm_source=ig_embed
Anne Curtis also echoed the same sentiments on her New Year's post on Instagram. She wrote, "May we all inspire others and stay inspired, be kind, be patient, have faith and support one another every step of the way to make our dreams come true." Yes to being kind this 2019—not just to ourselves, but to other people too.
On beating the odds
Serena Williams, who became a first-time mom in 2017, is well aware she is bound to face new and exciting challenges this year. She shared that as she is getting ready for her first match of the year, she is also trying to meet the demands of being a mother. "As I head into next year, it's not about what we can do. It's what we MUST do as working moms and working dads. Anything is possible," she wrote. But best believe she's ready to face this new challenge head-on. "If it means warming up and stretching while holding my baby, that's what #thismama will do," she said. "My fellow moms and dads working or stay-home—it's equally as intense—but you inspire me." Indeed. We're pretty sure she's an inspiration to parents too.
Camila Cabello, who's had one of her busiest years, looked back on the "messy, beautiful, hard, and unpredictable" year that was. "Every single day really is a blank page; and that thought is both terrifying and exactly what it means to be alive." She has some words that will inspire you to keep on pushing through this 2019: "How the story unfolds is and isn't under our control—all we can do is decide to show up—no matter how scary it is, no matter what happens…. to see how it turns out."
Ariana Grande is another female singer who's had an eventful 2018 to say the least. While urging her followers to "be gentle with yourselves and each other," she assured us—especially those who's had a similarly tough 2018—that "if we made it thru this last year, we'll for sure make it thru this one."
On being grateful
Demi Lovato is another strong female celebrity who's had to endure a lot of hardships last year. But through it all, she said she's "So grateful for the lessons I've learned this year." Posted through Instagram Stories, she further wrote, "I will never take another day in life for granted, even the bad ones."
Demi Lovato via Instagram story. pic.twitter.com/D71f9iIn3a

— Demi Lovato update 🦋. (@demirealupdate) December 31, 2018
Yara Shahidi of Black-ish acknowledged that "This year has been politically and socially chaotic to say the least," but the actress and activist continued that "amidst it all, this year has been oxymoronically beautiful, creative, and blossomed a stronger sense of unity in movements and in expanding our communities"—and, like Demi, she's "grateful for it all."
On being a better version of you
Actress Dove Cameron said she had a lot to be thankful for last year, "but most of all, my mental health and personal growth." She added that "while parts of this year have been wonderful, this year mostly showed me how much deep healing there is to be done, within myself, and in our world. In a big way, a new year is a great excuse to learn to be kind to ourselves and others, to decide to be brave, to be better and commit to spreading light and not toxicity."
Lauren Jauregui of Fifth Harmony, on the other hand, also admitted she's had a tumultuous year "and I'm still growing and transitioning." She said 2018 taught her a lot of things about herself, including "I am my worst enemy and best friend and everything that happens to me is a result of which one I decide to be." Ultimately, she said she's going into 2019 "on a mission to love myself harder than I've ever even attempted to. Love myself so much I forget the voices that don't believe in me and I remind them that only I am in control of my destiny."
Heart Evangelista had a simple message to her followers on how to make 2019 fruitful: "Let's make it a point to block off all the negativity that comes our way. Listen to the things that will help you grow. Be your own person— you are you and that's enough."
Photographer Sara Black has an equally simple yet powerful advice: "Begin the year with innocence; Leave the past behind, all the difficulties, all the challenges, all the hurt. Start with a clean slate, no expectations, and just be present in the moment like your five-year-old self would. There [are] all sorts of amazing [things] waiting for you when you see the world with eyes of wonder."
Art by Marian Hukom
For the latest in culture, fashion, beauty, and celebrities, subscribe to our weekly newsletter here  
Follow Preen on Facebook, Instagram, Twitter, YouTube, and Viber
Related stories:
Let's say good-bye to these in 2019
Here's how you can end 2018 with a bang
9 titles I can't wait to read this 2019
Watch out for these female musicians in 2019