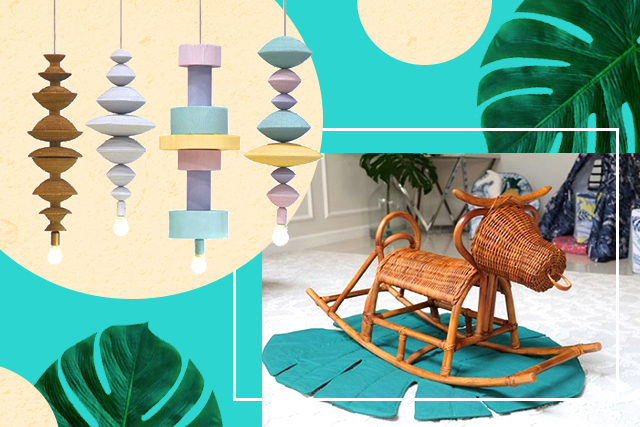 If you're preparing for a baby, or if you have a kid and want to start them on an eco-friendly lifestyle early on, one of the places where you can start is in their room. It's important to design their space or buy pieces that not only help save mother earth but are also safe for them. Just take it from Prince Harry and Meghan Markle, who are expecting their baby soon. Obviously, they want the best for their little one, and that means a completely eco-friendly nursery—from the organic furnishings down to the vegan paint they will use.
If you're planning the same royal treatment for your kid, here are some items you can check out.
Holicow Antoinette pendant lamp
https://www.instagram.com/p/Bn_EkTlFpdc/
Holicow's Antoinette lamps are made from hand-cut and shaped kraft paper boards. Its unique design evokes youthful energy perfect for any nursery or kids' room. According to their site, "These pendant lamps are a recollection of youth's playfulness, exploration and creativity, back when we built castles and airplanes from 'magical' boxes." Available online.
Warble Jeep set
https://www.instagram.com/p/BaOyMK7gGhQ/
This wooden table and chair set shaped like a car from their Adventure Collection will surely unleash your kid's imagination. It's not only an activity table and toy, but a storage piece too. Don't worry, it has soft-close hinges, and is finished with organic paint. Available at Shangri-La Plaza.
Resurrection Furniture bench
https://www.instagram.com/p/BqYUUbLl3_f/
As you may have derived from their name, Resurrection Furniture brings back to life old and discarded items by turning them into decorative and functional pieces for the home. For your nursery, this fun, custom "Ito Si Mento" bench will surely add playful character to the space. Available online.
Wind chimes by Daniela Calumba
https://www.instagram.com/p/BZiDw0JhzIr/
Create a tranquil atmosphere in your child's room with handcrafted wind chimes sourced from natural materials, like wood carvings and slices of agate stones, made by green advocate Daniel Calumba. Each of her wind chime creations are unique, as is the sound they make. Available at Hub Make Lab, Manila.
Fun Nest rocker chair
https://www.instagram.com/p/BqWU0tLDPB6/
"Baw the kalabaw" rocker chair is a sure hit for every kid. According to Nolisoli.ph, it's "handmade from flexible heat-formed and -bent rattan at a workshop in Pangasinan by a local weaving community." Take your pick from their four colors of black, white, brown, and natural wood. Available online.
Habil Crafts moss wall art
https://www.instagram.com/p/Bn4-oKenDWy/
Add some green in your kid's space with Habil Crafts' unique wall art featuring lovely moss arrangements in reclaimed wood that make for a great statement piece. They're perfect for children as they require zero maintenance. Available at Common Room, Power Plant Mall.
Art by Marian Hukom
For the latest in culture, fashion, beauty, and celebrities, subscribe to our weekly newsletter here  
Follow Preen on Facebook, Instagram, Twitter, YouTube, and Viber
Related stories:
Eco-friendly travel must-haves to bring on your next trip
5 ways to make your home eco-friendly
The resolutions you should make for your home
A comprehensive list of my favorite online furniture stores