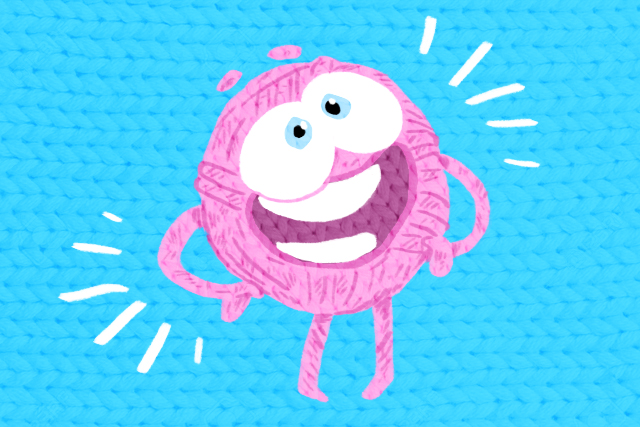 Personally, I find that one of the best ways to convey a message in a non-complicated way is through cartoons. A lot of the ones we've seen when we were younger (and ones showing now) already have subtle hints on various social issues. Once we realize it, our first instinct is to joke that our childhood is ruined. But if you want to start teaching kids lessons that'll matter when they get older without overwhelming them, this is a smart way to do it.
That said, Pixar is one of the animation companies that has accomplished in this format—just look at Inside Out and Wall-E. The latest project under them that's caught our eye is Purl, a Pixar SparkShorts film made by up-and-coming storyteller Kristen Lester.
This adorable film is about a sentient ball of pink yarn named Purl who enters a male-driven office and tries to fit in. She's treated as an outcast because she's different and her disposition and ideas don't align with the "bros."
The cartoon makes it seem like she's not one of them because she's not, well, human. But the underlying message is that she's the only female worker in the office and if she doesn't act the way her co-workers do, she won't be heard. There are even not-so subtle signs that show how underappreciated people (or yarns) like Purl are—the all-male model employee wall, and the fact that the chart for failure looked a lot like a ball of yarn.
It's a situation that's all too real in the real world. According to a McKinsey report in 2018, companies in America who've committed to gender diversity have not made significant progress. Since the start of the study in 2015, women remain, especially those of color, remain underrepresented.
Gender discrimination is also an existing problem. The Pew Research Center came out with a study last year that found that male-dominated companies report higher rates of female discrimination. It stated that women are less likely to be treated fairly. Although this study found that an even mix of men and women get well-deserved promotions, others have shown the lack of female CEOs, as well as the gender pay gap problem, in various industries.
Aside from the points mentioned earlier, Purl showed how the men would leave out the titular character, pretending that she doesn't exist in their bubble. They also insist that ideas should be "aggressive" in response to Purl's rational suggestion during a meeting.
The sad part is that Purl had to give up her all-pink look and knitted a suit and made herself look more sharp (literally) so she can belong. The men did accept her but she lost herself in the process, almost discriminating against another ball of yarn, who's also a woman.
As with all Pixar cartoons, there's a happy ending to Purl. She introduced the new ball of yarn, Lacey, to the guys, which eventually taught them to be friendlier to employees who are different from them. Purl later welcomes a new male employee and orients him, signifying that she was given a higher position. As the elevator opens, you'll see more balls of yarn in the office, finally creating balance in the workplace.
Of course, there's still work to be done IRL but the fact that this was created into a Pixar cartoon for kids to see, it puts out the message and possibly help shape their outlooks at a young age. Because if you want to teach your kids feminism, you gotta start now.
Art by Marian Hukom
For the latest in culture, fashion, beauty, and celebrities, subscribe to our weekly newsletter here  
Follow Preen on Facebook, Instagram, Twitter, YouTube, and Viber
Related stories:
The Pixar short films that made us laugh and cry before movie screenings
Don't let the animation fool you: Social issues found in cartoon films
BoJack Horseman: Bringing sexual harassment cover-ups to cartoons
Isn't it time we gave women the CEO position?