https://www.instagram.com/p/BuBwntLHGhs/
Have you ever wondered what you should be bringing in your handbags? Or having difficulty editing your essentials down to the bare minimum? You're not alone, that happens to us too. With Handbag Edits, we show you what you can throw into different bags of different sizes. We also have celebrities and personalities share their bag must-haves and current favorites.
If you've been paying attention to the recently concluded fashion month, you'll notice one standout accessory from the streets and the runway: Bottega Veneta's minimalist-chic The Pouch that's now being dubbed as "the new It-bag."
The handheld, underarm clutch is actually one of the first designs made by the brand's new creative director, Daniel Lee. Known as "The Pouch," it comes as an oversized clutch, though a mini version of it is also available. With the brand's traditional craftsmanship mixed with a modern sensibility, it features soft folds of either Bottega Veneta's iconic handwoven intrecciato leather, or a Butter Calf leather that envelopes the bag's frame to create a voluminous, rounded shape.
https://www.instagram.com/p/Bud5ziCn6tX/
It's stylish, no doubt. But let's talk about functionality. A concern of mine is it only has one big compartment. If you're like me who has tons of knicknacks, then I'm sure it poses a problem for you too. Don't worry. You can still cop The Pouch with confidence. All you need is to bring these items with you.
Native Union Lightning to USB Key Cable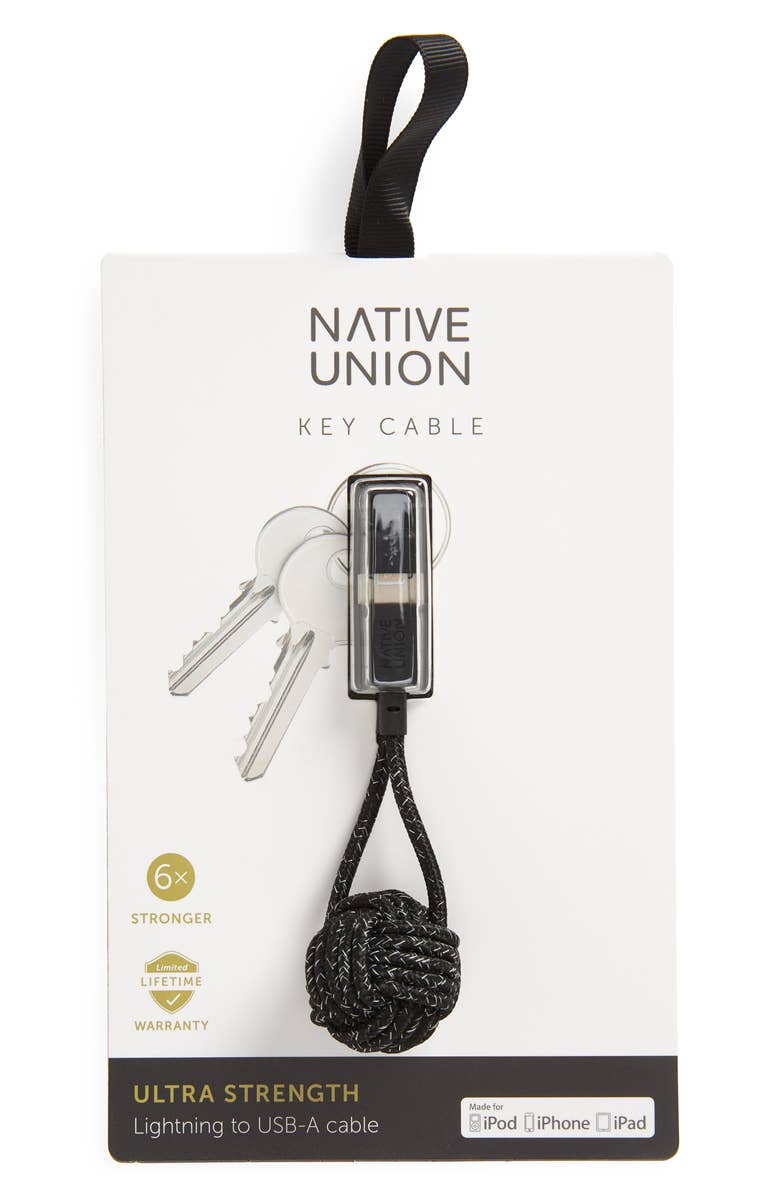 A charging cable has become a handbag essential to all of us. Don't you just hate how it gets messed up in your bag? If you do, then I'm sure you'll enjoy this clever key chain that turns into a handy USB cable. Wrapped in durable braided nylon, it lets you charge and sync your Apple tech anywhere you go. Available at Digital Walker, Century City Mall.
Abubot Leatherette Cable Organizer
Speaking of cables, for most of us, a charging cable is not the only one most of us bring. For those, and even small gadgets, opt for this organizer specially made for that by Abubot. It's minimalist but sleek and stylish too. Available online.
Trish Mcevoy Makeup Planner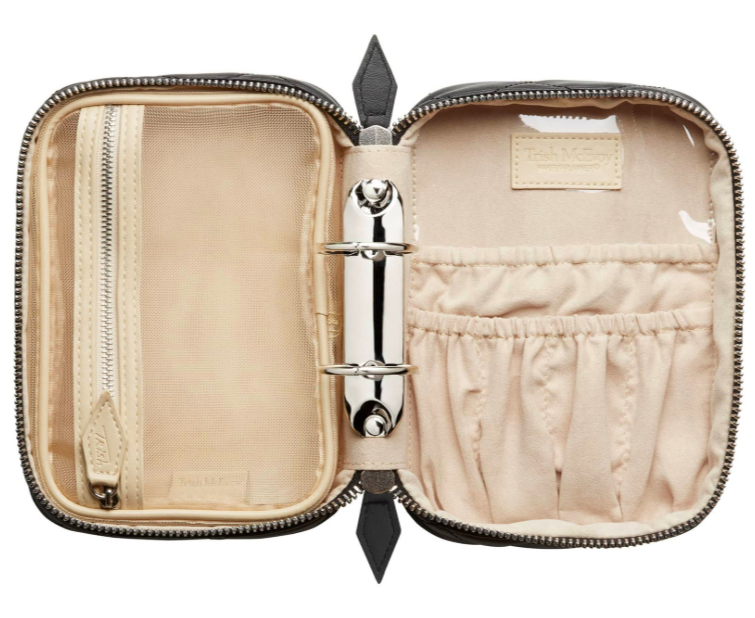 This will revolutionize the way you organize your makeup. Trish Mcevoy's Makeup Planner is fully customizable. It aims to simplify, organize and downsize your store of makeup. Adjacent brush sleeves and a large back pocket are instantly accessible, while the removable pouch is perfect for beauty miscellany and an all-around zipper makes it totally portable. Available on Nordstrom.
Typo Made Up Cosmetic Bag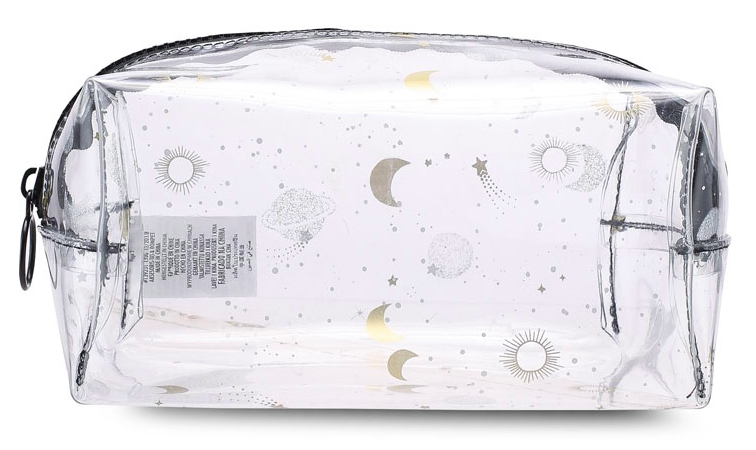 I'm sure I'm not the only one who always has plenty of random knick knacks in my bag. Hey, even Beyoncé admits to hoarding hot sauce in her bag. Raise your hand if you do this too. Put those and all your other miscellany in this cute Typo bag that will especially appeal to astrology babes, thanks to its graphic starry details. It's clear, so it's easier for you to spot that hot sauce or whatever you're looking for. Available at Uptown Mall.
Chloe Jewelry Portfolio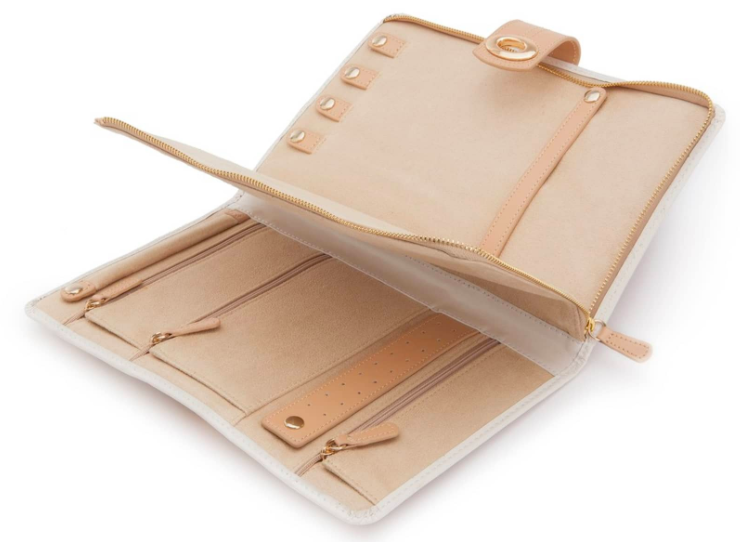 If you're the type who's obsessed with jewelry, and even brings a stash with you—you know, for when you switch it up for an evening look or if you're going to events—then you'll fall for this jewelry portfolio by Chloe. This slim case has plenty of organizational features such as turn-lock tab closure, and compartments like a ring roll, necklace holders, and even earring holes. Plus, it has an anti-tarnish LusterLoc lining to keep jewelry looking its best. Oh, and it has delicate medallion cutouts so it's not only functional but chic too. Available on Nordstrom.
Jacinto and Lirio Fiesta Traveler's Notebook
If you're the type who always need to have a journal or notebook with you, you might want to consider Jacinto and Lirio's traveler's notebook with zipped water hyacinth plant leather cover. It's especially built to accommodate all your needs for your materials. The right flap has a mesh net that can hold your pens or mobile case, while the left flap side has compartments that can accommodate items like checkbook, rulers, cards, tickets, and even a loose slot for brushes and pens. It's customizable too, and you can have your name etched on the cover. Available online.
Bellroy Folio Wallet Designers Edition
Can't really go out without your wallet right? Consider Bellroy's Folio Wallet your new best friend. It can hold up to 12 cards, can fit all major currencies in two separate bill sections, and even designed to fit a smartphone. According to its site, it's made from distinctive premium leather tanned under gold-rated environmental protocols, then dyed using progressive techniques to enhance the rich color and soft texture. Available online.
Photo courtesy of Bottega Veneta's Instagram account
For the latest in culture, fashion, beauty, and celebrities, subscribe to our weekly newsletter here  
Follow Preen on Facebook, Instagram, Twitter, YouTube, and Viber
Related stories:
Handbag Edits: Bring the beach vibe everywhere with you with this Aranáz bag
Handbag Edits: Shopping must-haves to keep in the Medea Tall Prima
Handbag Edits: Spin around the city with the LV Toupie
Handbag Edits: This Burberry bag is set to be your new summer street-style staple