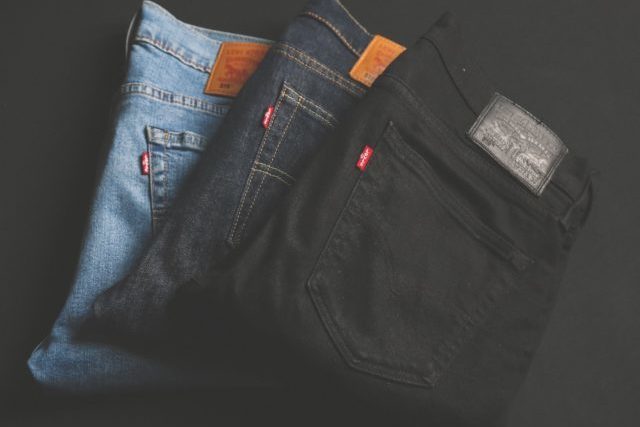 One of the things I struggle with the most is finding the right pair of jeans. Like several women, I have wide hips and thighs, making it difficult for me to find a pair that perfectly fits my leg area without it being way too loose in the waist area.
Sadly, it took awhile for me to figure out my exact size because of two reasons. 1) Some brands have limited selections, sometimes not even catering to wide hips. I've encountered pairs before that are too small and almost restrict the circulation on my thighs. 2) I was led to believe my size was different than what it really is. I know baggy pants were in during the early to mid 2000's, but I didn't want to wear pieces that didn't fit me right.
When I slowly accepted that there's nothing wrong with my body—having fat isn't bad and it's not a measure of your worth as a person—I had to then find brands that could cater to my body type. When I couldn't find the right pair, I would choose between buying something that either perfectly fit my thighs or hips. I always chose the former and just added safety pins near the belt loops. Or I do the viral jeans hack on social media.
Eventually, I did find the right pair of jeans that's both skinny fit AND high-waisted. (My favorite styles in one piece. Yay!)
However, it also doesn't mean it's going to be the same size for every brand. A woman from Scotland once showed how her size 12 jeans all looked different—one fit her just fine, the others were either too tight or too loose for her. "No wonder women feel so insecure," she said in another tweet.
https://twitter.com/chloe______e/status/1104013511691259904
The lesson here? Size numbers can be BS. Distractify cited a woman's Instagram post (now deleted) where she talked about how size differences all boil down to the style and cut, or the store putting the wrong sizes on jeans. Brands also need to step up and cater to more body sizes and not make curvy women feel like they're the ones who need to adjust to impossible sizing standards.
That said, if you're looking for brands that do have comfortable jeans for curvy women and those with wide hips, we have some recommendations. Make sure you choose the ones that feel good for you!
Bench
I own two jeans from Bench's Overhauled Jeans line. The black pair is high-waisted and has an almost stretchy fabric, making it easier to wear if you have wide hips and thighs. It's the same with my blue denim pair, which is a skinny fit but doesn't feel too tight at all. From what I've seen, the sizes run up to 36. Available at Glorietta 2.
Levi's
Levi's has a fit guide for women who are looking for jeans that complement their body type. For those with natural curves, try the 312 Shaping Slim jeans which are mid rise and is meant for ladies with wide thighs and hips. Available at SM Aura Premier.
Good American
Good American is Khloé Kardashian's fashion line, which has jeans for various body types. You choose from skinny jeans, ankle-length pants, high-waisted—there's a style for every woman. The size guide also runs up to 58 for hips and 47.5 for waist. Take note! Available online.
Penshoppe
The sizes of Penshoppe's jeans depend on the style you're getting. Majority of the sizes only run up to 32, but you have to take note of the waist, hip, and thigh measurements to see if it will complement your body type. You can also check out if the Power Stretch line is suited for you. Available at Ayala Malls Circuit.
True Religion
What I appreciate with True Religion is the fact their models for jeans are all curvy women. Here, you can find jeans of various styles and cuts from size 23 to 38. Refer to the chart to see which is closest to your preferred fit. Available online.
Photo courtesy of Unsplash
For the latest in culture, fashion, beauty, and celebrities, subscribe to our weekly newsletter here  
Follow Preen on Facebook, Instagram, Twitter, YouTube, and Viber
Related stories:
Digging through the clearance: 8 pairs of jeans that are less than P1,000
Here's how you can find your denim soulmate
Dakota Johnson just made baggy jeans red carpet-appropriate
Cigarette pants you'll want to wear to work and how to style them