The Philippines is mourning the loss of one of the visionaries of its fashion industry. At 12 m.n. today, beloved Filipino fashion designer Arnold Galang passed away. More than just a creative, he was a peace advocate who wanted his collections to reflect our nation's narratives by making the sartorial political. He was known not only for being fierce but also for his big heart. To designers, models and casters, he was Tito Arnold. 
Galang was a storyteller and a Philippine Fashion Week (PhFW) veteran. His works have an understated elegance only made possible by his technical prowess. His Spring/Summer '19 "Coalescent Culture: The Peace Collection Series," was one of his more memorable collections. It featured flowy, oversized pieces in the colors of Mindanao with wave details to signify bringing a wave of help to the victims of the Marawi crisis. Its 2018 precursor was simply named "Marawi." 
Even with a palette of black and white, he remained committed to bringing his perspective on peace to the forefront. He showcased this in the Spring/Summer 2016 "Equilibrium" collection which focused on the marriage of monochrome and deconstruction with peace symbol accents. In a previous article, Galang shared with us his thoughts on unity and the shared responsibility of designers. "I feel fashion has become a platform to showcase our personal views on political matters," he said. "That was my biggest apprehension when I became peace ambassador since I know the industry is not keen on political affiliations more so issues. In fact, it was one of the reasons why we were tapped to promote the advocacy, to make sensitive issues more mainstream and readily accessible and informative."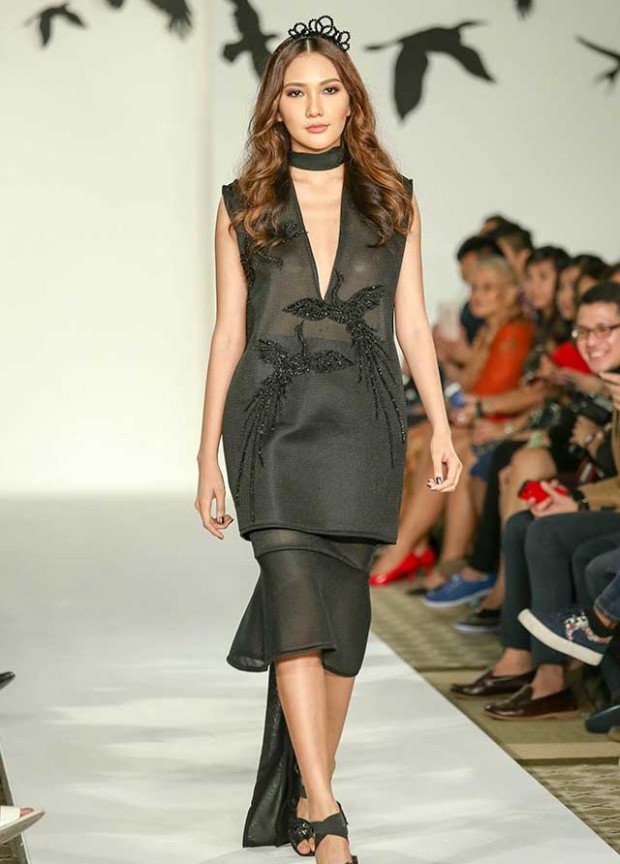 Many have paid tribute to Galang on social media. One of them was posted by creative producer and model Andromeda Reyes. She shared with us that her "Tito Arnold always wore head to toe black. He had the gentlest face and the kindest gestures in a busy and cramped fashion show backstage. He always seemed so quiet and peaceful—much like the message of his every piece in every show. He made a family out of many."  An anecdote that stuck with her happened back when they covered his show for a local cable channel. Her officemate wanted to buy a leather jacket from Galang and a few days later, he was in their office "personally delivering the piece—offering his craft to [the] world."
Front of House Manager for Philippine Fashion Week and Runway Productions Mito Tubilleja says during the 10 years that he had known Galang professionally, "not once did he make a mistake in the names of the 'normal people' he worked with. Lagi niyang sinasabi na 'Sino pa bang magtutulungan kundi tayo?'" He shares that the designer was one of the few who remembered his name when he was just starting out. 
Hair guru Henri Calayag says that his heart is saddened by the loss and that his thoughts and prayers are with the late designer. Fellow Filipino fashion designer Jian Lasala called him "one [of] my few cheerleaders in the fashion industry" in a heartfelt tribute. 
When asked about Galang's contributions to the Philippine creative community and what he meant to its members, Reyes said, "His collection wasn't just a display of artistry but a showcase of what he stood for as a designer and peace champion. And I guess that what a mark of a true artist is—using your work to deliver a message and being remembered for it. I am honored to have worn his work in his fashion week shows from 2011 to 2015."
Arnold Galang left us not only with his fashion legacy but with so many memories that touched our hearts. 
Photos by Acushla Obusan, Paolo Tabuena and RG Medestomas
Follow Preen on Facebook, Instagram, Twitter, YouTube, and Viber
Related Stories:
Arnold Galang Presents His Latest Collection in Black and White
Can politics and fashion find the right fit?
10 Looks We'd Pluck Straight From the #PhFW Runway
Philippine Fashion Week Holiday 2016: Arnold Galang